Narendra Modi prods industrialists to visit 'changed' Kashi
Prime Minister spoke of Varanasi's beautification, appearing to indirectly laud Yogi Adityanath, who became chief minister in 2017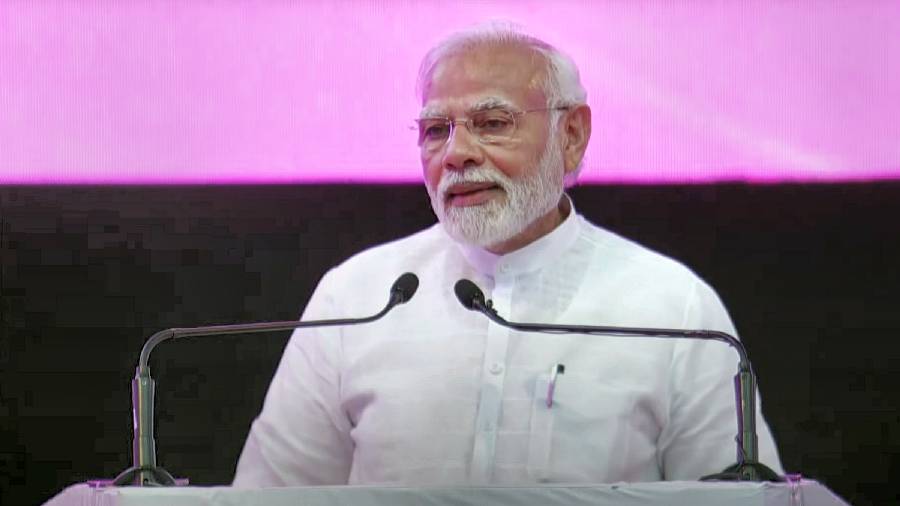 Narendra Modi.
File photo
---
Lucknow
|
Published 04.06.22, 02:01 AM
|
---
Prime Minister Narendra Modi on Friday urged industrialists to invest in Varanasi city, which falls in his Lok Sabha constituency, saying it had "changed a lot".
"I am an MP from Kashi. As an MP, I can't resist the temptation to expect that despite your busy schedules, you would spare some time to visit my Kashi. Kashi has changed a lot," Modi said at the Uttar Pradesh Investors Summit in Lucknow.
More than 400 industrialists — including Kumar Mangalam Birla, Gautam Adani, Sanjiv Puri, Niranjan Hiranandani and Sajjan Jindal — attended the event, where MoUs worth Rs 80,000 crore were signed.
Modi tends to refer to Varanasi city by its ancient name of Kashi, perhaps because of the name's religious connotations. Most people now use "Kashi" to refer only to a small part of the city along the Ganga that is home to the Kashi Vishwanath Temple.
The Prime Minister spoke of Varanasi's beautification, appearing to indirectly laud Yogi Adityanath, who became chief minister in 2017.
"That such a city can be beautified with a new look while keeping its ancient heritage intact is a living example of the power of Uttar Pradesh," Modi said.
The BJP governments at the Centre and Uttar Pradesh have built the Kashi Vishwanath Corridor, expanding and widening the roads around the temple. Elsewhere in Varanasi, the state government has built two flyovers and a convention centre.
Job query
Modi's claim that Friday's MoUs would create jobs invited scepticism from some.
"Friends, agreements have been struck for a record investment of more than Rs 80,000 crore. This will create thousands of new opportunities for employment. It highlights the growth story of India and Uttar Pradesh," Modi said.
"I especially congratulate the youth of Uttar Pradesh for today's programme. The youth and the new generation will benefit the most from this programme."
Rishabh Ranjan, member of the Yuva Halla Bol, a movement of youths seeking employment, contested the statement.
"Several lakh crores of so-called investments were agreed in the 2018 and 2019 summits as well but we don't know anybody who has got a steady job out of them. Modi's tall claims are mere words to mislead us," Ranjan told The Telegraph.
"Rahul Sonkar and Dashrath Yadav, two young men from Allahabad, recently committed suicide because they didn't have steady jobs. We have witnessed a dozen protests against unemployment in the past one year in Lucknow. The Adityanath government has been baton-charging (the protesting) jobless youths. It has failed to fill thousands of its own vacancies, showing its insensitivity towards the youth."
The first investor summit in July 2018 witnessed the signing of MoUs for projects worth Rs 61,000 crore, the figure rising to Rs 67,000 crore at the second summit in July 2019. The event was not held in 2020 or 2021 because of the pandemic.
Adityanath said in his address that the projects for which MoUs had been signed on Friday related to agriculture, IT and electronics, renewable energy, pharmaceuticals, tourism, defence, and handloom and textile, among other sectors.
Modi also visited Paraukh village in Kanpur along with President Ram Nath Kovind, who was born there. They prayed at the Pathri Mata Mandir in the village and visited Milan Kendra, Kovind's ancestral home that has been turned into a community hall after he donated it to the government.
Clashes
While Modi was visiting Paraukh in the afternoon, clashes broke out at several places in Kanpur city, 80km away, over a provocative remark made by BJP national spokesperson Nupur Sharma at a TV debate two days ago.
Members of two communities threw stones at each other, leaving a dozen from both sides injured, during a bandh called against Sharma's remarks.
Police broke up the crowds by carrying out baton-charges in the city's Jajmau, Rawatpur, Babupurva and Colonelganj localities.
Additional police commissioner Anand Prakash Tiwari said: "The situation is under control. We have cordoned off the affected areas and deployed forces there."