Naidu takes alliance initiative to Gowda
He drew attention to the 1996 Third Front government led by Gowda that had the outside support of the Congress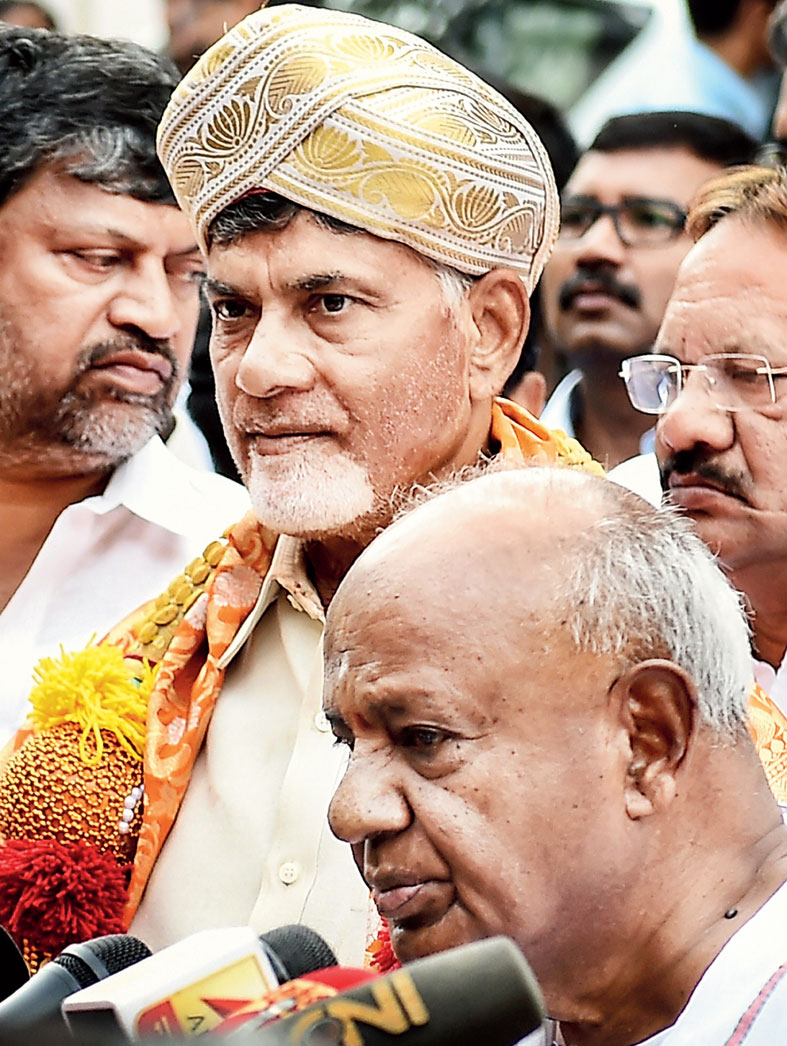 N Chandrababu Naidu and HD Deve Gowda in Bangalore on Thursday.
PTI
---
Bangalore
|
Published 08.11.18, 10:28 PM
|
---
Andhra Pradesh chief minister N. Chandrababu Naidu on Thursday dropped hints that the secular alliance he was trying to stitch up would be able to form the next government at the Centre with the support of Congress.
He made the statement after meeting former Prime Minister H.D. Deve Gowda.
On multiple questions from reporters about possible candidates for Prime Minister, Naidu said the job at hand is for all like-minded secular parties to come together with the common goal of save the nation and its democratic institutions from being misused by the BJP-led government.
"Our first task is to save democracy, Constitution and the nation. Institutions like the CBI and the RBI have been destroyed by this government," he said, alluding to the central administration led by Prime Minister Narendra Modi.
Naidu drew attention to the 1996 Third Front government led by Gowda that had the outside support of Congress. "At that time (when) the Third Front came to power, we had taken outside support from the Congress. That is the only such experiment," he said, hinting at one of the options available.
The recent success of the Congress-JDS alliance in the Karnataka by-polls, during which the Bellary seat was snatched from the BJP, has come as a booster shot for the grand alliance in the making.
Naidu, who arrived at Gowda's residence in Padmanabha Nagar in the city at around 4pm, spent more than an hour in discussion with the Janata Dal (Secular) supremo. Gowda's son and chief minister H.D. Kumaraswamy was also present at the meeting.
Gowda said Naidu and several other regional leaders, including Bengal chief minister Mamata Banerjee, had been in touch with him.
"Now, it's the responsibility of all secular parties to replace the NDA government. Chandrababuji has take the lead (in forging the alliance) and met Rahul Gandhi, and state leaders Sharad Pawar, Farooq Abdullah, Mayawati and Mamata Banerjee, DMK leader Stalin and myself," said Gowda.