BJP chief defends Central Vista
Nadda writes to Sonia, accuses Cong of trying to weaken fight against Covid
The Congress president had on Friday said the Covid-ravaged nation was sinking under the weight of the Modi government's indifference and incompetence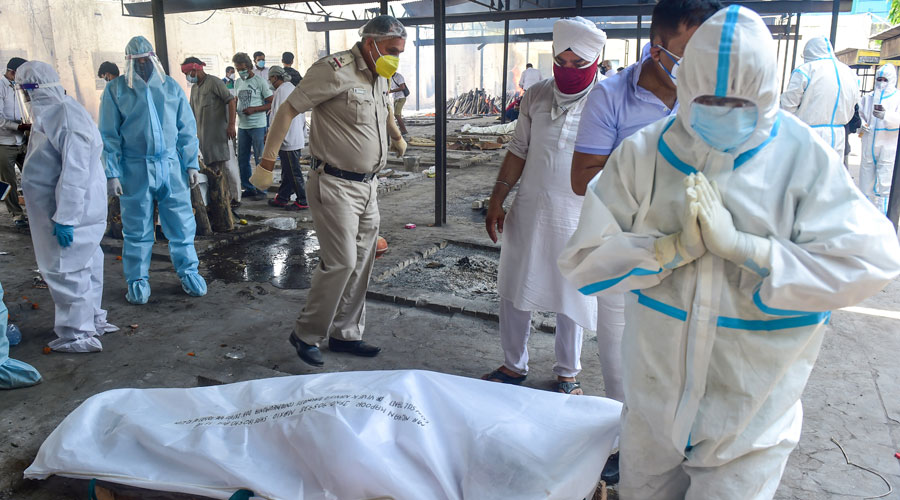 ---
New Delhi
|
Published 12.05.21, 01:33 AM
|
---
BJP president J.P. Nadda on Tuesday wrote to Sonia Gandhi, accusing the Congress of trying to weaken the fight against Covid-19, as the ruling party tried to shield Prime Minister Narendra Modi from the intensifying criticism of his handling of the pandemic.
"You must ask yourselves — in times as these, is your party's conduct weakening the morale of these Covid warriors? Deliberately or otherwise, are your actions trying to weaken this fight against Covid-19?" Nadda asked Congress president Sonia in the letter.
Sonia had on Friday said the Covid-ravaged nation was sinking under the weight of the Modi government's indifference and incompetence.
Besides the failure to foresee and manage the acute shortage of oxygen, hospital beds, medicines and vaccines that has left people dying, Modi and his chief lieutenant Amit Shah have been accused of holding superspreader campaign rallies and then disappearing from the public eye as devastation spread through the country.
"In the fight against the pandemic, the conduct of the topmost Congress leaders including former Congress President Shri Rahul Gandhi will be remembered for duplicity and pettiness," the BJP chief wrote.
Nadda accused the Congress of ridiculing the vaccines made in India and creating "doubts in the minds of the people" and perpetrating "vaccine hesitancy".
Responding to the condemnation of Modi and other BJP leaders for holding poll rallies as cases surged, Nadda said: "Holding massive election rallies in Kerala causing a spike in Covid cases while grandstanding about election rallies elsewhere.…"
Nadda also broached the Congress criticism of Central Vista — a Rs 20,000 crore project envisaging a new Parliament building and a residence for the Prime Minister that the government has been pushing ahead with despite the countrywide devastation and calls to halt the construction and use the money to fight the pandemic.
The BJP chief claimed that the need for a new Parliament building had been felt even when the Congress-helmed UPA was in power.
"Now, there is a new trend in the Congress party to put all the blame on the Central Vista project," Nadda wrote. "I would like to remind you that the need for a new Parliament was raised as early as the UPA times," he added.
The BJP president also sought to blame the Congress for the inadequate health infrastructure in the country.
The tone of Nadda's letter to Sonia was like that of health minister Harsh Vardhan's letter to former Prime Minister Manmohan Singh, after he wrote to Modi offering suggestions to tackle the pandemic.
Singh, Sonia and Rahul have all written letters to Modi at different times, offering suggestions and promising support in the battle against Covid. The Prime Minister has chosen not to respond. Instead, his ministers and party colleagues have mocked the Congress leaders.