Mystery death of 'dreaded' Sengar brother
Contradictory claims about the cause of death of Kuldeep Singh Sengar's youngest brother Manoj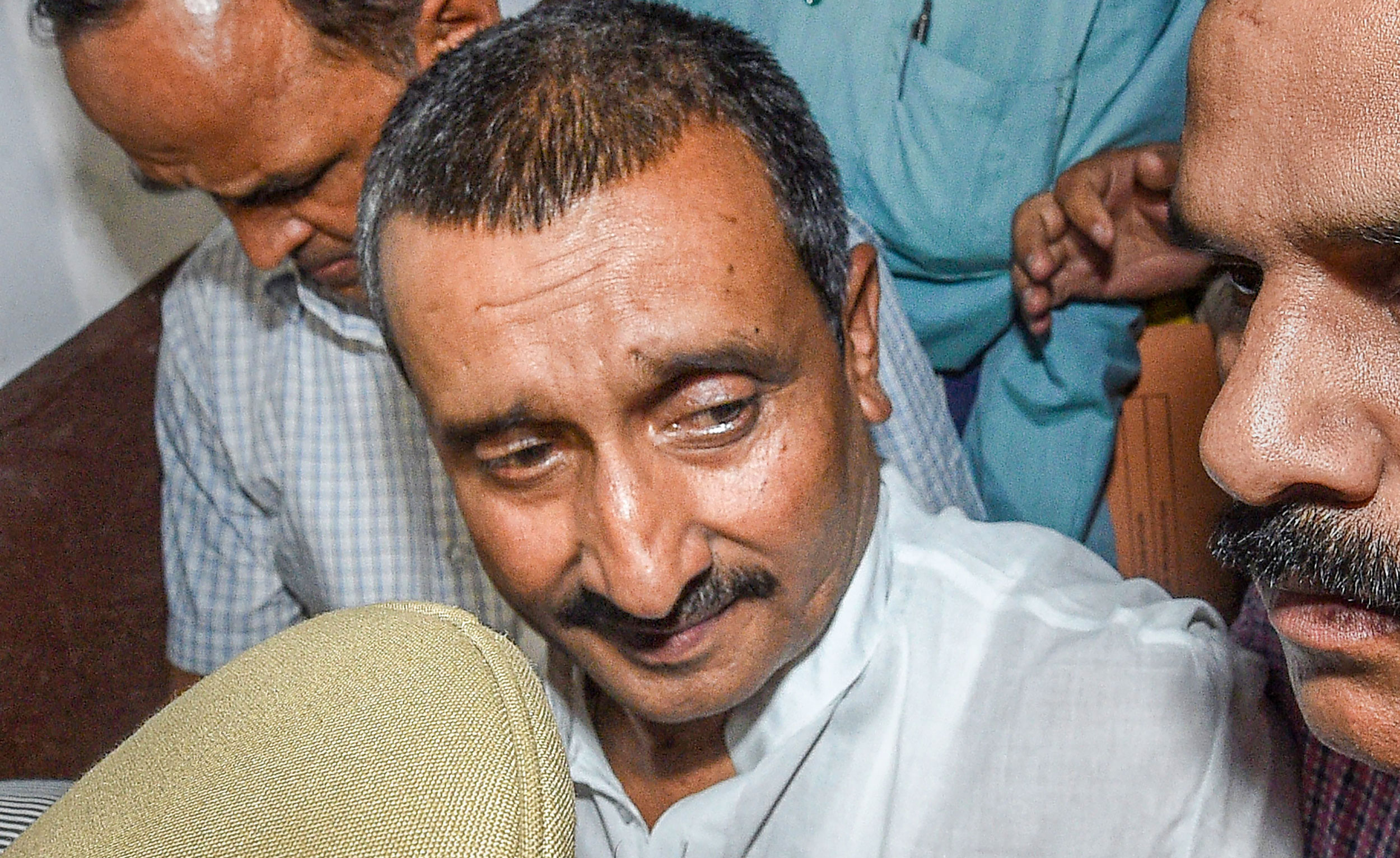 Kuldeep Singh Sengar
(PTI)
---
Lucknow
|
Published 27.10.19, 11:16 PM
|
---
Jailed BJP lawmaker Kuldeep Singh Sengar's youngest brother Manoj, accused of plotting to kill the woman who had brought gang-rape charges against the MLA and another brother, died in a Delhi hospital on Sunday amid contradictory claims about the cause of death.
While one source close to the Sengar family said the 45-year-old had suffered a heart attack, another blamed a drug overdose — a version that state police sources confirmed off the record.
"Manoj had recently started taking drugs and suffered an overdose on Saturday. He was taken from his home village of Makhi in Unnao district to a Lucknow hospital on Saturday evening and referred to Delhi," a political aide to Kuldeep said, declining to be identified.
"He was admitted to a Delhi hospital around 2.30am and declared dead at 6am. His body will be brought to Unnao after a post-mortem for the last rites on Monday morning."
Another Sengar aide, however, said: "Manoj had been staying in Delhi for the past few days to discuss the case against his brothers with lawyers. He suffered a heart attack and died during treatment."
Kuldeep, brother Jaideep and two of their henchmen are in Tihar jail on the charges of gang-raping a minor in Unnao in 2017 and getting her father arrested on false charges and beaten to death in jail in 2018. Two Unnao policemen have been arrested in the second case.
In June this year, a truck collided with a car the girl, now 19, was travelling in and killed two of her aunts and critically injured her and her lawyer.
She accused Manoj of conspiring to murder her, saying he had threatened to kill her and her family if they did not withdraw the charges against his brothers.
The murder and conspiracy FIR named Manoj and the owner, driver and cleaner of the truck. The police, who claim their investigation has still not ruled out an accident, had arrested the driver and cleaner, who are out on bail.
The complainant was discharged from AIIMS, New Delhi, after a month of treatment.
Makhi residents have told reporters that Manoj, who used to manage Kuldeep's election campaigns, had been the most dreaded among the three Sengar brothers.
He apparently used to worship Ravan and relished being addressed as "Lankesh", a title Ravan was known by.