Mysterious farmer death after protest
Blood-soaked body of Kiran Santapa, 52, was found in the early hours on the courtyard of Ambedkar Bhavan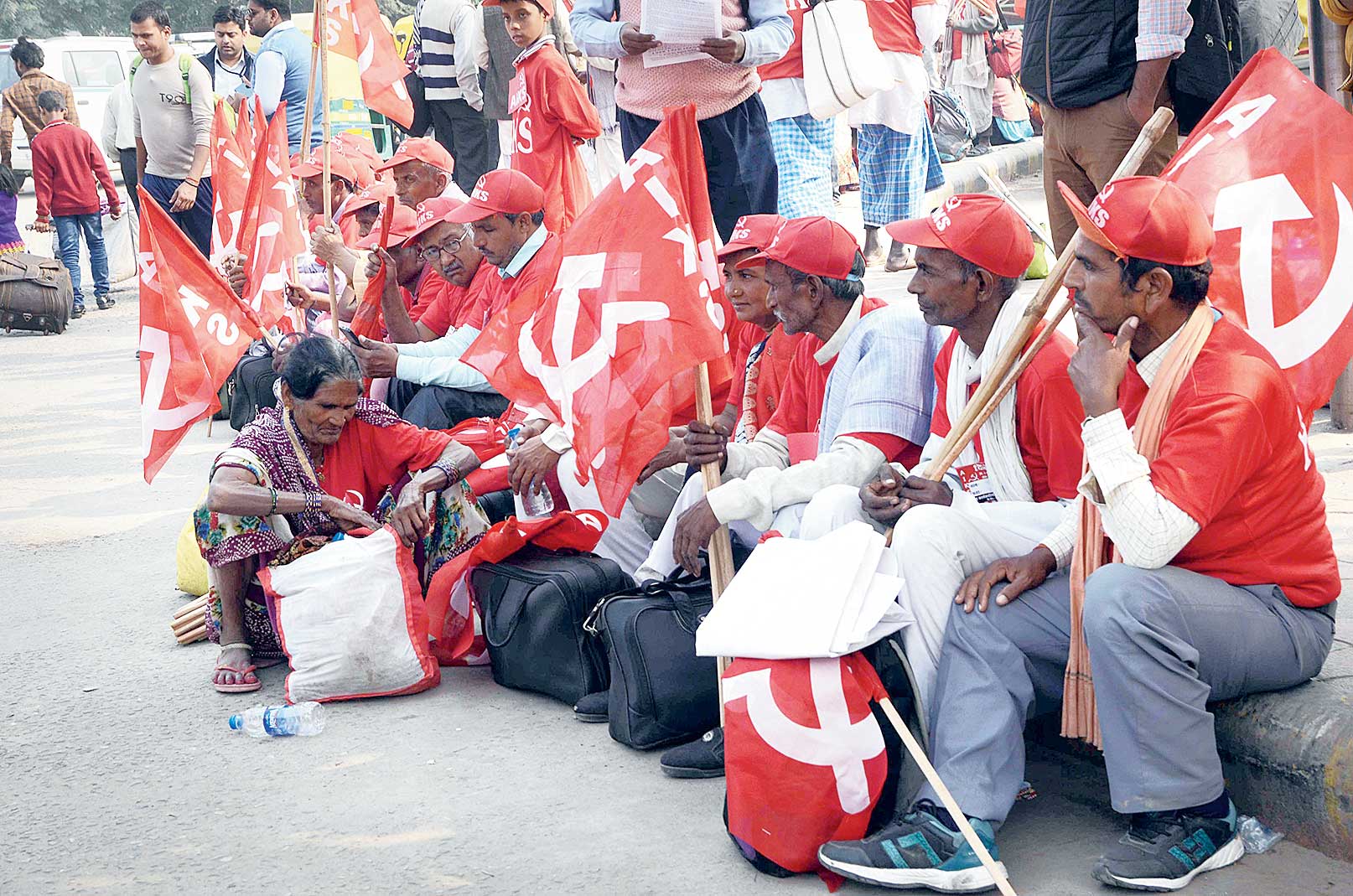 ---
---
A debt-ridden Maharashtra farmer who had arrived in Delhi with thousands of his peers for Friday's protest was found dead on Saturday under mysterious circumstances.
The blood-soaked body of Kiran Santapa, 52, was found in the early hours on the courtyard of Ambedkar Bhavan, where he and about 300 other farmers had been staying since Friday.
Police were quick to dismiss suggestions of suicide, saying the Kolhapur resident seemed to have accidentally fallen off the third floor corridor, where he was sleeping with fellow farmers.
"We have not found any reason to suspect foul play. An investigation is on," said additional deputy commissioner Amit Sharma. "There is no suicide note."
Any suggestion of suicide would be embarrassing for the government. The farmers had marched through Delhi on Friday, highlighting agrarian distress and the suicides it had wrought, and demanding debt relief and good prices.
Sharma's explanation for suspecting an accidental fall was: "We have recorded the statements of some of the farmers who had accompanied Santapa from his village. They did not suspect foul play and believe he fell accidentally."
He admitted that no one saw him fall or hear any thud or cry. There's no CCTV camera in or around the four-storey building.
The police were swift with the post-mortem: it was done by 11am and the body was put on a train in the night to be taken back home. Sharma said opinion would be sought from the doctors who had carried out the autopsy.
A pall descended on Ambedkar Bhavan. "I woke up at 6am and learnt he was no more. How is that possible?" said Kishore Godwade, 59, a farmer from Kolhapur.
He said that Santapa, like all the other protestors, was groaning under a huge debt burden.
Delhi police spokesperson Anil Mittal said officers had received a call around 3.15am saying a man was lying on the courtyard. He was rushed to Lady Hardinge Hospital, where he was declared dead on arrival.
Nearly 1,800 farmers from in and around Kolhapur had arrived on a train they had chartered for Rs 10 lakh. "Each of us paid Rs 3,300 as fare," said Janagonda Patil.
Santapa is survived by his wife, son and daughter. "His son is an MTech but is into farming," Godwade said.