Mumbai gets heaviest rainfall since 2005: Twitter flooded with anguish
The rainfall on a single day was at 375.2 mm, the highest since the 2005 floods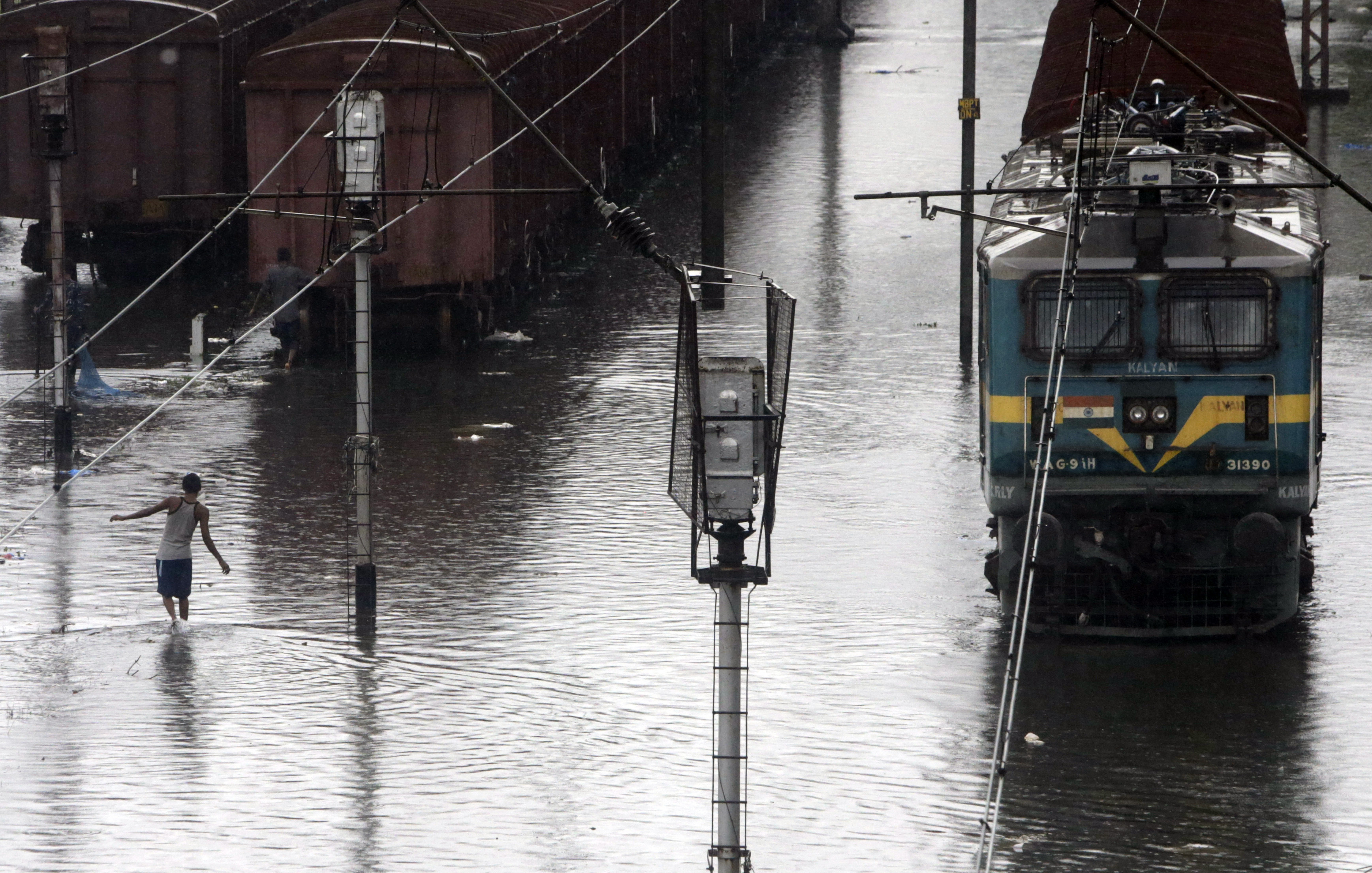 ---
---
A precautionary public holiday was declared for the city, Mumbai Suburban and Thane district this morning.

People took to Twitter to share their experiences. Concerns about the environment run high, especially after news of the National High Speed Rail Corporation Ltd (NHSRCL) implementing a 508-km Mumbai-Ahmedabad bullet train project that could destroy as many as 54,000 mangroves.
The rainfall during the 24-hour period before 8.30 am in Mumbai on Tuesday was 375.2 mm, the highest since the July 26, 2005 Maharashtra floods, IMD (India Meteorological Department) officials said.

Besides the 2005 Mumbai deluge, the highest rainfall on a single day recorded by the Santa Cruz observatory in the metropolis was on July 5, 1974. The rainfall recorded on that day was also 375.2 mm.

During the monsoon, which brings heavy rains from June to September causing flooding and other damage, building collapses are eerily common as the rains weaken the foundations of poorly built structures.
Heavy rainfall caused two separate walls to collapse in Mumbai and Kalyan on Tuesday, killing at least 21 people and injuring over 50, as forecasters warned of more rains.

Mumbai is submerged despite Aarey Milk Colony and the Mangroves being intact!

Now imagine the situation when both are destroyed for Metro/Coastal Road.

Scared? Yes, we should be!!! #MumbaiRains

— Mihir Bijur (@MihirBijur) July 2, 2019
As per the forecast by IMD rain is expected to remain intense even today. MCGM has declared holidays in schools and colleges. We request you to stay indoors unless there's any emergency #MumbaiRainsLive #MumbaiRainsLiveUpdates #MumbaiRains #MCGMUpdates

— माझी Mumbai, आपली BMC (@mybmc) July 1, 2019
While #BJPShivSena is busy in social engineering,they should focus on civil engineering rather. The unfortunate wall was constructed just a year ago.
At #MaladWallCollapse site today pic.twitter.com/8lLTawl7d5

— Sanjay Nirupam (@sanjaynirupam) July 2, 2019
#Mumbairains Would like to announce and confirm that tomm 2nd July 2019 has been declared as holiday ,for all schools( public & private ) in Mumbai , Navi Mumbai, Thane , kokan areas ! Stay safe ! @mybmc @Dev_fadnavis @CMOMaharashtra

— ashish shelar (@ShelarAshish) July 1, 2019
So I fell into this open manhole on the sidewalk on veera desai road (opposite Country Club) a little while ago. Managed to break fall and pull myself out. Thanks @mybmc #mumbairains #mumbaimonsoon #manhole pic.twitter.com/5krJ18xxMi

— Tanmaya Nanda (@tkn2104) July 2, 2019
In Pune's Ambegaon area, a college compound wall collapsed on shanties adjoining the wall killing at least six labourers and injuring four.
Other good Samaritans tweeted to inform people that doors were open for whoever needs to shelter themselves from the incessant rains.
#Pune Second wall collapse tragedy in a week

(this one near Sinhagad campus in Ambegaon)https://t.co/xlae5wa9Xo via @mataonline

— Amit Paranjape (@aparanjape) July 2, 2019
Hello! If you are anywhere around VileParle(e) and stuck in #MumbaiRains then I can offer you food, shelter, wifi & furry friends company. Just a DM away! #MumbaiRainsLive

— Mehul Gohil (@mehulgohil) July 1, 2019
Last week, the city witnessed an eerily similar incident when a wall collapse in Kondhwa claimed the lives of over 15 labourers and their kin.
Five months ago, the residents of Alcon Stylus in Kondhwa had cautioned the developer of the housing complex about the dangerous condition of the retaining wall of one of the buildings which was tilting outward, but to no avail. Yesterday, the Pune Municipal Corporation, suspended the registration of two firms in connection with the incident, Alcon Landmarks and Kunal Housing Enterprises, and has also issued show cause notices to them.

Some questioned the state of affairs, and the lack of a proper drainage system in the country's financial capital.
Shocked & devastated to hear of the death of 15 people in a construction accident in Pune. This is a clear case of negligence by the builder. Strongest action must be taken against errant builders who risk the safety of labourers just to cut costs.https://t.co/fJcy4nOLCH

— Shama Mohamed (@drshamamohd) June 29, 2019
Honestly, should we even feel sorry for Mumbaikars? They've been consistently voting for the NDA to govern the BMC for more than 25 years now.

— Neerja Gogoi (@TypoMantri) July 2, 2019
Mumbaikars should stay safe as more rains predicted by IMD. What were the steps taken by the Governments after 2005 floods? this insensibility of our politicians is frustrating..😠#MumbaiRainlive #MumbaiRainsLiveUpdates

— FlutteRocks (@rocks_shy) July 2, 2019
Why do Mumbaikars need to face such issues every monsoon. Please question the authorities. No proper drainage system in the commercial capital of India. Horrible. #MumbaiRainsLiveUpdates

— Rohitvarma (@AAMIRCRAZE) July 2, 2019
For a city which provides 30% of income tax collections in the country, 6% of the GDP and having over $380 billion economy - what is provided back to citizens is sheer garbage. #MumbaiRains pic.twitter.com/L3a17MC89B

— Ronak Sutaria (@rsutaria) June 29, 2019
Twitterati also commented on leading nutrition and exercise science expert Rujuta Diwekar's tweet on how her team made it to work 'irrespective of rain or shine', saying that they should stop treating it 'as some big achievement'.
We have to stop treating this as some big achievement. INHO treading through flooded water, dodging falling trees, begging autowallahs to drop you to reach work isn't and shouldn't be the biggest achievement of us Mumbaikars.

— PS (@thepunjaban) July 2, 2019
Nonetheless, Mumbaikars persevere, and some manage to keep their spirits high come rain or shine.
Angry at crumbling infra during #MumbaiRain ? Just remember, None of this is happening for the first time. Same story gets repeated every year. Why? because we Mumbaikars are the worst of the apathetic lot of Indians. We never hold anyone accountable because hey #SpiritOfMumbai

— Amit Mehra (@amitmehra) July 2, 2019
Downpour starts 🌧️⛈️☔

*Le Mumbaikars :#MumbaiRain #MumbaiRainlive pic.twitter.com/36c6PDuEnG

— MunNaa⚔️ (@Munnaa09) July 2, 2019
Honestly, should we even feel sorry for Mumbaikars? They've been consistently voting for the NDA to govern the BMC for more than 25 years now.

— Neerja Gogoi (@TypoMantri) July 2, 2019