Movie trailer on Sheikh Mujibur Rahman runs into criticism
Research by director Shyam Benegal on Bangabandhu inadequate, rues social media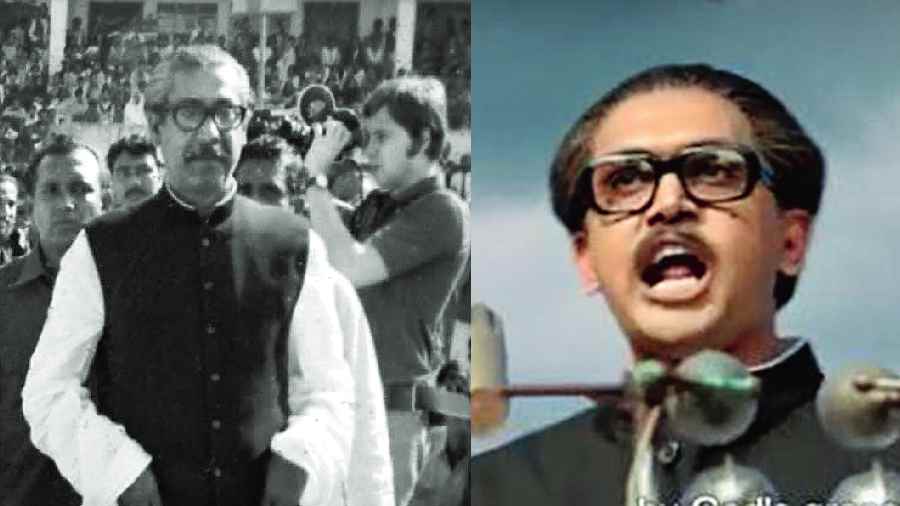 (From left) Sheikh Mujibur Rahman and a still from the film 'Mujib: The Making of a Nation'
Sourced by The Telegraph
---
Calcutta
|
Published 22.05.22, 03:08 AM
|
---
A 90-second trailer of the much awaited Mujib: The Making of a Nation, a biopic about Sheikh Mujibur Rahman, was released at the Cannes Film Festival on Thursday, triggering a volley of criticism against its director Shyam Benegal from many Bangladeshis.
The mainstream Bangladeshi media has till now confined itself to reporting the trailer's release and the excitement in Cannes over the film, produced by the Indian and Bangladeshi governments and likely to be released later this year.
But on social media, Bangladeshis from across the globe have pilloried Benegal, often called the pioneer of parallel cinema on the subcontinent.
Benegal's plight has reminded some of the attacks faced by Richard Attenborough and Jamil Dehlavi after the release of their biopics about Mahatma Gandhi (1982) and Muhammad Ali Jinnah (1998).
A trawl through YouTube and Facebook reviews of the trailer — released by Union I&B minister Anurag Thakur and his Bangladeshi counterpart Hasan Mahmud — have thrown up criticisms such as:
Arifin Shuvoo, who plays Mujib, lacks the aura and baritone of Bangabandhu whose speeches, even his mere presence — and their audiovisual recordings — have given goosebumps to millions of Bangladeshis across generations.
The visual effects ("VFX" in cinematic parlance) of the fighter jets and tanks — used by Benegal to tell the story of the nine-month Liberation War — give the impression of a "cartoon film".
The research on Mujib has been inadequate. He has been shown wearing spectacles during his famous March 7 address — which set the stage for the freedom struggle — despite the records showing he was without glasses.
Lack of attention to detail: the trailer shows two different Bangladeshi flags being used during the Liberation War — one with a map and the other without it.
Benegal has also been accused of inappropriate castings for other key characters and of a possible "India-oriented storyline", a political hot potato in Bangladesh.
"A biopic of Bangabandhu is not just a film, it's a matter of our emotions, linked to our history as an independent country," said Hashibur Reza Kallol, a Dhaka-based filmmaker.
"Sheikh Mujib is an icon for all Bangladeshis, whatever their differences. Unfortunately, the trailer has exposed several shortcomings in the film and people are upset."
These initial reactions are likely to discomfit South Block, which was expecting a surge of goodwill for India because of the film, billed as the Narendra Modi government's gift to Bangladesh as it marks Mujib's centenary and 50 years of its independence.
The co-production agreement was signed on January 14, 2020, between the two executive producers: the NFDC of India and the Film Development Corporation of Bangladesh. The budget of more than $10 million (Rs 75 crore) was shared 40:60 by India and Bangladesh.
"A gesture like this from India towards a neighbouring country is indeed welcome," said a decorated Bangladeshi freedom fighter whom, however, the trailer has left "unimpressed" for the same reasons as some of the social media reviewers.
"While it's true that a 90-second trailer cannot show what the film is all about, one expects history to be accurately reflected in a film about a talismanic leader like Bangabandhu."
As social media users across the border angrily debated whether Shuvoo was the right choice for Mujib and whether a Bangladeshi director should have been assigned the film, a history professor with Calcutta University said the reaction had not surprised him.
"Remember the controversies surrounding the films Gandhi or Jinnah those days," historian Kingshuk Chatterjee said, referring to the angry reactions in India and Pakistan over the selection of Ben Kingsley as Gandhi and Christopher Lee as Jinnah.
The big question that agitated Indians over Attenborough's film was whether it was appropriate to have a Briton play Gandhi. The liberties Attenborough took in the storytelling — such as the Congress contemplating "terrorism" or the Mahatma appearing to organise his Salt March to give a foreign journalist good copy — gave offence to many.
Pakistanis questioned Dehlavi's interpretation of history, some comparing the film to Salman Rushdie's controversial novel, The Satanic Verses. Many asked why Lee, a man who had portrayed Dracula, was chosen to play Jinnah.
"In later days, everyone agreed that these two films were among the best made on the two iconic figures from this subcontinent," Chatterjee said.
"If historical accuracy is what you want, a film has to be made by a historian. Is that possible?"
Chatterjee said that whether Shuvoo resembles Mujib in look, voice or personality means little in the context of a biopic.
"You have to remember that it's not Mujib acting in the film; rather, it's a film about him," he said.
Chatterjee was confident that Benegal would do justice to Mujib and that the film would generate interest about the leader among the young.
Bangladeshi actor Ferdous Ahmed said he didn't see much logic in criticising a film on the basis of a 90-second trailer.
Ferdous had been selected to play Tajuddin Ahmed, the first Prime Minister of independent Bangladesh and a close associate of Mujib, but could not act in the film because of visa complications.
"A lot of effort went into research and casting…. Even our Prime Minister Sheikh Hasina and her sister Sheikh Rehana spent long hours with the team and provided inputs," he said.
"A trailer is just a trailer and not a film. I'm waiting eagerly for the release; I think it will be a good film."