Molnupiravir for non-pregnant, unvaccinated adult Covid patients
Doctors from medical institutions in Bengal and Delhi cautioned that there is no data on the effectiveness of the drug in fully vaccinated people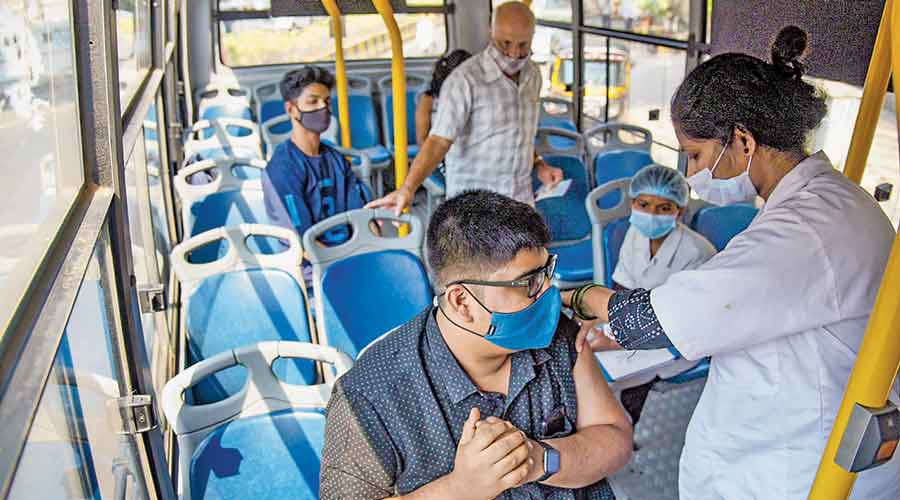 A health official administers a dose of Covid-19 vaccine to a passenger in Navi Mumbai.
PTI file photo
---
New Delhi
|
Published 16.02.22, 12:54 AM
|
---
The drug called molnupiravir may be used in non-pregnant, unvaccinated adult Covid-19 patients at increased risk of severe disease, four doctors said on Monday seeking to resolve confusion over whom to prescribe the drug.
The doctors from medical institutions in Bengal and Delhi also cautioned that there is no data on the effectiveness of molnupiravir in fully vaccinated people who develop breakthrough infections or in patients who have Covid-19 reinfections.
The infection outcomes in patients with a past history or Covid-19 who receive molnupiravir is "no better" than patients who received placebo or sham medication, the doctors said after reviewing the results of three global studies between October 15, 2021 and January 5, 2022.
"Molnupiravir could be useful in non-pregnant unvaccinated adults with Covid-19 at increased risk of severity, including hospitalisation," Awadesh Singh at the GD Hospital and Diabetes Institute, Calcutta, and his co-reviewers wrote in their review.
"It is effective only when used within five days of the onset of symptoms."
But the doctors said the absence of evidence for molnupiravir's effectiveness in fully vaccinated patients with breakthrough Covid-19 and those with reinfections is of "considerable importance" for India where nearly 80 per cent of adults are fully vaccinated.
"Therefore, the role of molnupiravir (in India) is expected to be limited," the doctors said in their review in the medical journal Diabetes and Metabolic Syndrome: Clinical Research and Reviews.
India's apex drug regulatory authority had in December approved molnupiravir as an antiviral drug for Covid-19 patients at risk of developing severe disease, allowing its sales, but a national task force that sets treatment guidelines has not included it in Covid-19 management protocols yet.
The head of the Indian Council of Medical Research Balram Bhargava had in January said the drug has "major safety concerns", and cautioned about concerns relating to the drug's possible adverse effects, including on foetuses and pregnant women.
The drug's developers have, however, asserted that they are confident about molnupiravir's effectiveness and that it had demonstrated a significant reduction in the risk of hospitalisation or death in clinical trials with no observed safety concerns.
The apparently contradictory action and guidance from the Central Drugs Standard Control Organisation (CDSCO) and the task force had left sections of doctors wondering about whom to prescribe molnupiravir, a drug produced by several companies in India. The prescribed five-day course costs roughly Rs 1,400.
"Our review is simplified for general practitioners," said Anoop Misra, an endocrinologist and executive chairman at the Fortis Centre for Diabetes, Obesity and Cholesterol, New Delhi, a co-author. "Certain categories of patients such as unvaccinated, non-pregnant adults with one or more risk factors for severe disease could benefit from molnupiravir. And molnupiravir should be avoided in fully vaccinated people with breakthrough infections unless there is evidence in favour of molnupiravir."