Warm send-off for Prime Minister after talks with Xi
The talks between the leaders went well, sources said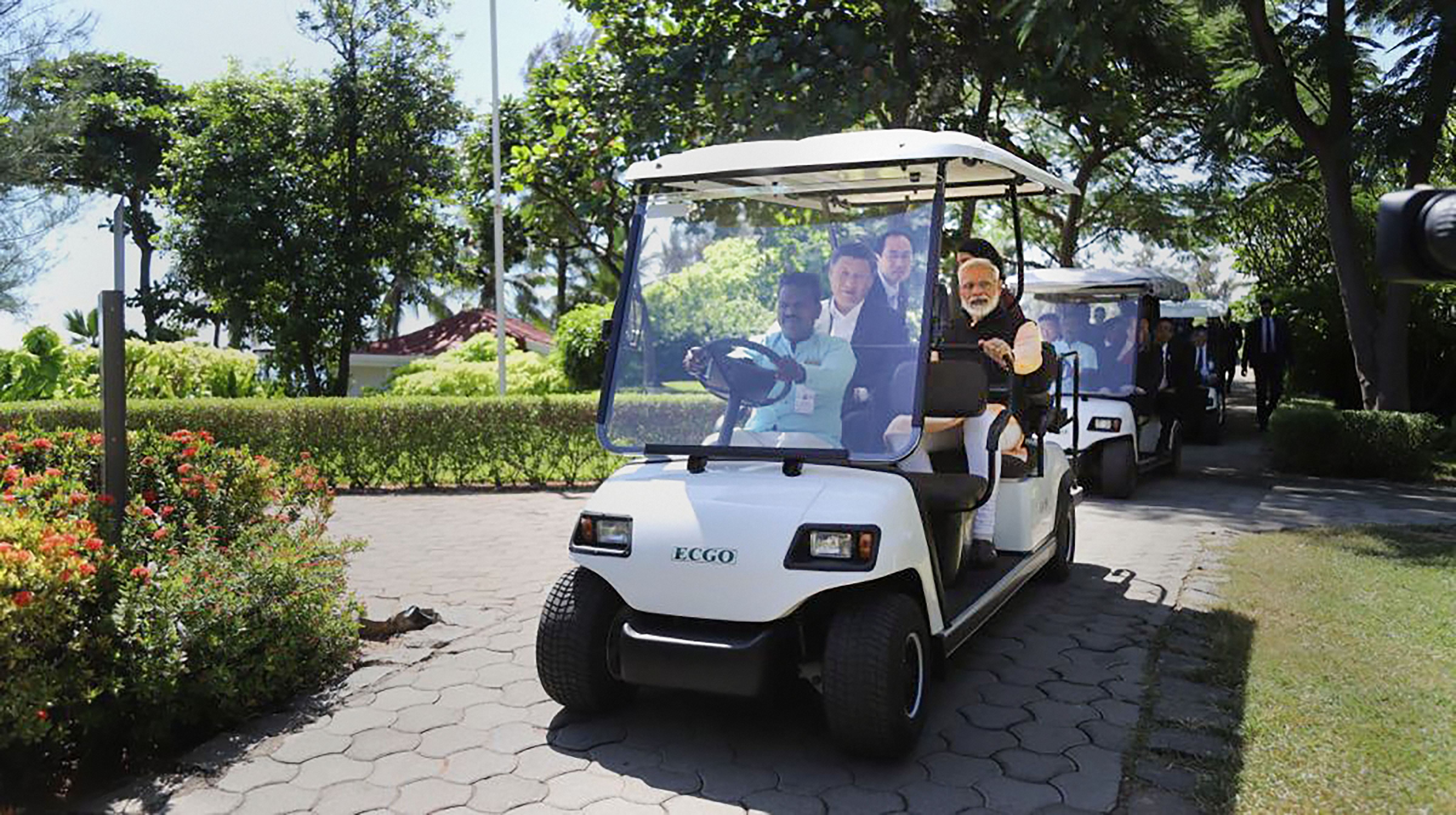 ---
---
Prime Minister Narendra Modi and Chinese President Xi Jinping held a fresh one-on-one discussion on Saturday at a tranquil beach resort overlooking the Bay of Bengal in Kovalam, signalling an intent to refashion ties for greater bilateral cooperation.
After around an hour-long talks at the Fisherman's Cove resort on the second and final day of the informal summit, the two took a stroll along the beach and were engaged in discussion. Earlier, Modi and Xi came together to the venue in a golf cart.
Sources said the talks between the two leaders went off well. The tete-a-tete was followed by delegation-level discussions.
Xi arrived on Friday amid strain in bilateral ties after India withdrew Jammu and Kashmir's special status and bifurcated the state into two Union territories.
On Friday, Modi and Xi held a two-and-a-half-hour open and cordial one-on-one discussion over dinner, vowing to jointly combat terrorism and radicalisation, and expand bilateral trade and investment.
The meeting at the magnificent Shore temple complex under a sea-facing colourful tent went beyond the scheduled time as both leaders touched upon a range of issues over sumptuous local delicacies.
'This was quality time that the two leaders spent together one-on-one,' foreign secretary Vijay Gokhale had said after the meeting, adding that they vowed to work together so that radicalisation and terrorism do not affect the multi-cultural, multi-ethnic and multi-religious societies of the two nations.
He said the two leaders also deliberated on trade and economic issues with a focus on identifying new areas for investment and enhancing trade volume and value of two-way trade.
The issue of trade deficit and trade imbalance was also discussed, the foreign secretary said.
India has announced a five-year tourist e-visa with multiple entry facility for Chinese travellers, coinciding with President Xi's visit.

The unilateral liberalisation of e-visas for Chinese nationals will 'further enhance people-to-people exchanges between the two countries and encourage more Chinese tourists to choose India as a destination for tourism purposes', the Indian embassy in Beijing said in a press release.
China's state run Xinhua news agency reported that Xi and Modi agreed to promote exchanges and mutual learning among civilizations to achieve joint development and prosperity during their meeting on Friday.
Noting that China-India cultural and people-to-people exchanges bear great potential, the Chinese President urged both countries to take the 70th anniversary of their diplomatic relations next year as an opportunity to conduct broader and deeper cultural and people-to-people exchanges.
The two leaders held extensive talks on dialogue and mutual learning among civilizations, Xinhua reported.
The two leaders held their first informal summit in the central Chinese city of Wuhan in April last year.

Xi's visit to India came two days after he held talks with Pakistan Prime Minister Imran Khan in Bejing.
After the talks, a joint statement said China is paying close attention' to the situation in Kashmir and that the issue should be properly and peacefully resolved based on the UN Charter. The comments evoked sharp reaction from New Delhi.
Officials on both sides said the focus of the Modi-Xi summit has been to move forward and chart a new pathway of development notwithstanding sharp differences between the two countries over several contentious issues.
Warm send-off

Modi left for New Delhi on Saturday after concluding the informal summit with the Chinese President, which he said "will add great momentum" to bilateral ties.
The Prime Minister was given a warm send-off by Tamil Nadu governor Banwarilal Purohit, chief minister K. Palaniswami, deputy chief minister O. Panneerselvam and senior leaders of the state unit of the BJP at the airport.
He left for Delhi by an Indian Air Force aircraft.
Earlier, Modi arrived here from the Fisherman's Cove seaside resort at Kovalam, off Mamallapuram, by a chopper.
BJP supporters, who lined up on both sides of the road from Kovalam to the helipad at Thiruvidanthai near Mamallapuram, raised "Bharat Mata Ki Jai" and "Vande Mataram" slogans and a smiling Modi reciprocated by waving at them.
The general public too had gathered to greet the Prime Minister.
The Prime Minister on Twitter said he and the Chinese President had productive deliberations on improving bilateral ties as the second informal meet between the two leaders concluded at nearby Mamallapuram.
"I thank President Xi Jinping for coming to India for our second Informal Summit. The #ChennaiConnect will add great momentum to India-China relations. This will benefit the people of our nations and the world," he said.