Bhoomi pujan in Ayodhya fixed for August 4
Modi plans Ayodhya temple construction date in pandemic
A proposed bhoomi poojan ceremony is expected to coincide with the first anniversary of scrapping Article 370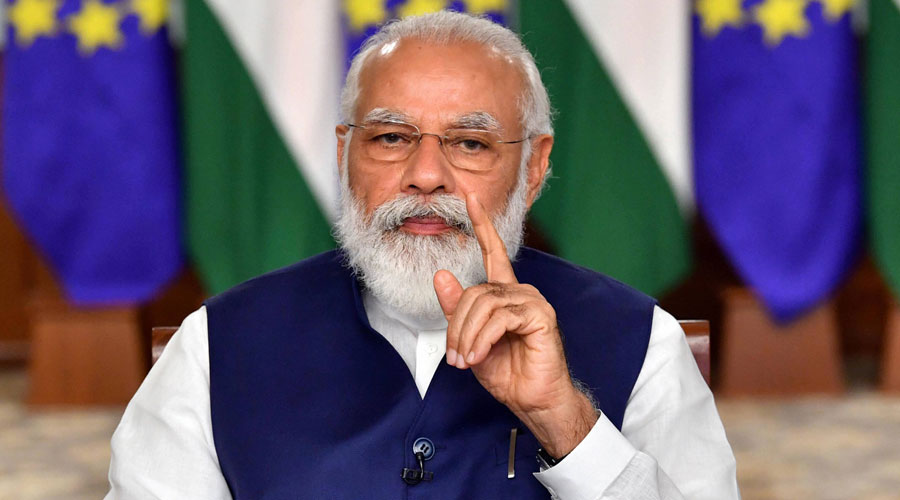 ---
---
Prime Minister Narendra Modi is "most likely" to lead a bhoomi pujan ceremony in Ayodhya on August 5, in the middle of a pandemic, marking the start of the construction of the Ram temple, sources said.
The date of the proposed ceremony coincides with the first anniversary of the revocation of Jammu and Kashmir's special status, thus holding a symbolic significance for the government.
Scrapping Article 370 and building the Ram temple have been two of the traditional "core issues" of the BJP and its wider parivar.
Official confirmation of Modi's participation at the bhoomi pujan (earth or site worship) is awaited but sources said he was "most likely to attend".
Conducting the ceremony at a time the country is reeling under the Covid-19 threat would signify a political statement from the ruling establishment — that it will brook no hindrance to accomplishing core objectives that many once thought impossible.
Also, the hurry to launch the construction of the temple suggests the government wants to complete it before the next general election, due in 2024, and reap the dividends.
Sources said the trust mandated to oversee the temple construction had fixed the "auspicious" date and requested the Prime Minister to lead the event.
The Shri Ram Janmabhoomi Teerth Kshetra Trust had at a recent meeting suggested two "auspicious" dates for the purpose: August 3 and August 5.
Sources said the preparations would start on August 3 but the actual event would take place on August 5.
The lockdown restrictions are likely to be tested when the temple trust holds the bhoomi pujan with the help of the Adityanath government, although trust members privately insisted that all the protocols would be observed.
Apart from the Prime Minister, invites are being sent out to all the senior leaders of the Sangh parivar who had spearheaded the temple movement of the late '80s and early '90s.
Invitations are also being sent to select guests from outside the BJP fold, such as estranged ally and Maharashtra chief minister Uddhav Thackeray whose father Bal Thackeray was a leading light of the temple movement.
Trust members said only 50 people would be allowed at the main ceremony, with physical distancing being strictly maintained, while all the rest would have to watch the event on screens installed across Ayodhya town.
However, the Unlock 2 guidelines suggest that the elderly not step out of their homes except for medical reasons or other emergencies.
Most of the invitees are above 65. Modi himself is 69 while L.K. Advani is in his 90s and Murli Manohar Joshi in his 80s.
Mahant Gopal Das, president of the temple trust, has said a 40kg silver brick has been built which the Prime Minister will install as the foundation for the temple.
The trust has finalised a much bigger design for the temple than was originally planned by the Vishwa Hindu Parishad.