Modi meets Amit Shah, Rajnath Singh and security advisor Ajit Doval
Ministers, official discuss futuristic challenges in defence sector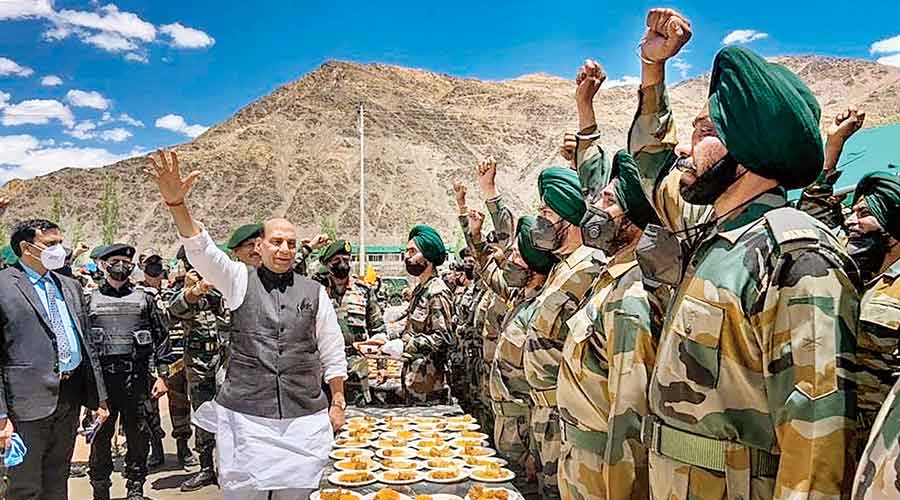 Rajnath Singh in Ladakh last year
File picture
---
New Delhi
|
Published 29.06.21, 06:03 PM
|
---
Prime Minister Narendra Modi held a meeting with Home Minister Amit Shah, Defence Minister Rajnath Singh and National Security Advisor Ajit Doval on Tuesday and discussed "futuristic challenges" in the defence sector, sources said.
They also discussed various other aspects, including equipping security forces with modern equipment and involving more youth, start-ups and the strategic community in the field.
The meeting came against the backdrop of the first-of-its-kind terror attack using drone at an Indian Air Force station in Jammu.
The government has handed over the probe into the attack to the National Investigation Agency (NIA).
Shortly after midnight on Sunday, two blasts had taken place at the Air Force base at the Jammu Airport, in which a building was damaged and two Indian Air Force personnel suffered minor injuries.
The high security airport is located around 14 km from the border with Pakistan. Jammu and Kashmir police chief Dilbagh Singh said Pakistan-based terror group Lashkar-e-Taiba is suspected of involvement in the attack.
Suspicion about a Lashkar link came following the arrest of a suspected operative of the group from Banihal. The 22-year-old, carrying an explosive device weighing 4 kg, was arrested hours after Sunday's blasts.
Over the last two years, reports from Punjab and Jammu and Kashmir suggested that Pakistan was using drones to make weapons drop.
Two such instances have been recorded in Jammu and two in Punjab.
Sunday's attack took place shortly before Defence Minister Rajnath Singh and Army Chief General MM Naravane's scheduled visit to Ladakh to review India's operational readiness in the backdrop of the ongoing stand-off with China.
The attacks shattered the relative stability at the border, where a drop in infiltration was observed amid the Covid pandemic. The government said it has been considering the restart of the political process in Jammu and Kashmir in view of the security situation.
Singh said Lashkar could also be behind the drones spotted near the Kaluchak military facility on Monday.
Yesterday, the army said a major threat was averted when the troops spotted two drones near the military station in Jammu. They flew away after the troops opened fire at them.