Mirwaiz leads rally against IS in Valley
First street protest in Jammu and Kashmir against the Islamic State's ideology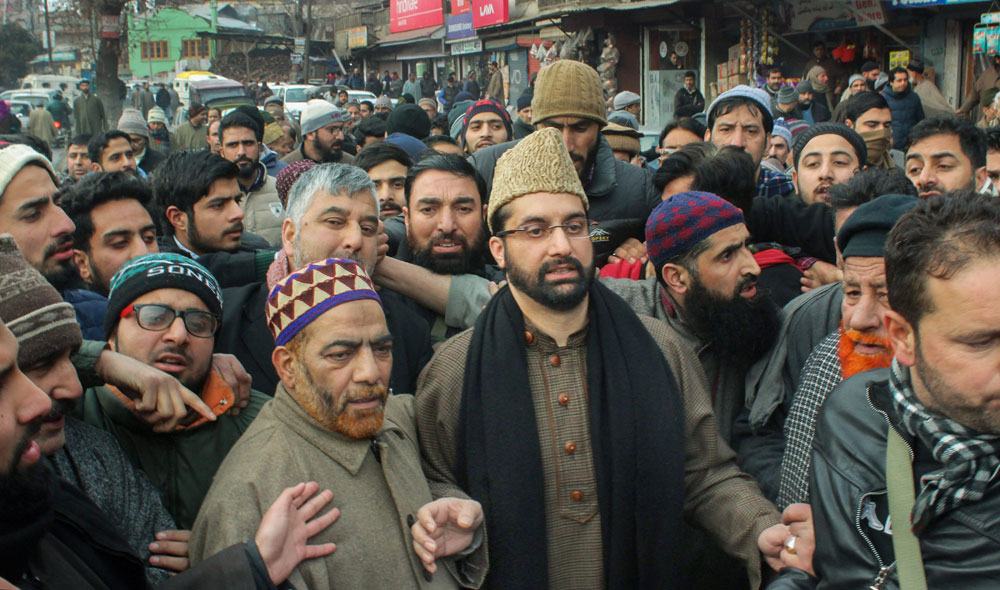 ---
Srinagar
|
Published 02.01.19, 09:09 PM
|
---
Moderate Hurriyat chairman Mirwaiz Umar Farooq on Wednesday led a rally against the alleged desecration of Srinagar's Jamia Masjid by Islamic State sympathisers, making it the first street protest in the Valley against the global terror outfit or its ideology.
The protest took place on a day state police chief Dilbagh Singh said IS sympathisers at present have a marginal presence in the Valley but that serious efforts are on to radicalise a section of youths.
"Such efforts have been made at certain quarters and their expression has been seen in the kind of activities that we saw the other day," he said. "I will again say the presence is not that big, but the fact is people are being radicalised on those lines and that cannot be denied," the officer added.
Sympathisers of the IS on Friday briefly took over the pulpit of the Valley's grand mosque in Srinagar, the seat of Mirwaiz, and raised slogans for a pan-Islamic caliphate. Mirwaiz has accused the youths of desecrating the mosque and said a masked youth stood atop the pulpit with his shoes on to raise slogans.
The moderate Hurriyat chairman led a rally from his ancestral residence at Rajouri Kadal to Jamia Masjid, covering a few hundred metres, at which slogans were raised against the alleged desecration. The authorities, who routinely disallow separatist rallies, allowed Wednesday's march.
Mirwaiz claimed it was a "huge rally" comprising workers of his Awami Action Committee, Ulemas and members of civil society. He personally cleaned the pulpit — a ceremonial washing.
But only a few hundred people turned up, which may not be a sign of IS support but could indicate either Mirwaiz's own dwindling popularity in the area considered his bastion or people's reluctance to take the ideology head on.
Whatever little support Mirwaiz could muster was on the ground that the mosque had been desecrated. There was little resolve to openly counter the IS ideology, and no participant mentioned the IS by name. "Everybody knows what this rally is all against. The message has been conveyed," a Mirwaiz supporter said.
Mirwaiz, however, dropped hints that men behind Friday's incident were from within and they need to be countered. "We have to assess the situation. I don't need to tell you what a mosque means and no Muslim has a right to call himself a Muslim if he does not know the sanctity of mosque," he told the gathering.
"We should not allow those people in our ranks who want to change the direction of the (Azadi) movement. We have to be vigilant."
Mirwaiz said the masked youth behind the Friday act will be exposed soon.
Sympathisers of the IS are bitterly opposed to pro-Pakistan separatist groups in Valley, including militants, and denounce the United Nations as well as those who preach democracy.