Mayawati accuses Modi of deserting 'his innocent wife'
Despite the political silence, Modi's treatment of his wife has been a matter of discussion among some women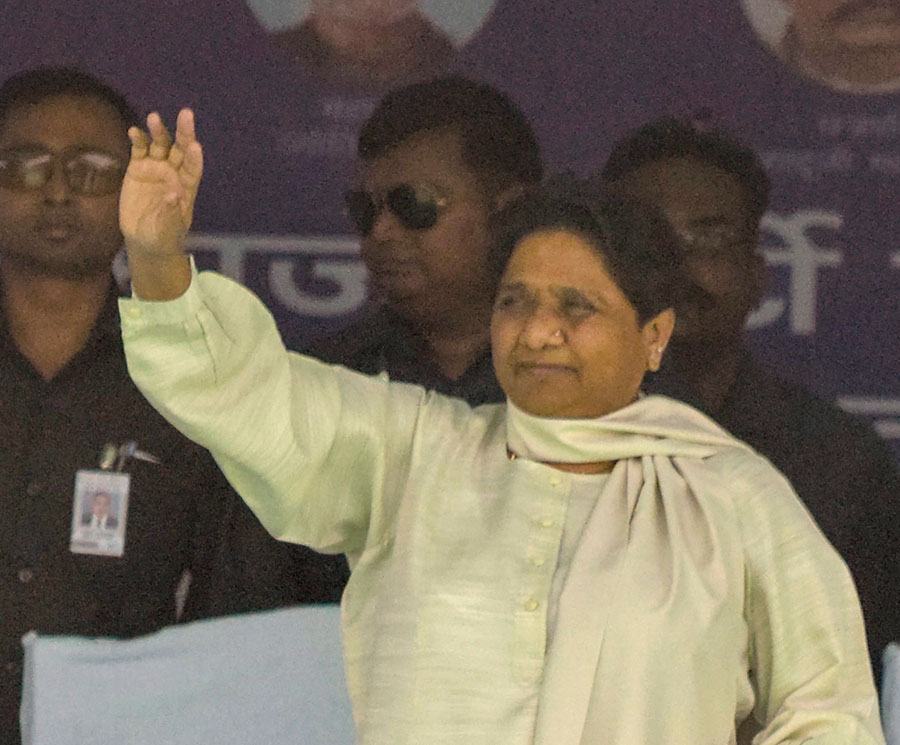 ---
Lucknow
|
Published 14.05.19, 01:35 AM
|
---
Behan Mayawati - She is firm on becoming a Prime Minister. Her governance, ethics and discourse stoops to an all-time low. Her personal attack today on the Prime Minister exposes her as unfit for public life.

— Chowkidar Arun Jaitley (@arunjaitley) May 13, 2019
Mayawati broke a political taboo on Monday to make a rare reference to Narendra Modi's "desertion of his innocent wife", arguing the Prime Minister could not be expected "to respect women".
"Married BJP women feel afraid when they see their husbands go near the Prime Minister," the Bahujan Samaj Party president told a media conference in Lucknow. "They fear their husbands might desert them under Modi's influence."
Mayawati added: "He (Modi) deserted his own innocent wife for selfish political reasons. I request the women of the country not to vote for such a person. That would be a proper show of respect for Modi's deserted wife."
Modi had left Jashodaben soon after their marriage in 1968, when both were teenagers, but a divorce never happened. Jashodaben, now a retired schoolteacher, lives with her brothers in Gujarat's Mehsana district and has never complained publicly.
Modi officially acknowledged her for the first time before the 2014 general election, naming her in his nomination papers after the poll panel banned candidates from leaving any column blank.
On Monday, finance minister Arun Jaitley tweeted: "Behan Mayawati — She is firm on becoming a Prime Minister. Her governance, ethics and discourse stoops to an all-time low. Her personal attack today on the Prime Minister exposes her as unfit for public life."
In a country where celibacy is widely viewed as a virtue, his political opponents have largely shunned the subject despite Modi's personal attacks on them.
The lone exception came last February, when N. Chandrababu Naidu reacted to the Prime Minister's taunts about the Telugu Desam leader "creating wealth for his son".
"You don't have a family, no relations. Does Modi have any respect for the family system?" Naidu asked a rally.
"Do you know he has a wife?… He hasn't even divorced her. He has just left her."
Naidu added: "I wouldn't have spoken about this but you became personal."
Anecdotal evidence suggests that despite the political silence, Modi's treatment of his wife has been a matter of discussion among some women.
A woman presiding officer, who was on duty in Lucknow during the May 6 vote, told The Telegraph informally on May 12 that some middle-class women were refusing to vote for the BJP because Modi had deserted his wife.
"I overheard women saying that if Modi could not give justice to his wife, how could he give justice to other women?" she said, asking not to be identified.