Many in the Opposition feel that BJP will fall short of numbers, allies to form government
The main concern among non-NDA parties is to keep the flock together and not be caught napping.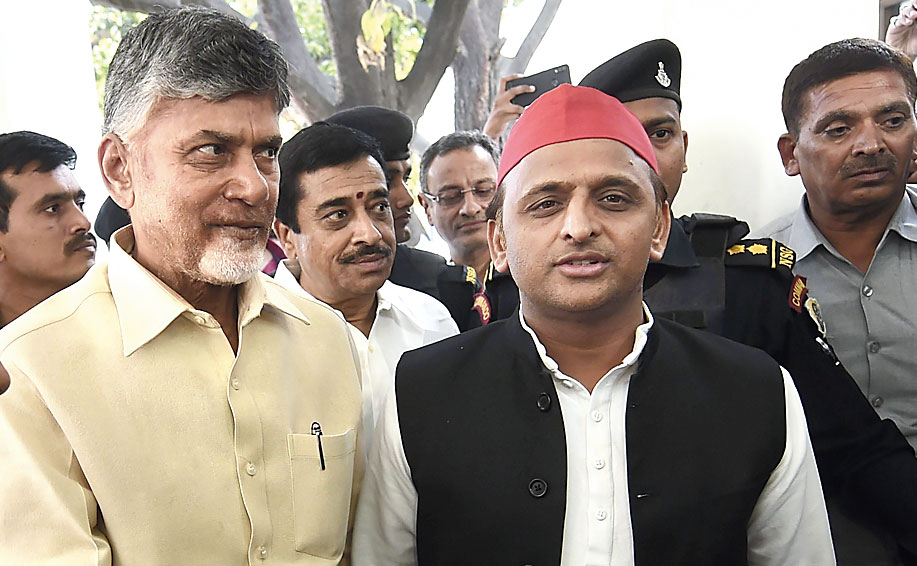 Chandrababu Naidu meets Akhilesh Yadav in Lucknow on Saturday.
(PTI)
---
New Delhi
|
Published 18.05.19, 07:25 PM
|
---
With the elections drawing to a close on Sunday, the Opposition parties are back to their drawing room meetings in a bid to be prepared for the situation they are hoping for: the BJP falling short of numbers and allies to form the government.
Many in the Opposition are convinced that the BJP, despite its claims of bettering the 2014 tally, will struggle to get to the halfway mark of 272 on its own and the Narendra Modi-Amit Shah duopoly would have to scramble for allies beyond those already in the NDA.
Given how the BJP has managed to work the system and beat the Opposition in government formation in various states over the past five years — Goa and Manipur in particular — the main concern among the non-NDA parties is to keep the flock together and not be caught napping.
Andhra Pradesh chief minister N. Chandrababu Naidu has been meeting the leaders of various parties in the capital and Lucknow over the past two days.
He met Congress president Rahul Gandhi, NCP leader Sharad Pawar and CPI leaders Sudhakar Reddy and D. Raja in New Delhi on Saturday before flying to Lucknow to meet BSP chief Mayawati and SP president Akhilesh Yadav whose coalition is the big hope in the Opposition camp as far as stopping the Modi-Shah electoral juggernaut is concerned.
On Friday, Naidu met CPM general secretary Sitaram Yechury and AAP chief Arvind Kejriwal to rekindle the conversation between parties that broke down during the campaign.
While Naidu had been keen on an Opposition meeting before May 23 — when the results are due — other party leaders were not too willing to count the chicken before they are hatched.