Bihar mantra for Lok Sabha polls: Laugh a little, cry a bit, but do vote
If Tejashwi Yadav is using sarcasm to highlight how his entire family is embattled, Ram Vilas Paswan is playing the Maa card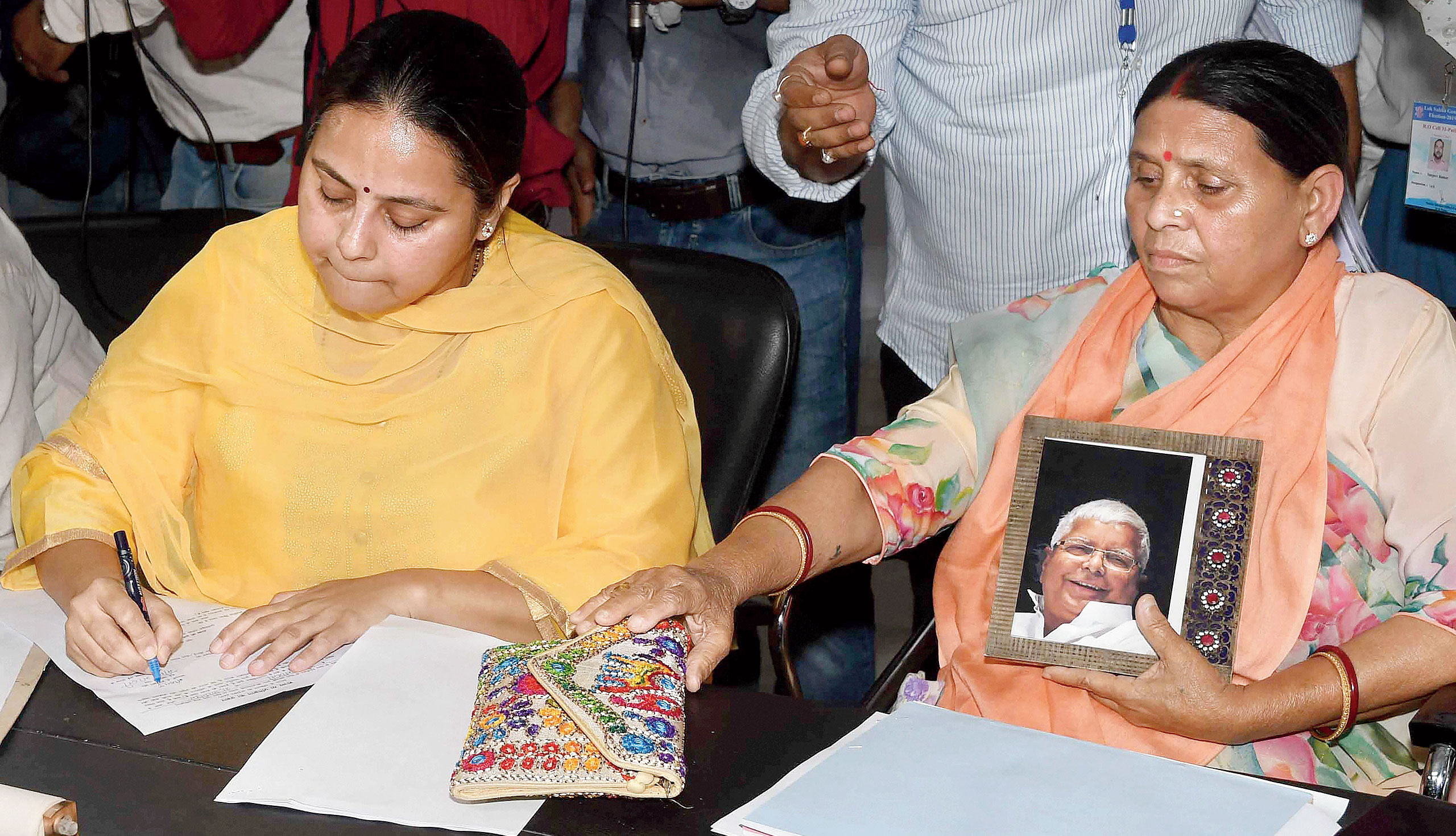 Rabri Devi sits with a photograph of Lalu Prasad while daughter Misa Bharti (left) files her nomination papers in Patna on April 25.
(PTI)
---
Patna
|
Published 10.05.19, 01:30 AM
|
---
Modi Modi? Yes papa. Any development? No papa. Farmer happy? No papa. Women safe? No papa. 10 crore jobs? No papa. 15 lakh? No papa. Only jumla? Ha ha ha.
—The Rashtriya Janata Dal, in a tweet.
Laluji is not being allowed to meet anyone in violation of jail manual and human rights. He is also not being allowed to take home-cooked food. His blood samples are not being sent for checking...
— RJD chief Lalu Prasad's wife, Rabri Devi, in an open letter to Bihar's electorate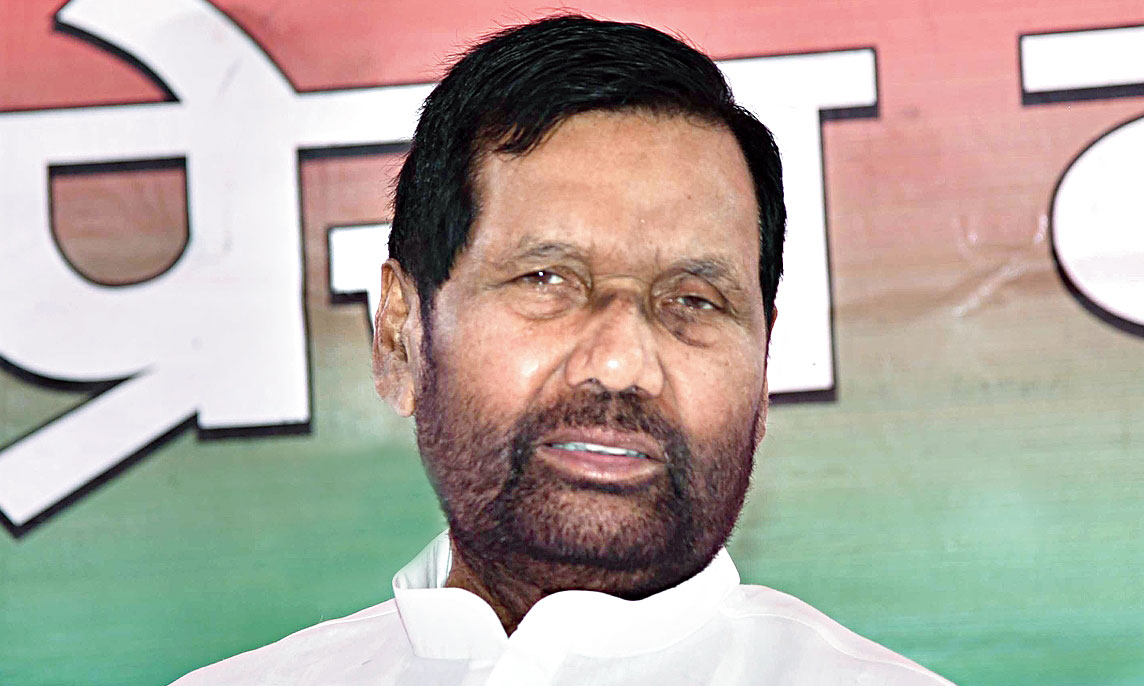 This poll season is the time for tears and laughter in Bihar. Personalities from all parties are tugging at heart strings or tickling the funny bone to woo voters. If the young RJD leader Tejashwi Prasad Yadav is using sarcasm to highlight how his entire family is embattled, veteran warhorse Ram Vilas Paswan, who is not contesting his Hajipur seat this time and has fielded his younger brother Pashupati Kumar Paras, is playing the Maa card.
"Hajipur has been like my mother. Even though I am not contesting this time due to health problems, I will always be there for Hajipur," the and LJP chief said at a recent rally, canvassing for Paras.
At a recent election rally, Tejashwi stuck it into Amit Shah and Nitish Kumar without naming the BJP chief or the Bihar chief minister. Tejashwi remembered the 2015 incident in which the BJP chief was trapped for around 30 minutes in an elevator at the state guest house during his Patna visit. Rescuers had cut the steel elevator so that Shah could crawl out.
"I heard yesterday that he (at this, Tejashwi spread his arms in the universal gesture that signals girth around the waist) had come to Patna. He had come earlier also and got trapped in a lift here. My paltu chacha (read Nitish) formed a committee to probe into the incident. What a waste. Was there any need for it? Paltu chacha should have seen his (Shah's) physique before doing so," Tejashwi said, leaving the crowd in splits.
Tejashwi's senior party colleague and former Union minister Raghuvansh Prasad Singh, who represented the Vaishali Lok Sabha seat five times in a row (1996, 1998, 1999, 2004 and 2009) before losing in 2014, meanwhile, has been banking on the emotional connect. "This is my last election," Singh has been telling his voters.
Union minister and senior BJP leader Radha Mohan Singh too has played the same card. Just ahead of filing his nomination for the East Champaran seat, which he has represented five times since 1989, Radha Mohan announced that it was his last election that and he would quit electoral politics after this.
Lalu's eldest daughter Misa Bharti also played the sympathy card. At the procession organised ahead of her nomination for the Pataliputra seat, she carried a picture of Lalu.
Shaibal Gupta, noted social scientist and member secretary of the Asian Development Research Institute, called the use of the emotional card a "new trend" in Bihar politics. "I have not seen use of such things during elections in Bihar in at least past four decades," Gupta said.The twin threads — of humour and emotion — run through the campaign strategies of almost all parties, but Tejashwi in particular has been trying hard to invoke his father's legendary wit. At a meeting to canvass for Misa, Tejashwi touched on the issue of cases by the CBI, Enforcement Directorate and income tax department against his family members over the last two years.
"There are cases on me. There are cases on all my seven sisters. There are cases on my brother. All my sisters are married hence there are cases on all my brothers-in-law…. See, one of my jijas (pointing towards Misa's husband Shailesh Kumar) is sitting here," he said, invoking peals of laughter.
"Not only this, there are cases on all the in-laws of my sisters, on Laluji's samdhi and samdhans. Cases are also on the relatives of all the samdhis and samdhans," he added as people went berserk clapping.
Attacking Prime Minister Narendra Modi at another one of his meetings, Tejashwi said: "Modiji said he has sent some people to jail, while some people who are on bail will also be sent to jail. Arey Modi, I thought you feared my father the most. But when you said this I thought, arey baap re, previously you were afraid of my father but now you are afraid of me too!"Attacking Nitish, Lalu's younger son said: "My paltu chacha used to say he would rather turn to dust instead of going along with the BJP. What happened? He aligned with the BJP. So it is now the responsibility of the people to throw him into dust…. "There is no close person whom my paltu chacha did not cheat," he added." I had seen a movie called Chachi 420 when I was a child. But now I am seeing a live telecast of Chacha 420."