Maneka Gandhi booked for jumbo hate drive
Charge after BJP leaders, including the MP, target Kerala's only Muslim-majority district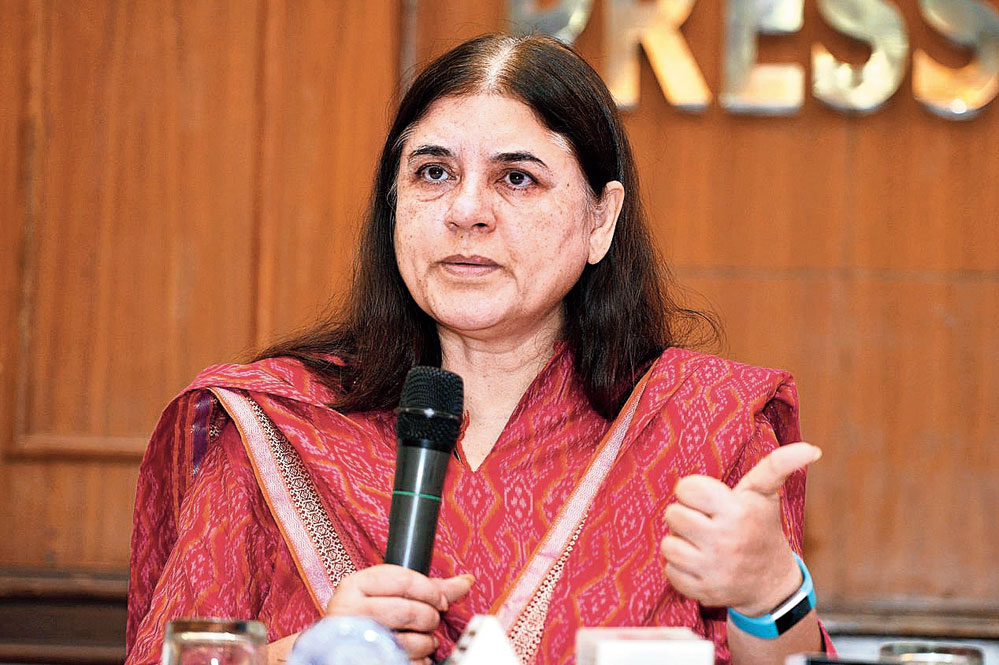 Maneka Gandhi
Sourced by The Telegraph
---
Bangalore
|
Published 05.06.20, 10:51 PM
|
---
Police in Kerala have booked BJP MP Maneka Gandhi based on complaints against her for spreading hatred by levelling allegations laced with communal overtones against people in the Muslim-majority Malappuram district in connection with the death of a pregnant elephant.
While the elephant died in Mannarcad in Palakkad district, close to 90km from Malappuram, BJP leaders including Maneka have targeted Kerala's only Muslim-majority district.
Reacting to the death of the elephant, Maneka had portrayed Malappuram as a lawless land where crimes are a daily affair and also levelled allegations of despicable cruelties on animals against residents and panchayats of the district. She had also claimed that atrocities against women and communal violence were common in Malappuram and that the Kerala government did nothing to curb all these crimes. She had accused the Kerala government of passivity towards crime against animals, including elephants, in general.
On Friday, Maneka stuck to her guns in a letter to Rajya Sabha member from Kerala P.V. Abdul Wahab. Describing Kerala as a state "close to my heart" and "warm" and "friendly", she iterated her allegations related to Malappuram, cruelty against animals and ecological issues.
The case against Maneka is based on seven complaints, one of them filed by senior lawyer K.R. Subhash Chandran who is a native of Malappuram.
An FIR has been registered against Maneka under IPC Section 153 for wantonly giving provocation with intent to cause riot.
"I filed the complaint through an email to the district police superintendent. Other complaints filed against her have been clubbed together," the lawyer who practises in Supreme Court told The Telegraph.
In his complaint, the lawyer had cited offences under IPC Sections 153, 153A (promoting enmity between different groups) and 120B (criminal conspiracy).
"The police said they were lodging the FIR under this one section (153) to start investigations," said the lawyer.
Subhash Chandran alleged that Maneka had cast false aspersions against a particular community in Malappuram.
"It was former central minister Maneka Gandhi who deliberately unleashed the attack on a community for an incident that happened outside Malappuram," the lawyer stated in his complaint.
While Kerala has joined in the nationwide outpouring of grief over the passing away of the pregnant elephant that had eaten a coconut laden with explosives, meant to keep wild boars away from crops, the narrative changed following Maneka's comments.
"There were widespread allegations on social media that the maximum attacks on animals happen in Malappuram, which is factually incorrect," Subhash Chandran said.