Mandya asks Nikhil Ellidiyappa? (Where are you Nikhil Gowda?)
Nikhil Ellidiyappa? used to mock CM H.D. Kumaraswamy and his son Nikhil Gowda has become a hotly pursued movie title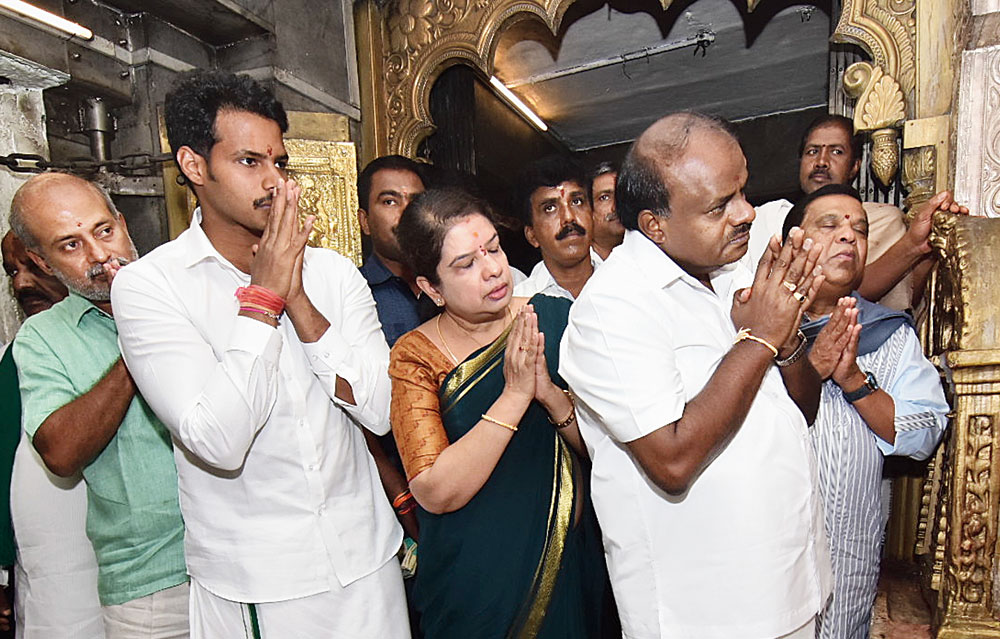 Karnataka chief minister HD Kumaraswamy, his wife Anita Kumaraswamy, and son Nikhil Gowda praying at Chamundeshwari Temple on March 25 before launching the election campaign.
Source: Bangalore News Photos
---
Bangalore
|
Published 22.05.19, 06:58 PM
|
---
The votes are yet to be counted but Mandya has already produced one winner — the Kannada film industry.
The Lok Sabha election in the Karnataka constituency has given at least three film titles to the industry: "Ellidiyappa?" (Where are you?), "Jodethu" (Pair of bulls) and "Mandyada Hennu" (The woman of Mandya).
Ellidiyappa — part of the words "Nikhil Ellidiyappa?" (Where are you, Nikhil?) that were widely used to mock chief minister H.D. Kumaraswamy and his son Nikhil Gowda who contested from Mandya — had become a hotly pursued movie title with half a dozen producers approaching two rival film bodies to register it.
The Karnataka Film Chamber of Commerce (KFCC), where titles are registered, rejected each of the applications. "We have not given permission for that title," its president A. Chinne Gowda said.
But the chamber cleared Ellidiyappa, a title based on the original that had been heavily trolled since it went viral in 2016 after a poorly executed public relations stunt.
"Nikhil Ellidiyappa?" was Kumaraswamy's call to his son during the audio launch of Nikhil's debut film Jaguar in 2016.
According to the script, the father and son were to perform a skit but the words ended up becoming a butt of jokes.
The audio launch saw Kumaraswamy and his wife, Anita Kumaraswamy, on the stage while Nikhil was "missing".
Kumaraswamy calls out: "Nikhil, elli, kanthane illa, ellidiyappa? Nikhil, ellidiyappa? (Nikhil, I don't see you anywhere, where are you? Nikhil, where are you?)"
Nikhil responds from the audience: "Ille idhini, appa. Nimmanna, nam thathana pranakintha hechaagi preethisuva janagala madhya idhini, appa (I am here, father, I am here with the people who love you and my grandfather more than their own lives)."
The video clip went viral almost immediately for all the wrong reasons.
It once again did this year after the Janata Dal Secular, headed by Kumaraswamy's father, former Prime Minister H.D. Deve Gowda, decided to launch Nikhil by fielding him from the prestigious Mandya seat.
A film industry source said several other factors played out in rejecting the applications for Nikhil Ellidiyappa?
"Each title has to be cleared by the titles committee. They knew the background of the title and hence rejected all the applications."
Besides being the state's chief minister, Kumaraswamy is a well-known film producer. So is his wife. "The title is clearly an insult to Nikhil and his family," the source said.
He said a few producers had approached a rival body called Kannada Film Chamber and Commerce to register the title. This body, formed about two years ago in support of dubbed movies, however, lacks recognition from other film chambers from across the country.
In the April 18 battle for Mandya, Nikhil had faced Sumalatha, widow of Congress leader and former Union minister Ambareesh.
The Congress couldn't give the ticket to Sumalatha as its ally Kumaraswamy had already made up his mind to launch his son from Mandya. Sumalatha then contested as an Independent backed by the BJP.
Several top actors, including Darshan and Yash — who call themselves "Jodethu" — came out in support of Sumalatha, a former actress.
While Channegowda confirmed that Jodethu has been registered as a movie title, a film industry source said producer Ramamurthy has bagged the title and would possibly cast Darshan and Yash in the movie.
Not just that. There are others who have approached the KFCC to register Mandyada Hennu (The Woman of Mandya) as a title in honour of Sumalatha, who stopped acting after marrying Ambareesh.
The title itself is contrived from Mandyada Gandu (Man of Mandya) as Ambareesh is still known as.