Right under your nose, Your Honour
Are Maharashtra MLAs discussing weather in BJP-run Assam?
Himanta Biswa Sarma says legislators' arrival during floods is a 'positive' development because it will help the state earn revenues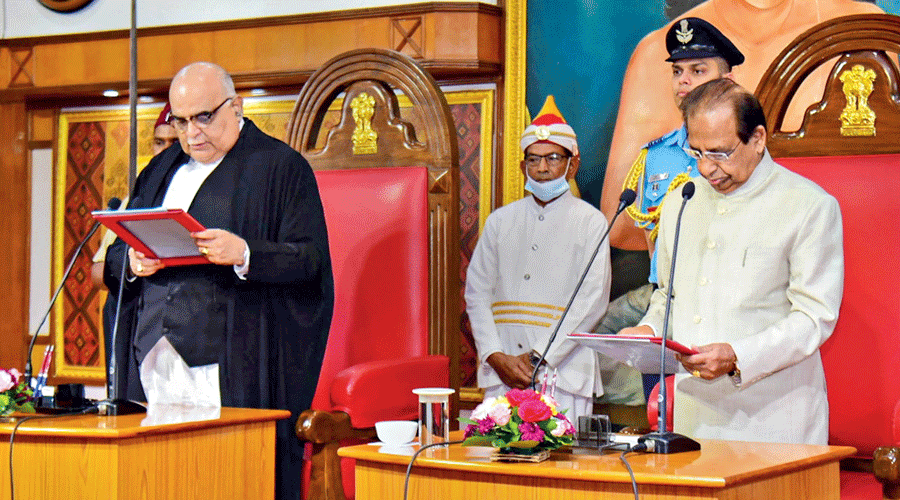 Assam governor Jagdish Mukhi administers the oath of office to Gauhati High Court Chief Justice RM Chhaya (left) at the Raj Bhavan in Guwahati on Thursday.
PTI picture
---
Guwahati
|
Published 24.06.22, 02:48 AM
|
---
Not that the judiciary can do much without a formal complaint or evidence of wrongdoing but the following are the events that unfolded in Assam on Thursday when Justice R.M. Chhaya took oath as the new Chief Justice of Gauhati High Court.
⚫ Shiv Sena leader Eknath Shinde played chess at the Northeast's first five-star hotel.
⚫ Shinde and dozens of MLAs from Maharashtra are billeted at the hotel in Guwahati, over 2,000km away by air from their home state, and protected by Assam police.
⚫ Close aides to Assam chief minister Himanta Biswa Sarma such as cabinet ministers Pijush Hazarika and Jayanta Malla Baruah, MLA Sushanta Borgohain and MP Pallab Lochan Das are coordinating with the Sena MLAs, sources said. On Thursday, Meghalaya chief minister Conrad Sangma, a BJP ally, dropped in "for a cup of tea". Conrad's father P.A. Sangma was a close associate of Sharad Pawar whose party is a Sena ally now.
⚫ The sources hastened to add that only logistical help was being provided. They said the hotel bills will be paid by each MLA. ⚫ Citing a video clip, PTI quoted Shinde as saying: "There is a national party, a mahashakti... you know they vanquished Pakistan. That party has said that we have taken a historic decision and assured to provide all help." The BJP has said it has nothing to do with Shinde and the political instability that has gripped India's financial capital since Monday.
⚫ All of which raises the question whether the Maharashtra MLAs are in Guwahati to discuss the weather. If so, there is plenty to discuss.
⚫ Large swathes of Assam have been ravaged by floods. As many as 107 people have died since April 6. Some 55 lakh people and over 5,000 villages have been affected in 32 of the state's 35 districts.
⚫ Assam Jatiya Parishad general secretary Jagadish Bhuyan said: "Why should Assam become the epicentre of the immoral political war fought in Maharashtra? It's all happening under the BJP's directions. The focus of our government should have been on rescue, relief and repair but it is busy with the visiting MLAs."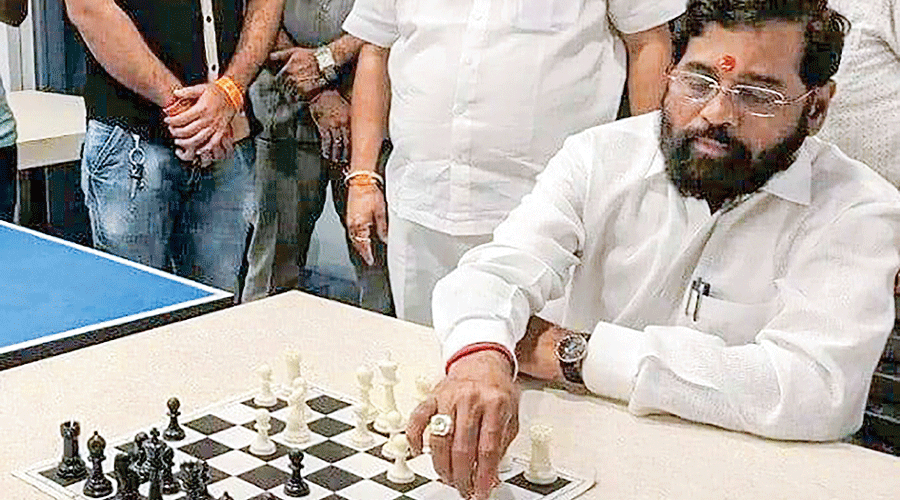 ⚫ Chief minister Sarma has said he has nothing to do with the political developments and that he has been busy with flood inspections. On Wednesday, he travelled by train to assess the situation in Nagaon district and on Thursday made an aerial survey of the Barak Valley.
⚫ Sarma had on Wednesday said the MLAs' arrival during the floods was a "positive" development because it would help the state earn revenues.
⚫ Assam BJP leader Vijay Gupta said: "Our government and our CM are serving round the clock to help the flood-hit…. The visit of the Shiv Sena and independent MLAs has nothing to do with the BJP-led government. But people of Maharashtra want a government which could ensure good governance, security and development."