M.K. Stalin govt allots Rs 1,500 crore for temple administration
The DMK government's focus on places of worship and the broadside at the milking of religion for the wrong reasons appeared aimed at countering the Hindutva plank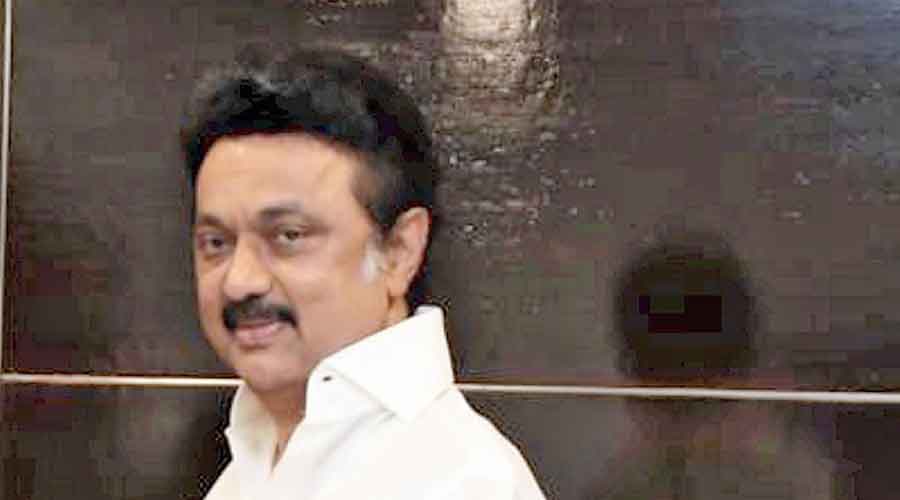 ---
Chennai
|
Published 07.09.21, 12:51 AM
|
---
The DMK government in Tamil Nadu has announced a package of over Rs 1,500 crore to spruce up temple administration and declared that it does not exploit "bhakti (religiosity)" to stoke violence or for personal gains.
The M.K. Stalin government's focus on places of worship and the broadside at the milking of religion for the wrong reasons appeared aimed at countering the Hindutva plank.
Tamil Nadu Hindu religious and charitable endowments (HR & CE) minister P.K. Sekar Babu, while speaking during the debate on the state budget in the Assembly on Saturday, said Rs 1,512 crore had been set aside for improving temple infrastructure. This was part of 112 announcements made by the minister at one go, appearing to stun the AIADMK-BJP Opposition.
"We (the DMK) are not a government that uses bhakti (religiosity) to incite violence, nor do we exploit bhakti for personal gains. The government headed by… Stalin will nurture the finer aspects of culture and spiritualism with a humanitarian approach," Sekar Babu told the Assembly to the thumping of desks by the Treasury benches.
"We have a chief minister who does not bend to the north, a quality even saints like Pattinathar and Vallalar would laud if they were alive now," he said, adding that "spirituality" had nothing to do with "Hindutva".
The HR & CE department administers over 44,200 temples across Tamil Nadu. The proposed package of Rs 1,512 crore will be dedicated to measures to improve the temples' upkeep and administration, increase cash assistance for archakas (priests), oduvars (musicians) and other shrine staff, renovate temples and provide more amenities to devotees.
Pilgrims will no longer need to pay to get their heads tonsured at temples. The shrine administration will pay the barbers. Disabled couples won't be charged for temple weddings.
A Rs 200-crore "master plan" has been drawn up to give a facelift to 40 big temples in places such as Rameswaram, Madurai, Palani, Tiruttani, Samayapuram, Srirangam, Tiruvannamalai and Chennai. An all-day annadana (free food) scheme for devotees will be in place at 10 major shrines from September 17.
Jewel plan
Minister Sekar Babu announced the revival of a scheme to efficiently manage the gold jewels, gems and precious stones offered by devotees to temples.
Amid complaints of loss of donated jewels, the government now plans to keep only the basic and most valuable jewellery that adorns the deities at the respective temples, besides the precious stones in their vaults.
Sekar Babu said that after a thorough stock-taking of the huge quantities of unused smaller jewellery, such as earrings, nose studs and chains donated by devotees over the past 10 years and lying in temple vaults, they would be sent to the government gold mint in Mumbai to be melted and converted into gold bars. These bars will be deposited in stable banks to yield revenue in the form of interest.
An official later said about 2,000kg of unused jewellery could be turned into gold bars.
The HR & CE department will establish 10 arts and science colleges at various places, including Chennai, at a cost of Rs 150 crore.
Periyar birthday
Chief minister Stalin on Monday said the DMK government has decided to celebrate September 17, the birthday of late rationalist leader and social reformer Periyar E.V. Ramaswami, as Social Justice Day every year as an act of thanksgiving for his ideals and social reforms that helped to build a modern, inclusive and progressive Tamil Nadu.
"Wherever we are today, we all owe it to the Dravidian Movement spearheaded by Periyar and the ideals of self-respect, rationalism, equality and women's empowerment and there is a big responsibility cast on us to take forward his legacy," Stalin said in the Assembly.
Even as all the political parties welcomed Stalin's announcement, the DMK government's decision is seen in political circles as yet another strategic counter to stem the rising tide of Hindutva and communally divisive politics by the BJP, ahead of the 2024 Lok Sabha elections.