Looks like Modi but rips achchhe din
The Prime Minister has a doppelgänger, and he speaks for the Congress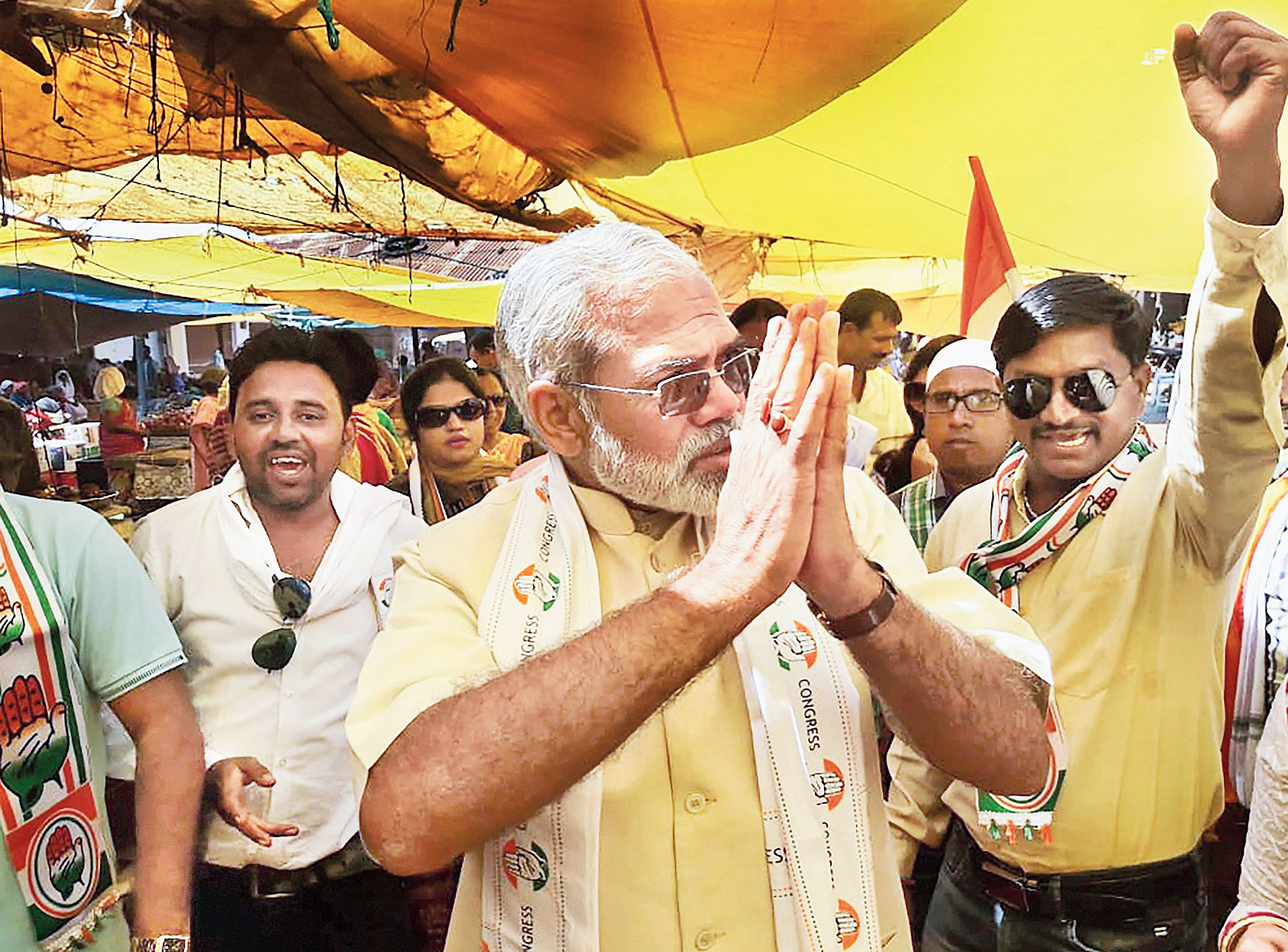 ---
Dantewada
|
Published 08.11.18, 08:28 PM
|
---
He looks like Narendra Modi, dresses and speaks like him and begins his election speeches with "Mitron (friends)" before going on to mention "achchhe din (good days)", just like the summer of 2014.
Except that now he says "achchhe din nahin ayenge", that is, the "good days" Modi had promised wouldn't come.
Abhinandan Pathak, one of the several Modi look-alikes who had campaigned for the National Democratic Alliance during the last general election, has switched loyalties to the Congress and is electioneering for the party in Chhattisgarh.
"Since I look like Modiji, people always asked me, 'Where are the achchhe din?'" Pathak, former state vice-president of NDA partner Republican Party of India (Athawale) in Uttar Pradesh, said.
"Feeling hurt at the problems (faced by) the common man, I left the BJP's ally to join the Congress last month."
Pathak has been campaigning in the Maoist-hit Bastar region and has proved a hit, with people jostling to click selfies with him.
He has been consistently targeting the Prime Minister while mimicking his style, castigating him over his promises of bringing "achchhe din" and depositing Rs 15 lakh in every Indian's bank account after retrieving black money stashed abroad.
"Mitron, I came here to tell you the truth that the 'achchhe din' are not going to come. It was a false promise. Please vote for the Congress, which can ensure your development," he says.
Pathak, who joined the Congress in the presence of actor turned politician Raj Babbar, has campaigned in constituencies across Bastar, including the Jagdalpur, Dantewada, Kondagaon and Bastar seats.
Dantewada's Congress MLA Devti Karma, who is seeking re-election, however, said she was not aware of any Modi look-alike campaigning for her.
Devti, wife of the late Mahendra Karma, who founded the controversial anti-Maoist militia Salwa Judum, says she is seeking votes in her husband's name. The Maoists had ambushed a Congress convoy and assassinated Karma and several other leaders shortly before the 2013 Assembly polls.
Local Congress politicians who are accompanying Pathak say his unique style of campaigning is helping them reach out to BJP voters.
But BJP candidate Bhima Mandavi said the Congress resorting to using a Modi lookalike only underlined the Prime Minister's popularity.
"People here are very wise. They can differentiate between the original and the fake. There is only one Modi, there cannot be another," Mandavi said.
Modi is to address a rally in Jagdalpur on Friday. Voting for the 12 Assembly seats from the Bastar region are scheduled on November 12.