Odisha: Long walk to meet Narendra Modi for hospital
I am carrying a dummy corpse which symbolises the sorry state of affairs of health conditions in Rourkela: Mukitkant Biswal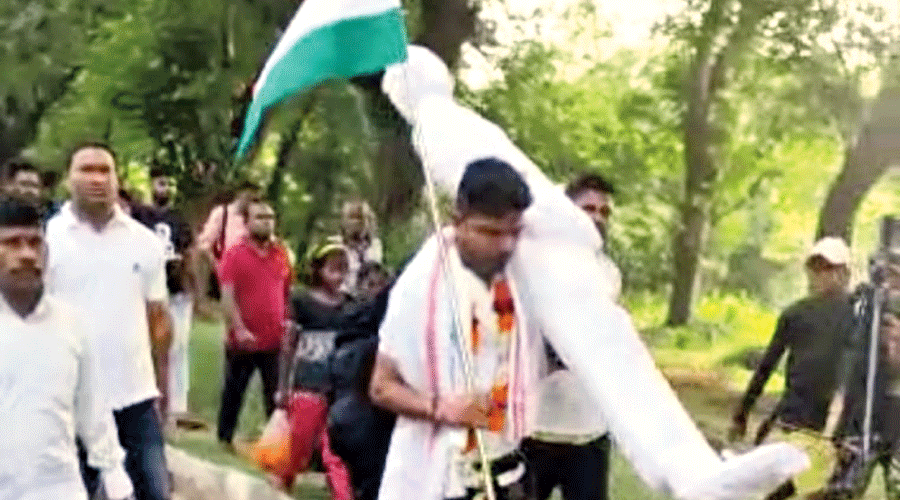 Mukitkant Biswal carries a dummy corpse during the walk to Delhi.
The Telegraph
---
Bhubaneswar
|
Published 14.05.22, 03:14 AM
|
---
Young social activist Mukitkant Biswal is on his way to Delhi on foot to meet Prime Minister Narendra Modi to apprise him of the non-functioning of the Ispat Post Graduate Institute and Super Speciality Hospital of SAIL in the steel city Rourkela, which was inaugurated by President Ram Nath Kovind in 2021. Biswal, is also carrying a dummy corpse wrapped in white cloth that symbolises the sorry state of affairs of health in the steel city Rourkela.
He has reached Allahabad in UP and will walk for another 650 km to reach Delhi. Biswal, 34, told The Telegraph: "In 2018, I walked to Delhi to remind the Prime Minister Narendra Modi about the promise that he had made in April 2014 and again in 2015 about setting up a super speciality hospital in Rourkela by upgrading the Ispat general hospital of the Rourkela Steel Plant that comes under SAIL (Steel Authority of India Limited). After I trekked for nearly three months, the Centre started working on the hospital. The hospital was inaugurated by President of India, Ram Nath Kovind on March 21, 2021. But despite several requests, its yet to start running. After I started a walk to Delhi, the authorities posted two to three doctors to run the super speciality hospital built at a budget of Rs 300 crore. It's just to befool the public."
On the issue, Biswal had also trekked to Bhubaneswar from Rourkela in 2018 seeking chief minister's intervention to set up the hospital. After one year of inauguration the hospital is confined to an OPD that runs for nearly two hours daily.
Biswal, who launched his second phase of walk on April 1, 2022 from Rourkela, has reached Allahabad in Uttar Pradesh. "I used to walk for 20-25km every day. I planned to reach Delhi on June 10. I am carrying a dummy corpse wrapped with white cloth. It symbolises the sorry state of affairs of health conditions in the steel city Rourkela." 
Biswal, who has sought an appointment from the Prime Minister's office to present the case of the non-functioning of the super speciality hospital, is yet to get a positive response from the PMO. "If I don't get a chance to meet Modiji, I will release the dummy corpse carried by me near the ministry of health to highlight the sorry state of affairs of the health condition."
However, Biswal alleged that due to the lack of staff and non-functioning of the hospital most of the patients suffering from critical diseases like heart, liver, kidney etc. are either dying or shifting to Bhubaneswar or Cuttack for treatment as no treatment facilities are available here. Sources said once the hospital starts running in a full fledged manner, it will require around 380 doctors. Now there are only 14 doctors.
"It's unfortunate," said Aurobinda Das, a Rourkela-based journalist.
During his long but spirited journey, the public have come forward to support him. "During the scorching summer, its too tough to walk. While passing through Bihar and Jharkhand, I used to spend Rs 200 per day. But the daily expenditure goes up to Rs 500 in UP," said Biswal.
Chief medical officer, IGH hospital and a member of the trust that is meant to run the hospital, Dr Naryan Sahu told this newspaper: "We are trying hard to run the hospital. The main problem is to get the right number of doctors. We plan to go for campus recruitment."