Rahul Panchal feels Narendra Modi has performed exceptionally well in the last five years in terms of enhancing the reputation of the country at the international level. So he deserves a second term.
Panchal, a carpenter by caste, was among the few customers standing near a sugarcane juice vendor, sharing his perspective about the election to the Faridabad Lok Sabha seat.
"Who is there in the Opposition?" he asked. "Tell me a single name."
It was Friday — two days before Sunday's scheduled elections that have pitted the sitting BJP MP, Krishan Pal Gurjar, against Avtar Singh Bhadana (Congress), Mandhir Singh Maan (BSP), Mahesh Chauhan (INLD) and Naveen Jaihind of the Aam Aadmi Party which has an alliance with the regional Jannayak Janata Party.
Panchal said he ran his own business and had no issues with demonetisation or the Goods and Services Tax that have drawn criticism from several quarters.
"Now business is more transparent due to GST. India's reputation has improved globally. All these Opposition parties have united to defeat one man (Modi). Chanakya has said that if all unite against the king, it means the king is doing a great job."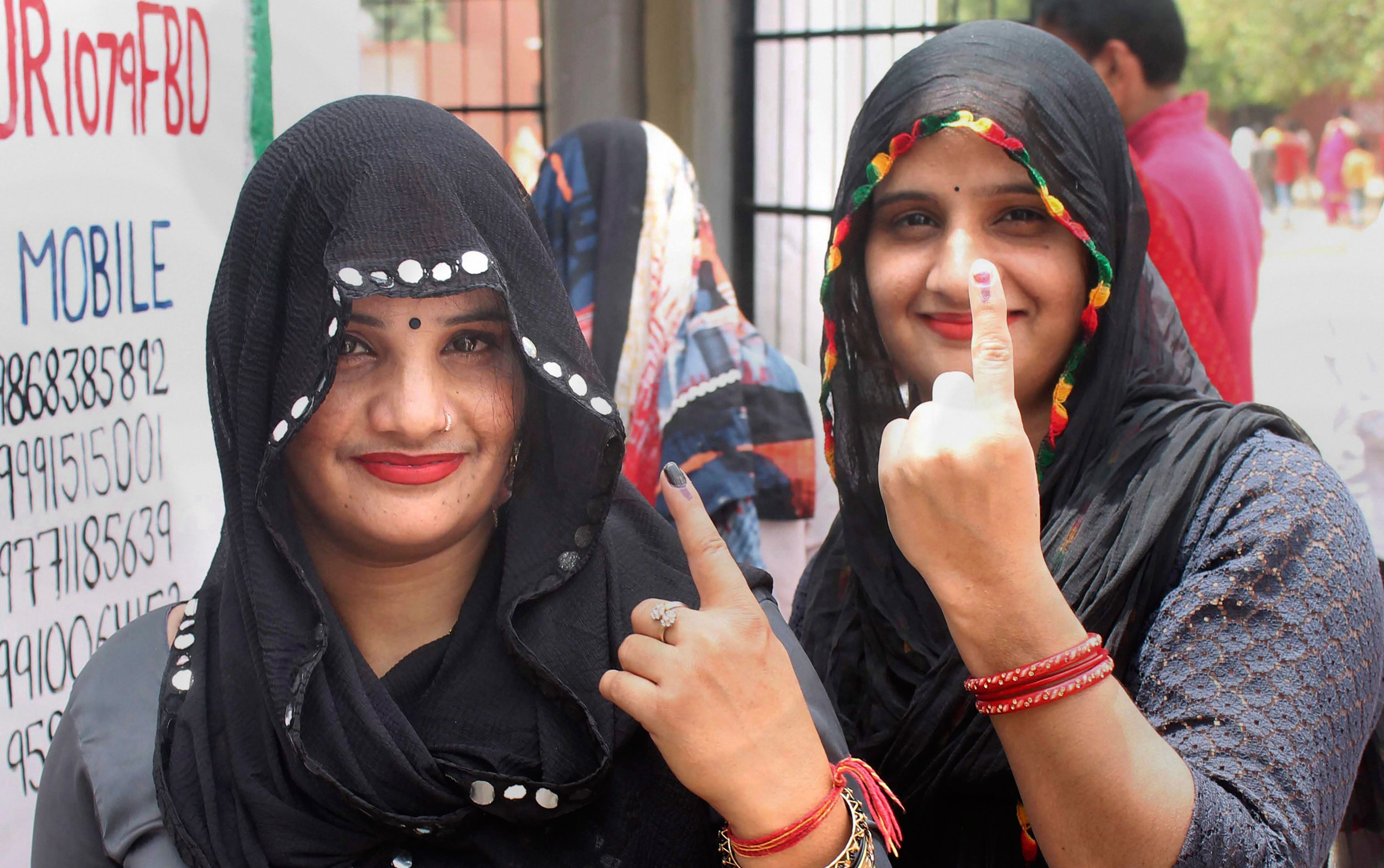 Voters show their fingers marked with indelible ink outside a polling booth during the sixth phase of Lok Sabha polls, in Faridabad, on May 12, 2019. (PTI Photo)
His friend Surendra Solanki, a Rajput by caste, nodded in agreement. All the Opposition parties, he said, have nothing positive to offer but are working on a negative agenda to bring Modi down.
"These people say there are no jobs. If the Congress had succeeded in bringing real development in the last 70 years, we wouldn't have faced any job crisis now," Solanki said.
It was 70 years ago, in 1949, that Jawaharlal Nehru, the Prime Minister then, had set up this city in Haryana to rehabilitate Hindu migrants from the North-West Frontier Province after Partition. A New Industrial Town (NIT) was also started with facilities provided to set up manufacturing units.
Sector 59, on the outskirts of Faridabad city, boasts companies like Escorts, Goodyear and Whirlpool. But many units have closed down too in the past 20 years, reducing job opportunities.
For Anil Kumar, that's a key issue. "The main problem is jobs. I have a diploma in welding from the ITI (Industrial Training Institute) but did not get any job in Faridabad," said Kumar, who runs a laundry service in the city.
"I had applied for a technician's job in the railways and took the test in August last year. Usually the results are out in three months but they have not been declared yet," Kumar said.
But Kumar said he would still vote for Modi because of the global recognition India has got as an "emerging" world power. "I think Modi should get a second term. He will deliver on jobs this time."
Kumar, a Dalit by caste, may like to give Modi a chance. But people of his community, in rural areas, have decided to vote to "ensure that Modi does not become Prime Minister again".
In rural Faridabad, Dalits are more concerned about what they said was the "attack" on their community.
The reasons for their resentment include the BJP government's failure to defend the Scheduled Castes and the Scheduled Tribes (Prevention of Atrocities) Act in the Supreme Court and irregular payment of scholarship money to students under a post-matriculation scheme.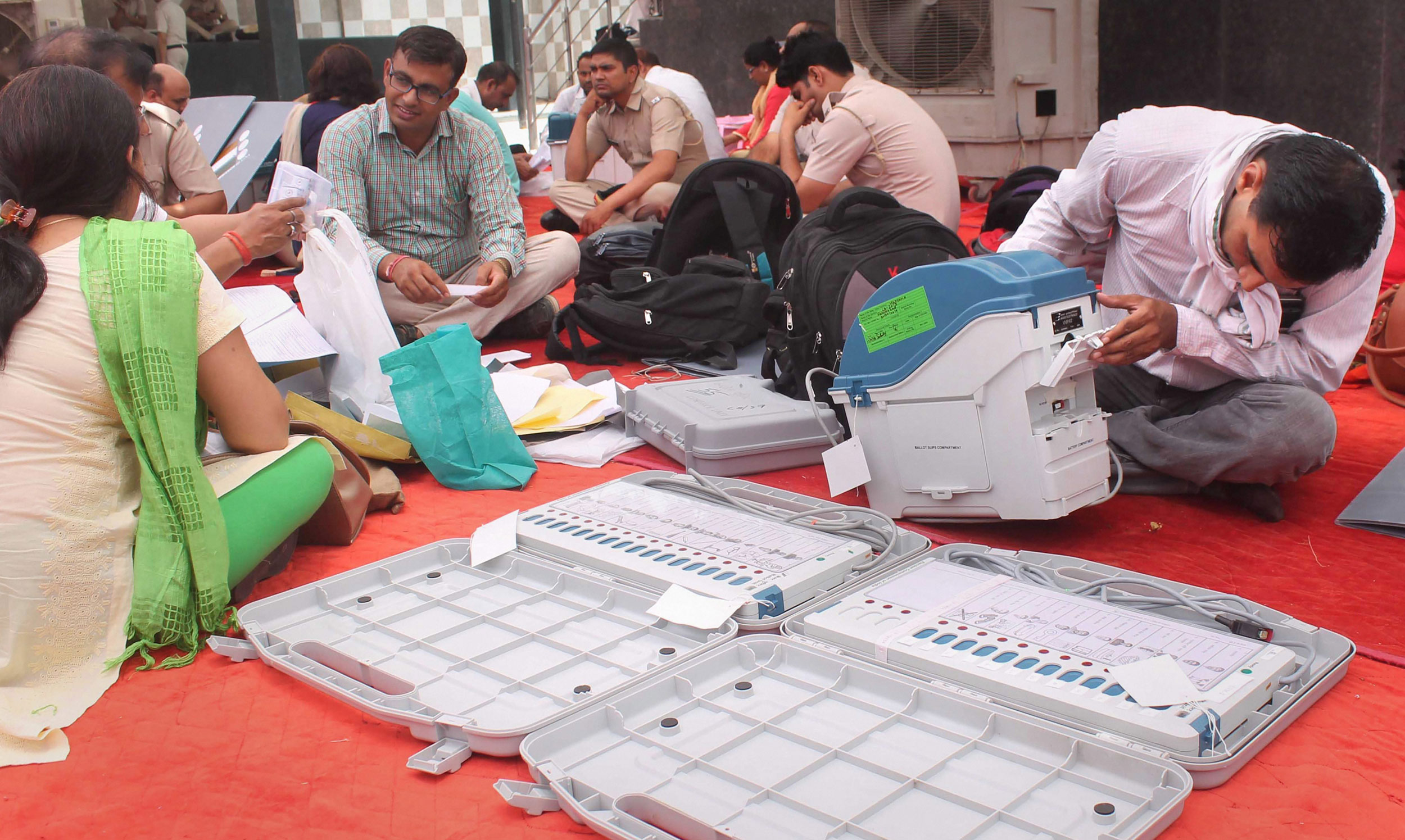 Election officials check VVPAT, EVMs and other polling materials before leaving for polling centres ahead of the sixth phase of Lok Sabha polls, in Faridabad, on May 11, 2019. (PTI Photo)
The Supreme Court had last year ruled that competent authorities would have to give their sanction after a proper probe before any public servant or other citizens could be arrested under the law, which had earlier mandated immediate arrest on a complaint.
That provision was restored through an amendment following a Bharat Bandh called by Dalit organisations.
"We held a Dalit mahasammelan in Ballabgarh on Wednesday. We had invited representatives from all parties including the BJP. We expressed our concern. It was decided that all Dalits in the 62 villages under Faridabad constituency would vote for the Congress candidate," said Bharat Singh Pipal, president of the Sant Ravidas Trust.
Pipal had presided over the meeting. "The BSP remains our first preference. But it was rejected because the BSP candidate may not win the election despite our votes. That is why we decided to vote for the Congress," Pipal said.
Dr Lal Singh, an Ambedkarite and a physician in Ballabgarh, said no caste would vote en masse for any single party. "The Jats, Gurjars and even Brahmins would vote differently. The SCs too will not entirely vote for the BSP," Singh, who had unsuccessfully contested the 1991 election from this seat as a Janata Dal candidate, said.
The constituency, comprising nine Assembly segments, has about 17 lakh voters, including three lakh Jats, followed by Gurjars and Dalits (2.5 lakh each) and Brahmins, Muslims and Punjabis (1.5 lakh each), according to estimates by local people.
Mahendra Singh Mann, a middle-aged villager in Jajru on the outskirts of Ballabgarh town, said it was a straight fight between the Congress and the BJP.
Jajru, a village of mainly Jat residents, stands divided this time, unlike in 2014 when most Jats had voted for Modi.
"Modi may be a great leader but his party did not field a single Jat candidate. Why should we vote for the BJP?" Maan said as he puffed on his hookah.
He said Jats had fought for reservation in central government jobs but their demand has not been fulfilled.
The Jats are covered under the state list of Other Backward Classes but are not part of the central OBC list.
Maan's friend Sunil said many people would vote for the BSP candidate who happens to be a Jat.
But several others from the Jat community gathered at a tea stall on the national highway near Ballabgarh said they would vote for Modi for his development work.
The Muslims appeared concerned for two reasons — security and jobs. Haji Mustaque, a villager from Khandwali under Ballabgarh tehsil, said the income from his metal fabrication unit has halved over the last five years. He prefers the Congress to the BJP.
Mustaque said that police had once come to Kelly village in 2016 and asked people to stop using a microphone for azan. The matter was settled after a protest but it created fear among the community.
"There is fear among Muslims about their own security," Mustaque added.