Limit anonymous donations to maximum of Rs 2,000: Election Commission to Centre
Poll panel is simply going through motions and government is unlikely to bring any amendment: Expert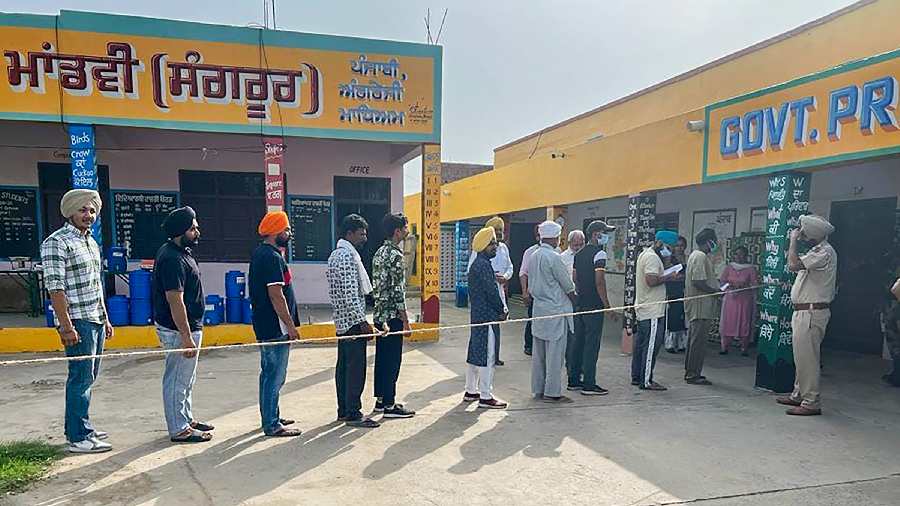 Representational Picture of a polling booth
File Picture
---
New Delhi
|
Published 21.09.22, 02:01 AM
|
---
The Election Commission of India has reiterated its call to the Centre to limit anonymous donations to a maximum of Rs 2,000 but an expert said this would have little impact even if implemented.
A PTI report said that chief election commissioner Rajiv Kumar had written to Union law minister Kiren Rijiju to amend the Representation of the People Act, 1951, to limit "anonymous political donations from Rs 20,000 to Rs 2,000 and cap cash donations at 20 per cent (of the total contributions received by a party) or at a maximum of Rs 20 crore".
This is a proposal the commission has been routinely reminding the government of since 2016. A poll panel source confirmed that Kumar's letter was sent last week.
However, Jagdeep Chhokar, founder of the poll watchdog Association for Democratic Reforms, told The Telegraph: "The EC is simply going through the motions and the government is unlikely to bring any amendment. Even if it does, there would be no impact."
"Parties which now issue a receipt for Rs 19,999 will do so for Rs 1,999 instead," he said, suggesting the donors will make their contributions in multiple small parcels to remain anonymous.
"Allowing Rs 20 crore or 20 per cent of anonymous donations (as cash donations tend to be) is a window for corruption. During demonetisation, the government compelled even rickshaw-pullers and vegetable vendors to go cashless. The only way to curb corruption through donations is to only allow cashless political donations."
While Section 13A of the Income Tax Act, amended in 2017, caps cash donations at Rs 2,000, Section 29C of the 1951 RP Act mandates disclosure of the source of donations only above Rs 20,000.
The poll panel wants the IT Act cap to apply to the RP Act as well, so that non-cash donations between Rs 2,000 and Rs 20,000 also become public.
The poll panel has sought further checks to ensure that foreign funds do not enter the election process.
The Election Commission has opposed anonymity in electoral bonds in an ongoing Supreme Court case being fought by the ADR and the CPM, which has not had a hearing since March 26, 2021.
In the previous fiscal, these bonds accounted for 47.06 per cent of the total income of state and national parties that came from anonymous sources. Of the total income of these parties, 36.3 per cent came from unknown sources.
The Biju Janata Dal and the Yuvajana Sramika Rythu Congress Party got 91.35 per cent and 89.13 per cent of their incomes from unknown sources in the last fiscal, according to data compiled by the ADR.
The BJP's share of income from unknown sources, as a proportion of its total income, was only 13.36 per cent.
However, the party's total income was the highest at more than Rs 752 crore — which
was more than two-and-a-half times that of runner-up Congress.