Left leaders seek Kashmir visit nod
They wanted to meet colleagues Farooq Abdullah, Muhammed Yusuf Tarigami and former CM Omar Abdullah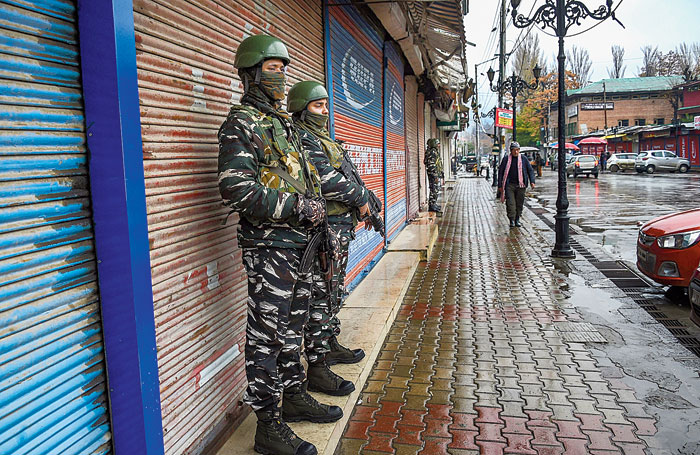 Security forces stand guard during a shutdown in Srinagar on Friday
(PTI)
---
New Delhi
|
Published 22.11.19, 08:18 PM
|
---
Three Left members of the Rajya Sabha have sought permission from the Jammu and Kashmir government to visit the Union territory, stating that if the administration could allow Members of the European Parliament (MEPs), surely Indian parliamentarians too can be allowed.
CPM MPs T.K. Rangarajan and Elamaram Kareem and CPI member Binoy Viswam on Friday wrote to the principal secretary, home, Shaleen Kabra, stating they would like to visit Srinagar and "meet our colleagues — Lok Sabha member Shri Farooq Abdullah, leader of CPI(M) and former MLA Shri Muhammed Yusuf Tarigami and former CM Shri Omar Abdullah".
Saying that they wanted to visit to know about their health and talk to them, the three MPs added: "As the delegation of European Parliament members had visited Kashmir recently, we believe that, it will not be difficult for three members of Indian Parliament to get permission for visiting the region. We hope you will be granting necessary permission for our visit to Kashmir and facilitate the meeting with our colleagues in the coming week."
The three MPs sent their letter in the morning when former BJP leader Yashwant Sinha led a small group of citizens to Srinagar. The group was allowed in.
Sinha is the first politician to be allowed to visit Srinagar since the clampdown began on August 4 in preparation for the removal of special status of Jammu and Kashmir. Two other politicians — CPM's Sitaram Yechury and Ghulam Nabi Azad of the Congress — did go separately but only after they petitioned the Supreme Court.
Asked how long they would wait for permission, Viswam told The Telegraph that a reasonable amount of time would be given to the administration to respond and then they would decide on the future course of action.
Earlier, an attempt by an Opposition delegation to visit Srinagar was aborted as they were sent back by the administration from the airport itself. The government's refusal to let any politician visit Kashmir till now has been questioned within the country and commented about in certain world capitals.
Nicolaus Fest of Germany's Far-Right AfD — one of the MEPs who were taken to Srinagar last month — had also said that "if the government allows politicians from the European Union to visit Kashmir, politicians from India should be even more entitled to do so".