Leadership is about action, says Narayana Murthy
The Infosys founder was addressing students at the 10th convocation of IIT Bhubaneswar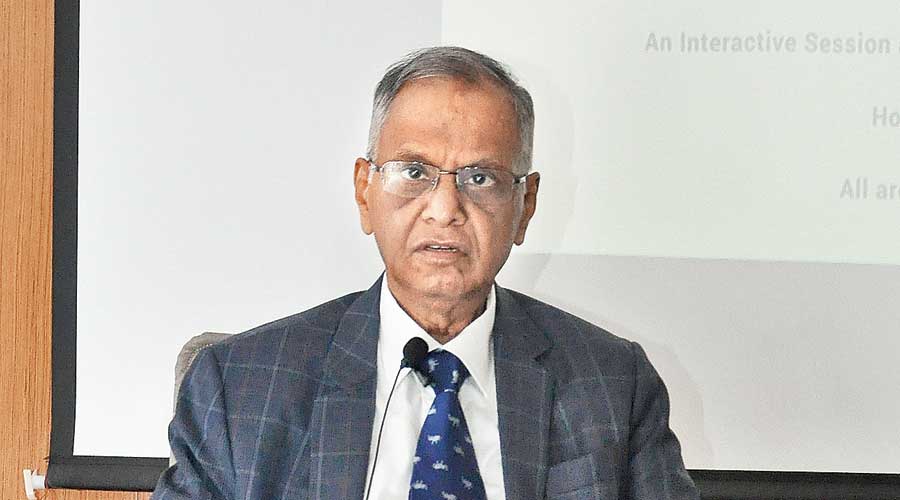 NR Narayana Murthy
Telegraph picture
---
Bhubaneswar
|
Published 21.10.21, 12:37 AM
|
---
Infosys founder N.R. Narayana Murthy on Wednesday exhorted students of the Indian Institute of Technology, Bhubaneswar, to try to excel in whatever they do and not to consider anything small.
"You must need to change yourself if you want to see change in the world. Look at every lacuna as an opportunity for change. You are the leader to bring about the change," Narayana Murthy said while addressing students at the 10th convocation of IIT Bhubaneswar.
Addressing students through the virtual mode, he urged them to develop entrepreneurship attitude and show the character of a leader. "Leadership is about action and not about rhetoric," Narayana Murthy said.
Urging students to be good citizens, he said that everybody needs to work to develop a society where every citizen gets equal opportunities and every child gets food. "We have to build a society which is based on performance and not empty slogans. We need to put the country's interests, society's interests and the company's interests where you are working above the individual's interest," he said.
Recalling Mahatma Gandhi's statement that his mission was "to wipe every tear from every eye", Narayana Murthy said: "Our country has been successful in sending rockets, satellites, building big dams, bridges, a good education system, globally competitive software industry. But on the other hand, we are far from the dreams of Mahatma Gandhi, Jawaharlal Nehru, Sardar Vallabhbhai Patel and Rajen(dra Prasad) babu of creating India where every Indian would be provided the wherewithal to develop and rise to his/her fullest stature, and where poverty, ill health, and ignorance would have vanished."
Urging the students to demonstrate excellence in whatever they do, Narayana Murthy said: "The only way to solve poverty is to create more and more jobs with better and better income. This requires entrepreneurship. We have too much underemployment in the agriculture sector. Hence, we must create jobs in the manufacturing and service sectors," he said, adding that the best way to escape from a problem is to solve it.
Stressing the need to explore the world, he said one needs to go outside the government set-up where lies great opportunity and also great challenges.
He also stressed on the need for a good English education system. "Please remember that English is the only window to the modern world for Indians to access knowledge to achieve progress in science, technology, medicine and economy for India," Narayana Murthy said.
Rajendra Prasad Singh, chairman, board of governors, urged the students to promote technology based on culture and not to forget the fundamentals of life. "We have not delivered what we should have — roti, kapda and makan."
IIT director R.V. Raja Kumar narrated the institute's journey of 10 years. "The convocation is a celebration of the graduation of students who earned their degrees with important learning during their peak youthhood and the institute is keen on their live participation. Therefore, the institute has come up with this very unique and innovative form of holding convocation during the last convocation itself and the same is being adopted this time too due to the continuation of pandemic."
The IIT conferred degrees upon 559 students, including 35 PhD, 153 MTech, 79 MSc, 256 BTech and 36 dual degrees. The President of India Gold Medal awarded to Dinesh Mohanty of the computer science and engineering stream for the best academic performance among the entire outgoing BTech batch.