Lalu Prasad Yadav's relative quits RJD, joins JDU
Last week, three other RJD legislators — Maheshwar Prasad Yadav, Prema Chaudhary and Ashok Kushwaha — had also joined the JDU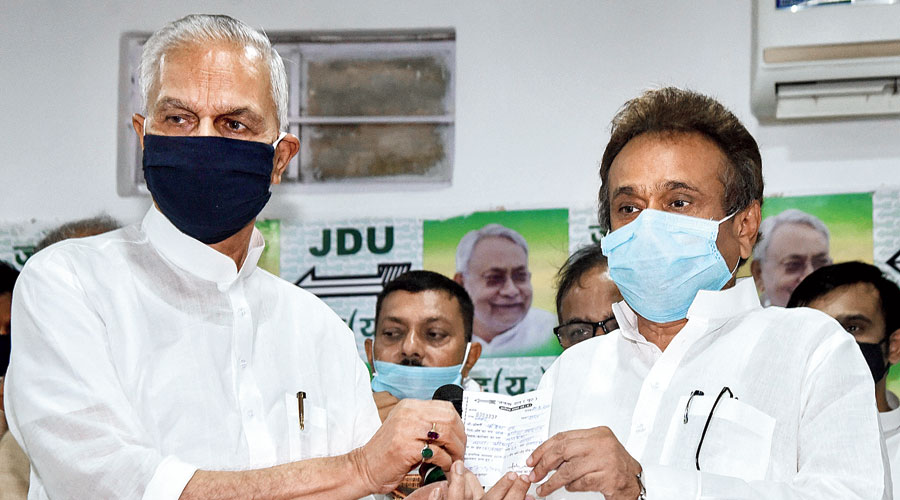 Bihar minister and JDU leader Bijendra Prasad Yadav (left) presents the membership slip to Chandrika Rai, a relative of Lalu Prasad Yadav in Patna, on Thursday.
PTI
---
Patna
|
Published 21.08.20, 04:24 AM
|
---
The Rashtriya Janata Dal (RJD) received twin jolts on Thursday with Chandrika Rai, party chief Lalu Prasad's daughter-in-law's father, joining Bihar chief minister Nitish Kumar's Janata Dal United along with two other MLAs, and former chief minister Jitan Ram Manjhi's party quitting the Opposition grand alliance.
Ministers and senior JDU leaders Bijendra Prasad Yadav and Sharwan Kumar welcomed Chandrika and MLAs Faraz Fatmi and Jai Vardhan Yadav to the fold at a function at the party's state headquarters here. All three legislators hail from well-known political families.
Son of Yadav politician and late chief minister Daroga Prasad Rai, Chandrika is a seven-term MLA from the family's pocket borough Parsa constituency in Saran district. His daughter Aishwarya Rai got married to Lalu's eldest son Tej Pratap Yadav, a legislator from Mahua, in May 2018.
The match was considered coming together of two of the most well-known Yadav families of the state. However, just five months later, Tej Pratap filed a divorce petition in the Patna civil court. The case is pending and the couple is living separately after Aishwarya was allegedly thrown out of her in-laws house by former chief minister and Tej Pratap's mother Rabri Devi.
Aishwarya registered an FIR against Rabri, husband Tej Pratap and sister-in-law Misa Bharti in December 2019 accusing them of physical assault, mental torture, domestic violence and demanding dowry. Chandrika had tried his best to resolve the situation for the sake of his daughter but had failed.
Speaking to mediapersons later, Chandrika asserted that he had become disillusioned with the RJD.
"The old and loyal party workers are disregarded and sidelined. The RJD is no longer a party of the poor. It has become a commercial party. Some rich person comes from Mumbai and is given a ticket to contest election. That party is not fit for people like us," he said.
Chandrika also praised Nitish for his vision and work. "He (Nitish) has changed Bihar a lot from what it used to be 15 years ago."
He also said he has heard that Lalu's sons Tej Pratap and Tejashwi Prasad Yadav were searching for safe seats to contest the upcoming Assembly election.
Jai Vardhan is the grandson of late Ram Lakhan Singh Yadav, popularly called "Sher-e-Bihar", and considered one of the tallest Yadav leaders. Faraz is the son of former Union minister Ali Ashraf Fatmi.
Last week, three other RJD legislators — Maheshwar Prasad Yadav, Prema Chaudhary and Ashok Kushwaha — had also joined the JDU.
Top JDU leaders said inducting these leaders into the party will help make inroads into the RJD's Yadav vote bank that accounts for around 14 per cent of the total 7.2 crore voters in the state.
On the other hand, Manjhi's Hindustani Awam Morcha Secular, after a meeting of its core committee held here on Thursday decided to leave the grand alliance headed by the RJD. The Congress and a few smaller parties are its constituents.
"A single party (the RJD) is trying to assert its supremacy on all other members of the grand alliance, thinking that they will follow it. This is unacceptable. We demanded that a coordination committee be formed to steer the alliance but it was ignored. There is also no talk of a common minimum programme. The circumstances have forced us to quit the alliance," party national general secretary Santosh Manjhi said.
Though indications are there that HAMS may join the NDA ahead of the polls, its leaders did not confirm it.
"Where will we go or what will happen in future will be decided by our leader Jitan Ram Manjhi. The core committee has authorised him to take a suitable decision," party spokesperson Danish Rizwan said.