Lakhimpur: Kin of slain journalist afraid of bid to frame farmers
The family had also alleged that attempts had been made to force them to say that he had been thrashed to death by the farmers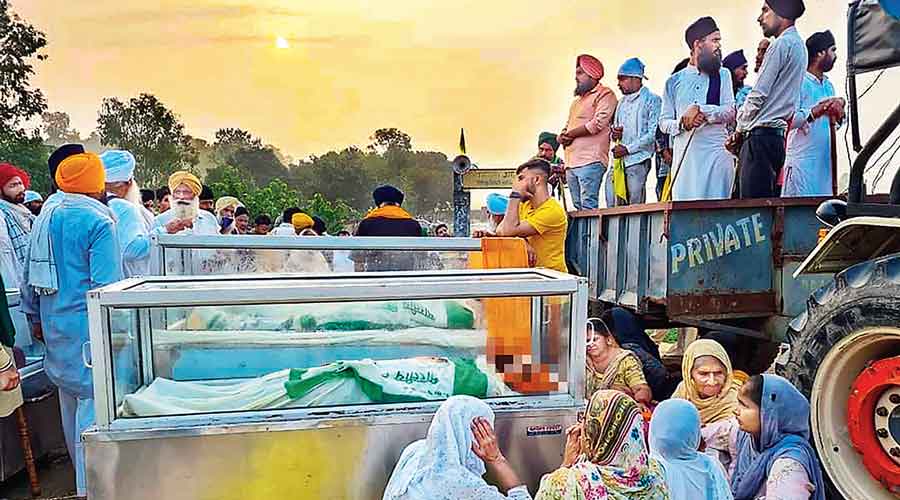 Bodies of the slain farmers
File picture
---
Lucknow
|
Published 27.10.21, 02:18 AM
|
---
The arrest of two farmers on Tuesday in connection with alleged retaliatory lynchings after the October 3 Lakhimpur Kheri massacre and indications from police have prompted a sibling of a slain journalist to express fear that efforts are on to blame the farmers for his brother's murder too.
A police officer who asked not to be identified said that following the interrogations of the 15 suspects arrested in the case, the SIT now believed that TV reporter Raman Kashyap too had been lynched by the farmers.
Kashyap's father and brother have all along said the journalist was mowed down by Union minister Ajay Mishra Teni's Thar jeep.
The family had also alleged that attempts had been made to force them to say that he had been thrashed to death by the farmers.
Pawan Kashyap, younger brother of the journalist, told The Telegraph over the phone on Tuesday evening: "I know from my sources that the SIT is giving a twist to the murder of my brother. All I can say is that I have submitted evidence to the SIT, in which my brother can be seen lying under the wheel of the Thar jeep. Badly injured, he somehow tries to run towards the agricultural field and again falls (and) is not able to move. There were farmers near him but none of them harmed him."
Pawan added: "My brother was on the spot since noon and the farmers knew well he was there to cover their protest. The farmers didn't hurt him. What I understand is that Teni is very powerful. We have lost all hope of getting justice and are looking to God for help."
While the injuries of a person crushed under a car should be easily distinguishable from those of one beaten to death, Pawan told reporters that Kashyap's post-mortem report only mentioned "injuries" and loss of blood as the cause of death.
Teni's son Ashis and 12 associates had earlier been arrested on murder charges after a convoy of SUVs, led by the Thar jeep, hit a group of farmers from behind and ploughed through them as they were returning from a protest against the minister. Four farmers were crushed to death.
In retaliatory violence, block-level BJP leaders Shubham Mishra and Shyam Sundar Nishad and Teni's driver Hari Om Mishra were allegedly lynched.
Vichitra Singh of village Bhira and Gurvindar Singh of village Mokarampur-Aliganj are the first two farmers to be arrested in the case. They have been sent to 14 days' judicial custody. The special investigation team (SIT) had begun questioning them on Monday evening.
"Gurvindar Singh, son of Gurmej Singh, and Vichitra Singh, son of Lakhvindar Singh, were arrested on October 26, 2021, produced before the court and sent to jail. The investigation is on," the SIT said in a statement in Hindi.
The police officer who claimed the SIT now believed that Kashyap too had been lynched by the farmers said: "These two persons (Gurvindar and Vichitra) were identified on the basis of video footage."
He added that more farmers were likely to be arrested.
Ashis, arrested on October 9, almost a week after the massacre and only after the Supreme Court's intervention, was admitted to the government district hospital on October 23 with symptoms of dengue.
Shailesh Bhatnagar, chief medical officer of Lakhimpur Kheri, said on Tuesday: "Ashis's dengue report is positive. He has been kept in the VIP ward."
The Centre has refused to heed demands for Teni's dismissal. The junior home minister had threatened the farmers a few days before the massacre that he would fix them if they didn't stop protesting against the three new central farm laws.