Lakhimpur Kheri: Three held in massacre case
Sources say prime accused Ashis Mishra was still stonewalling questions two days into his police custody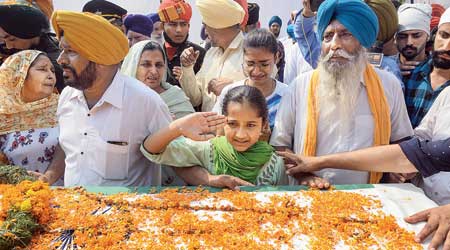 ---
Lucknow
|
Published 14.10.21, 02:04 AM
|
---
The police have arrested three more suspects in the Lakhimpur Kheri massacre, taking the number of arrests to six, with sources saying prime accused Ashis Mishra was still stonewalling questions two days into his police custody.
Ashis, son of Union minister Ajay Mishra Teni, was allegedly driving a Thar jeep at the head of a convoy of SUVs that had ploughed into protesting farmers at Tikunia in Lakhimpur Kheri on October 3, killing four farmers and a journalist.
"Monu (Ashis) has still not admitted committing the crime and is insisting he was in his village Banvirpur (4km from Tikunia), attending a wrestling programme," a state home department official said, requesting anonymity.
"He says his associates had gone to receive deputy chief minister Keshav Prasad Maurya, the chief guest at the event. But he has failed to explain why the Thar was travelling on that road (where the farmers were protesting) when it was public knowledge that Maurya's route had already been changed."
Ashis, in three days' police custody from 10am on Tuesday, was to be taken to the massacre spot on Wednesday but this was not done.
While Ashis and two associates, Ashish Pandey and Luv Kush Rana, had been arrested last week, the special investigation team (SIT) has now arrested Shekhar Dubey, Ankit Das and Mohammad Latif. All six are alleged to have been in the convoy and are being questioned, but separately, sources said.
The SIT obtained three days' custody of Pandey and Rana on Tuesday afternoon.
Awadhesh Singh, one of the lawyers of Ashis, Rana and Pandey, told reporters at the gate of the district court in Lakhimpur Kheri: "We will oppose it if the SIT seeks extension of custody."
Shekhar, believed to have been driving a Fortuner that the police say followed the Thar in ploughing into the farmers, had surrendered on Tuesday. The SIT obtained three days' custody of him on Wednesday.
Ankit, the owner of the Fortuner and an associate of Teni, arrived at the crime branch office in Lakhimpur Kheri with Latif, his security guard, at 10am on Wednesday in answer to an SIT summons. After a few hours of questioning, they were arrested around 4pm.
Special prosecution officer S.P. Yadav told reporters that Ankit and Latif would be in three days' police custody from 10am on Thursday.
Ankit's lawyer Pawan Srivastava told reporters: "I think it's unnecessary as my client has nothing to share with the SIT — he was not in the convoy that crushed people."
The home department source said Shekhar had turned out to be very useful.
"Shekhar has confirmed that Monu was in the Thar along with Sumit Jaiswal Modi, a BJP councillor from Lakhimpur Kheri. They jumped off the jeep and escaped after crushing the farmers and the journalist," he said.
He expressed surprise that the SIT had so far not shown any interest in Sumit.
"Das has denied being in the Fortuner and claimed that he was at the function in Banvirpur," he said.