Lakhimpur Kheri: Congress holds peaceful protest in Odisha
They demanded immediate resignation of Union minister of state for home Ajay Misra Teni and arrest of his son Ashis Misra blaming them for the deaths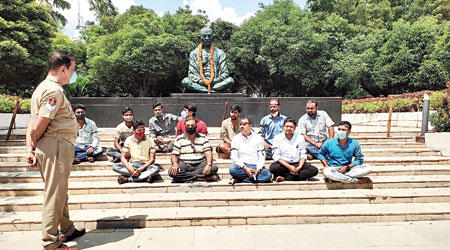 Congress workers on a dharna near the Mahatma Gandhi statue on Tuesday
Telegraph picture
---
Bhubaneswar
|
Published 06.10.21, 01:24 AM
|
---
The alleged murder of four farmers at Lakhimpur Kheri in Uttar Pradesh has caused ripples across the country with protests taking place even in Odisha.
Congress workers on Tuesday held a peaceful protest near the Gandhi statue at the Janata Maidan in Bhubaneswar demanding immediate resignation of Union minister of state for home Ajay Misra Teni and arrest of his son Ashis Misra blaming them for the deaths.
Congress activists held protests across the state also. They alleged that Ashis "Monu" Misra was at the wheel of one of the SUVs that crushed farmers under its wheels.
Congress workers in Bhubaneswar were joined by a 45-year-old farmer Girish Ranjan Mohanty who said he had chosen to be a part of the protest as it was being held to highlight a gross injustice and to bring farmers' demands to the fore.
"I have joined the protest on my own," said Mohanty who hails from Gothapatna on the outskirts of Bhubaneswar. An automobile engineer-turned-farmer Mohanty said: "When I was posted as an automobile engineer at Koraput in 2019, about 500km here, I decided to come back to my house because of family problems. I had thought that once the family issues were sorted out I would find a job in Bhubaneswar. But I failed to get a job due to lockdown and decided to take up farming to support my family."
Mohanty has a joint family with nearly six to seven acres of land. "We cultivate paddy. After taking up farming I realised the pain and anguish of farmers. They need support of the government. But the government has turned killer. The hands of the Modi government are stained with the blood of farmers," he said.
While Mohanty sat with Congress leaders at the Mahatma Gandhi statue under the open sky with temperature hovering around 40° Celsius, a Congress worker Ajay Sahu condemned the police brutality against Priyanka Gandhi Vadra. "Is this way UP police should behave with a woman and that, too, someone like Priyanka Gandhi. The UP police and UP chief minister Yogi Adityanath should apologize and release her unconditionally," said Sahu.
 "Whatever compensation has been announced by the UP government for the slain farmers not acceptable. It should be in crores," he added.
Earlier on Monday, the Sanjuka Kisan Morcha had organised a protest demanding action against the Union minister of state for home. They also accused Haryana chief minister Manohar Lal Khattar of inciting violence against the farmers .