Kerala waves UAE flood aid offer, Centre mum
CM Pinarayi Vijayan says UAE has offered Rs 700 crore to help the flood-ravaged state rebuild itself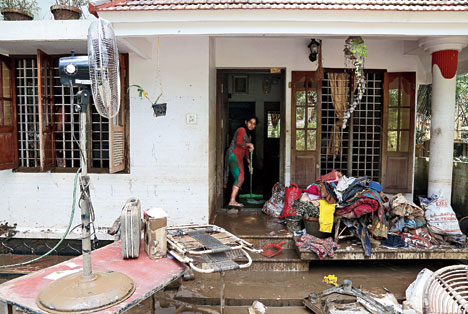 ---
|
NewDelhi
|
Published 22.08.18, 12:00 AM
---
New Delhi: Kerala chief minister Pinarayi Vijayan on Tuesday said the UAE has offered Rs 700 crore to help the flood-ravaged state rebuild itself, a disclosure that appears to have put the central government in a quandary. Or so it would seem from the official silence.
For one, the amount is more than what the Centre has announced till date - Rs 600 crore.
But more important is whether or not to accept the money, given that India has since the days of the Congress-led UPA-I refused to take financial aid from abroad to help deal with natural disasters, be it the 2004 tsunami, the Kashmir earthquake a year later or the Uttarakhand floods in 2013.
The repeated rejection of foreign aid is widely seen as an assertion of India's self-worth - that the country does not need handouts and is, instead, a giver of aid.
Till late in the night there was no official word from the foreign ministry despite persistent queries. Sources, however, said Indian missions abroad had been told to politely convey to their host countries offering help that Delhi has taken a considered decision to rely solely on domestic efforts to meet the challenge.
Sources in Kerala said Vijayan would speak to Prime Minister Narendra Modi about the UAE's offer. They also pointed to the big presence of Indians engaged in productive work in the UAE, suggesting that there was nothing untoward about the gesture.
There has, however, been no official announcement on the offer from the Gulf country.
Earlier, on Saturday, Prime Minister Narendra Modi had thanked Sheikh Mohammed bin Rashid Al Maktoum after the UAE Prime Minister and Emir of Dubai tweeted that the "UAE and the Indian community will unite to offer relief to those affected. We have formed a committee to start immediately. We urge everyone to contribute generously towards this initiative".
Modi had responded with a tweet: "A big thanks to @hhshkmohd for his gracious offer to support people of Kerala during this difficult time. His concern reflects the special ties between governments and people of India and UAE."
Modi has not yet publicly responded to similar offers from Qatar and the Maldives.
Vijayan said the UAE had offered Rs 700 crore as the country was a "home away from home for Malayalees".
The chief minister, who made the announcement on Twitter, said "this was communicated to the Hon'ble Prime Minister Shri Narendra Modi (@PMOIndia) by Sheikh Mohammed bin Zayed bin Sultan Al-Nahyan (@MohamedBinZayed), Crown Prince of Abu Dhabi and Deputy Supreme Commander of UAE's Armed Forces".
Vijayan clarified that he had been informed about the UAE's offer by Malayali businessman Yusuff Ali M.A. of the Lulu Malls fame.
Kerala on Tuesday sought a Rs 2,600-crore special flood-relief package from the Centre. Vijayan chaired a cabinet meeting, which decided to seek the package under centrally sponsored programmes, including the rural job scheme.