Kerala: No dress code for women in educational institutions, says Bindu
A 106-year-old government lower primary school in Ernakulam has been winning laurels for implementing gender-neutral uniform of three-quarter pants and shirts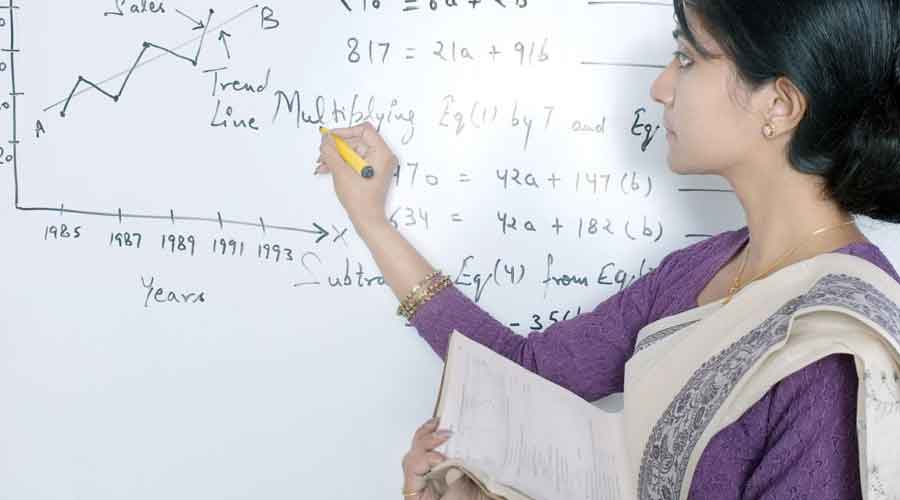 The higher education minister said teachers are free to wear any clothes of their choice.
Shutterstock
---
Bangalore
|
Published 14.11.21, 12:19 AM
|
---
The Kerala government has come to the aid of teachers battling sartorial policing by education institutions that insist on women wearing saris, that too at a time when the state is discussing gender-neutral uniforms for students.
Higher education minister R. Bindu has clarified there is no dress code in Kerala's educational institutions, responding to a complaint. She has also got her department to re-issue an order stating that teachers are free to wear any clothes of their choice. While the first such order was issued in 2008, the second came in 2013 as teachers continued to complain about dress cops in their institutions.
The trigger for the latest controversy over dress code was a complaint by an unnamed lady teacher in Kodungallur, Thrissur. The teacher who had turned up in kurta and leggings had allegedly been told by the management to either change to sari or quit.
"Four or five days ago a young lady teacher spoke to me regarding this. She had called to share her experience at a reputed institution in Kodungallur. It is understood that the institution insisted on wearing sari as a condition to remain employed," minister Bindu wrote on Facebook.
"The imposition of sari does not befit the progressive outlook of Kerala…. Dressing style is one's personal matter and no one has the right to interfere with that," the education minister added.
"Teachers in Kerala have the right to wear what they are comfortable in," said Bindu, who used to wear churidars when she taught at Kerala Varma College in Thrissur.
Higher secondary Malayalam teacher Lisa Pulparambil, who recently turned up in the traditional Kerala male clothing of mundu (dhoti) and shirt at her school in Palakkad as a gender statement against misogyny, said a large number of schools and colleges still wanted their lady teachers to wear sari.
"In some institutions like mine, they also allow churidars but with a shawl. Anything different is frowned upon. So this is a malaise affecting our education system," Lisa told The Telegraph on Saturday.
She has been defying diktats by wearing long pants and kurta, braving jeers and smirks from many of her colleagues. "It is really unfortunate that we are faced with dress codes at a time when many are discussing gender-neutral uniforms for students," Lisa added.
A 106-year-old government lower primary school in Valayanchirangara, Ernakulam, has been winning laurels in Kerala for implementing gender-neutral uniform of three-quarter pants and shirts. Prior to the switch in 2019, girls wore skirts and shirts and boys, shorts and shirts.
The unisex uniform came back into focus with minister for general education V. Sivankutty recently citing it as an example of gender equality that needed to be embraced by all.
A higher secondary teacher at a private school in Kannur told this newspaper that she had to wear sari on all working days.
"We have no option other than saris, irrespective of peak summer or monsoon, that too without exposing any part of the body," she said, asked about the order against dress codes.
Several people who reacted to Bindu's Facebook comment in Malayalam highlighted the prevalence of dress codes in many institutions in the state in spite of the repeated government orders against it.
A woman named Bindulekha Bijo cited instances of BEd colleges insisting on female students wearing shawl over churidars. "A BEd college in Kozhikode insists girls wear shawls. Even girls in seventh standard have been asked to wear shawls in a Kannur school."
Divya Palamittam commented on the minister's social media page that a lady teacher had to resign over dress code. "I know a teacher who had to resign due to harassment for posting a WhatsApp status against dress code. There was no action against the harassers even after complaining to the department of education in Thrissur."