Kerala Assembly elections 2021: CPM faces questions over decision to omit popular duo
Finance minister T.M. Thomas Isaac's outburst against raids on the Kerala State Financial Enterprises Ltd had not gone down well with Pinarayi Vijayan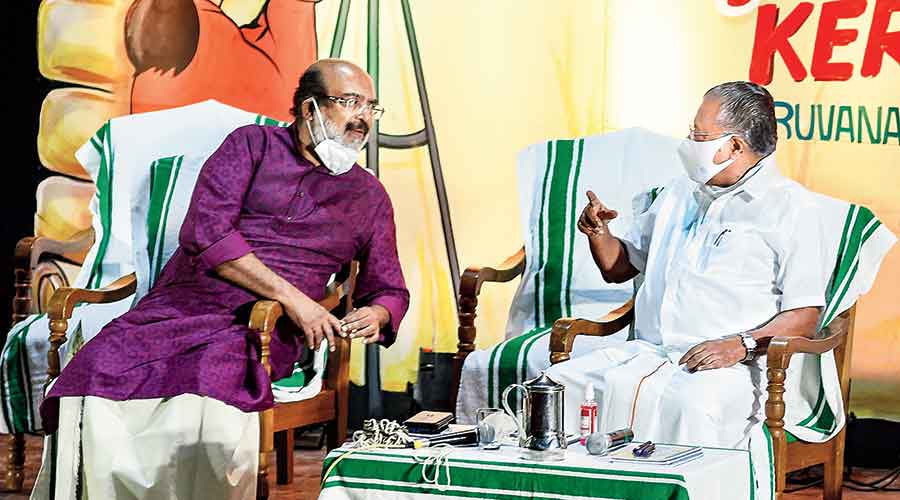 ---
Bangalore
|
Published 11.03.21, 04:17 AM
|
---
The CPM is facing uneasy questions over the decision to omit two battle-hardened ministers from the list of candidates for the Kerala Assembly elections, with its justification that MLAs who have completed consecutive terms should make way for fresh faces failing to smother speculation.
Finance minister T.M. Thomas Isaac, an economist with a doctorate, and public works minister G. Sudhakaran are both popular and affable leaders with a clean image and CPM bulwarks in Alappuzha district for about two decades.
Their relationship with chief minister Pinarayi Vijayan that has raised tantalising questions in party circles.
Isaac had famously snapped at the vigilance department's raid on the Kerala State Financial Enterprises Ltd in December. "I don't know whose mad idea is this," he had lamented when vigilance officials had searched the KSFE premises.
Being a senior minister it was unlikely that Isaac would not have known that vigilance was under the home department handled by Vijayan.
Several CPM leaders had rushed to prevent that spark from raging into a fire within the party. The state secretariat had issued a statement pointing out that Vijayan had described the raid as a "routine examination". Without naming Isaac, the CPM had said: "Such public statements should have been avoided."
A CPM source who cannot be named said on Wednesday: "There were some differences. But unlike other parties we don't wash our dirty linen in public."
He, however, denied that differences had guided the candidate selection. "I think the chief minister had some issues with their independent style of functioning although he never doubted their capabilities. They were denied tickets only because of the two-term norm," he said. While Isaac is a four-time MLA, Sudhakaran has been elected thrice.
A leader from a CPM pocket borough in north Kerala contended that Isaac's outburst against the raids on the KSFE had not gone down well with the chief minister.
Writer and political commentator M.N. Karassery said: "It is generally admitted that things are not well between Pinarayi and the two ministers. Their friendly and corruption-free style of functioning had won them massive support among the people. Imagine a public works department without a single case of corruption."
"Everyone knows that Pinarayi doesn't tolerate any challenge to his authority," Karassery noted.