Kerala: Advocate bribery charge opens can of worms
Saiby Jose Kidangoor is president of Kerala High Court Advocates Association, the prime body of lawyers with over 6,000 members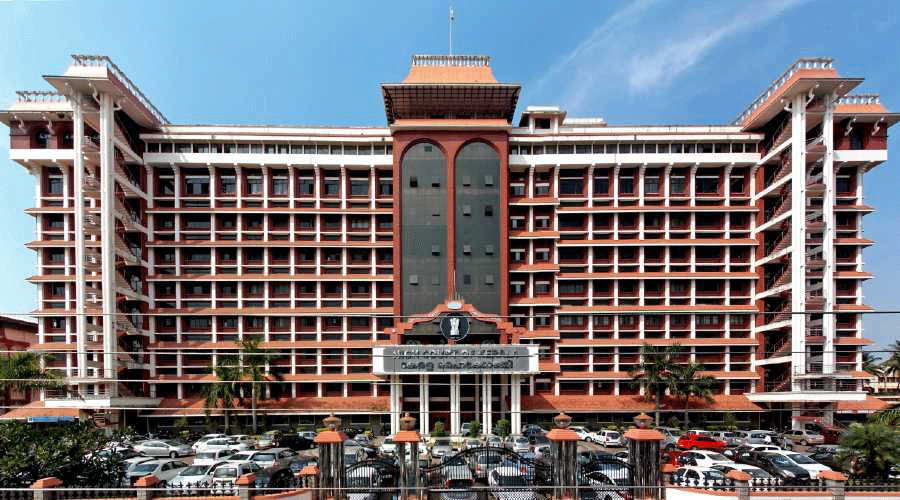 Kerala High Court.
File picture
---
Published 06.02.23, 03:38 AM
|
---
Allegations of attempted bribery to "influence judges" have been levelled  against a senior Kerala High Court advocate at a time the central government has its guns trained at the judiciary and is firing from the shoulders of the law minister and the Vice-President.
The lawyer, Saiby Jose Kidangoor, is president of the powerful Kerala High Court Advocates Association (KHCAA), the prime body of lawyers in the state with over 6,000 members.
Although the allegations against Kidangoor had been floating in the air for quite some time, two developments in quick succession late last month brought them under the spotlight.
First, the vigilance wing of Kerala High Court, which was conducting an inquiry into allegations by a few lawyers, found prima facie evidence to proceed against Kidangoor.
Shortly afterwards, a Kerala High Court judge in whose name Kidangoor had allegedly collected huge sums made the unusual move of recalling his own order granting bail to two accused in an SC-ST Atrocity Act case.
According to media reports, the high court vigilance team, which recorded statements from several lawyers, found multiple instances of Kidangoor collecting huge sums from litigants by taking the names of three particular judges of the high court. The sums reportedly ranged from Rs 25 lakh to Rs 50 lakh.
The vigilance wing reportedly suggested the initiation of contempt of court proceedings against Kidangoor besides alerting the Bar Council of Kerala to take disciplinary action against him.
Kidangoor has rejected all the allegations and described himself as a "living martyr", accusing "three or four" lawyers, one of them apparently his neighbour, of conspiring to tarnish his image.
"I don't know if a decision has been taken to file a case. But if that is so, I welcome that decision because there is a conspiracy behind this and the truth has to emerge," he told a Malayalam channel on Thursday.
"One of them (the lawyers allegedly conspiring against him) used to tarnish me on his Facebook page. I was called an MDMA (narcotic) addict and a regular visitor to nightclubs…. I feel three or four people are involved in this conspiracy."
Asked whether he had indeed collected money from his clients promising to bribe any judge, the lawyer said: "Such a question doesn't even deserve an answer."
He said the high court vigilance wing had not recorded his statement. "I am yet to get a copy of the vigilance report, so it's not proper to comment on it. But my version was not recorded in that (investigation)," he said.
The three judges said to have been named in the vigilance report have not commented about their alleged association with Kidangoor.
One of them has issued an order recalling his earlier ruling in a bail case in which Kidangoor represented the petitioners. The case had been registered with Ranni police station in Pathanamthitta district under the Scheduled Castes and Scheduled Tribes (Prevention of Atrocities) Act, 1989.
The Bar Council of Kerala sought an explanation from Kidangoor after it received a complaint forwarded by the Union law ministry. A few advocates had complained to Union law minister Kiren Rijiju that Kidangoor had "close acquaintance" with most high court judges.
Following the council's action, the police filed an FIR against Kidangoor. The high court registrar too has collected details of cases taken up by Kidangoor and handed them over to the police.
Kidangoor's mobile phone was switched off on Friday, and calls by this newspaper to his landline number were not answered.  
Many observers believe that the Kidangoor controversy is a manifestation of a deeper malaise.
Senior advocate Sebastian Paul, an outcast from the Bar association because of his stand on the seven-year-old lawyer-journalist standoff in Kerala, says there is a bigger "caucus operating on caste basis" with an army of touts roaming the high court premises hunting for pliable litigants.
"It is common knowledge that cases get postponed till such time a particular judge's court sits. The cancer is spreading," Paul alleged.
Journalist Roy Mathew, a victim of the journalist-lawyers clash of 2016, said it was appalling that many judges who were aware of the state of affairs were keeping mum. "This emboldens the lawyers," he said.
The lawyers' association has not come out with any statement and Kidangoor continues to be at the helm of the NCAA.
Journalists have not been allowed to enter the Thiruvananthapuram District Court to cover proceedings since the clash between media representatives and lawyers on the court premises in 2016. No judge has ever spoken up for the media.
Additional reporting by K.M. Rakesh