Kashmir: Unlikely voice joins Article 370 chorus
The call is a grim reminder of how the Centre's attempts to create an alternative to traditional political parties are not working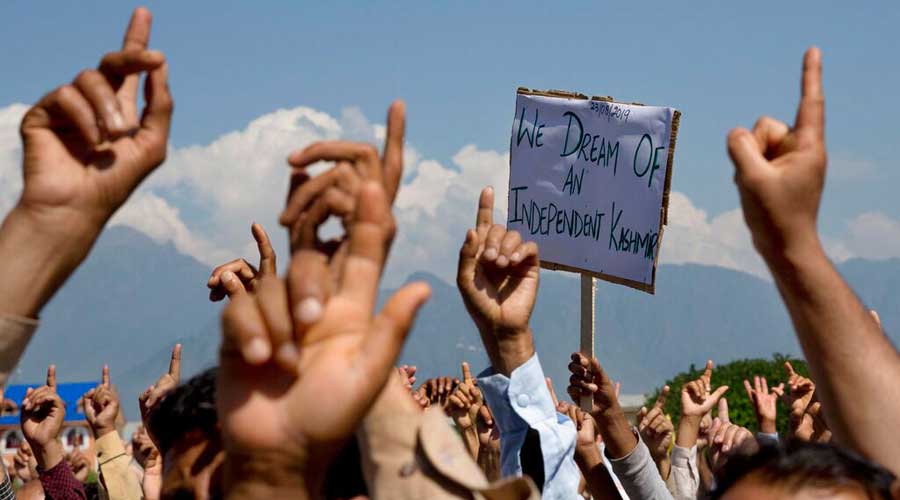 ---
Srinagar
|
Published 18.10.20, 01:40 AM
|
---
A senior leader of Apni Party, which was floated with Delhi's blessings last year to wean people away from Article 370-centric politics, has called for unity among all Jammu and Kashmir parties to fight for the restoration of the state's special status.
The call is a grim reminder of how the Centre's attempts to create an alternative to traditional political parties are not working.
Altaf Bukhari-led Apni Party's vice-president Choudhary Zulfikar Ali's call for unity came two days after top Jammu and Kashmir parties, including National Conference and People's Democratic Party, formed People's Alliance to fight for the restoration of Article 370 and resolution of the Kashmir issue.
"All the political parties must unite to fight for the honour, dignity, status of the people of state including restoration of State irrespective of our political ideologies," Choudhary, a former minister from Jammu, tweeted.
In a related development, Jammu Muslim Front welcomed the formation of People's Alliance and said the front supported restoration of Article 370.
Choudhary later told The Telegraph these were his personal views and he strongly felt Article 370 should be restored. "We have lost everything, our identity, our state, our special status, which was a sovereign guarantee to us. We have lost everything that day (on August 5 last year)," he said.
The leader of Apni Party — called King's Party — said he was in favour of joining hands with the newly floated People's Alliance for their rights although he had not discussed the issue with his party.
"This matter has not been decided in my party platform, but I think if we want to achieve something we must unite together and fight for our rights... This is our struggle and we all should be part of the struggle," he said.
"We have a common goal, common issue. We must be together to fight for it. I don't know whether other leaders in my party will agree with my opinion, but this is my personal opinion that whatever we lost was the dignity of our state. It is our responsibility as people's representatives to fight for it."
Another party leader said last year's decisions had hurt the people of the state and other leaders too shared Choudhary's views. "There is disillusionment in our party as we have not been able to achieve our smallest demand of restoration of statehood to which the central leadership has already agreed," a leader said.
Bukhari was not available for comment, but his spokesman Javid Baig said these were the party vice-president's personal views.
"He is our vice-president and I respect his statement. It is not proper for me, as he is my senior, to comment on it," he said.
"In our meetings with the Prime Minister (and others), we have submitted memoranda and our agenda is clear that some issues (restoration of Article 370) are in court and we will abide by its decision. We are pursuing our goal of the restoration of statehood."
The spokesman said Kashmir was not in Delhi's focus as the country was confronting two grave issues in the form of Chinese incursion and the faltering economy. "But that will not always be the case and we will achieve our goal," he said.
Apni Party was floated with much fanfare last year after Delhi succeeded to engineer a divide in PDP and woo leaders such as Bukhari, Choudhary and Baig — all former legislators — into its fold.
But the party has failed to make inroads and the Centre, too, has not been forthcoming to concede to its demands.
With Valley's top leaders of major pro-India parties out of jail, Apni Party is likely to lose face a bit more.
The party has been relentless in its criticism of rivals NC and PDP.
Bukhari recently claimed they were "hoodwinking people" and "creating a smokescreen by demanding the restoration of Article 370."