Valley politics back on feet
National Conference called for an all-party meeting on Thursday to devise a strategy to fight the scrapping of Article 370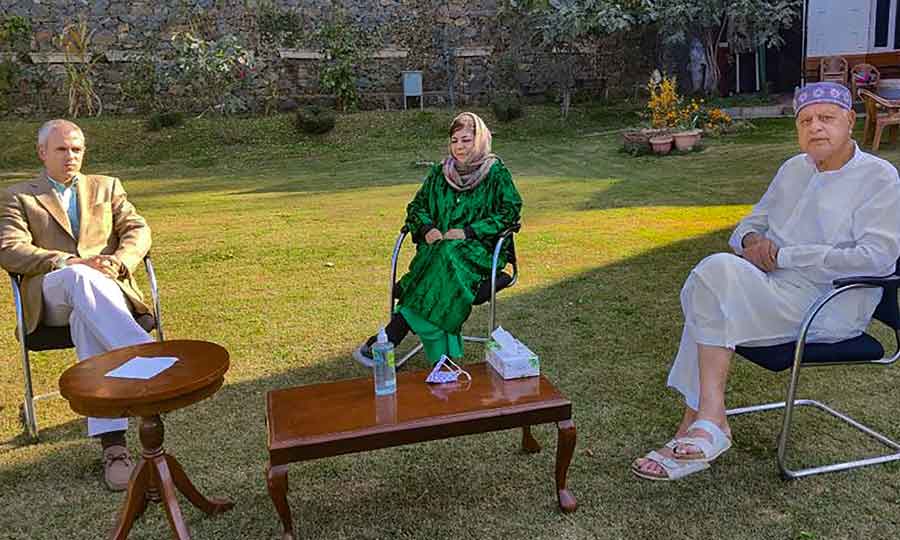 Mehbooba Mufti interacts with Farooq Abdullah and Omar Abdullah in Srinagar on Wednesday
PTI
---
Srinagar
|
Published 15.10.20, 01:35 AM
|
---
The release of former chief minister Mehbooba Mufti from year-long detention on Tuesday has given a fillip to political activities in Kashmir with foe-turned-friend National Conference calling for an all-party meeting to devise a strategy to fight the scrapping of Article 370.
If allowed, Thursday's planned session will be the first all-party meeting in the Valley in more than a year.
No political activities were allowed in the Valley for months following the scrapping of Jammu and Kashmir's special status on August 5 last year as the government enforced an unprecedented clampdown and communications blockade. Thousands, including top politicians — both separatists and pro-India leaders — were arrested. Most of them have since been released.
People's Democratic Party president Mehbooba was the last of the three jailed former chief ministers to be released. NC president Farooq Abdullah and son Omar, the other two ex-chief ministers, were released in March. The father and son were among dozens of politicians who visited Mehbooba at her residence in Srinagar on Wednesday.
Omar later told reporters that he had invited Mehbooba to a meeting of all major political parties of Jammu and Kashmir on Thursday. Sources said other parties, including the People's Conference, have also been invited.
Omar said all parties that were signatories to last year's Gupkar Declaration had been invited. The declaration was a joint resolve of all major parties from the so-called pro-India camp to fight the proposed changes in the status of Jammu and Kashmir. Despite opposition, the Centre went ahead with its decisions to scrap Jammu and Kashmir's special status and bifurcate the state into Union Territories.
"My father and I called on Mehbooba Mufti Sahiba this afternoon to enquire about her well-being after her release from detention. She has kindly accepted Farooq Sb's invitation to join a meeting of the Gupkar Declaration signatories tomorrow afternoon," Omar tweeted after the meeting.
Mehbooba thanked Farooq and Omar for the visit. "It was nice of you & Farooq sahab to come home. It gave me courage listening to him. I am sure together we all can change things for the better," Mehbooba replied to Omar.
The PDP president was dressed in her trademark green colour when she received the guests at her home.
Omar said Wednesday's meeting with Mehbooba was apolitical as the Abdullahs only wanted to know how she was doing. He said Thursday's proposed meeting would review the political situation and discuss the future agenda.
Sources, however, said the leaders spoke about the August 5 decisions and their consequences on Jammu and Kashmir's polity.
"There were no differences. There was only unanimity that parties should come together to fight the designs of the Hindutva forces that want to alter the demography of this place. There is a possibility of forging a formal alliance of major parties to fight their agenda," a PDP source said.
The NC and the PDP had been bitter rivals but the scrapping of the erstwhile state's special status has brought them and many others together.
Mehbooba on Tuesday made her intentions clear when she not only called for restoration of Article 370 but also pledged to fight for the resolution of the Kashmir issue.
"I have been released after more than a year. All this time the black decision of the black day continued to haunt me. I believe it is how all Jammu and Kashmir residents felt. None of us can forget the daylight robbery of that day," she said in an audio message.
"We have to pledge to get back what was snatched through that illegal and unconstitutional decision. Also, we have to fight for the resolution of the Kashmir issue for which thousands sacrificed their lives. I know the road is not smooth but I hope our determination will show the way," Mehbooba said in an audio message.