Kashmir: Muslim families too allege ex gratia bias
An association representing Dalits and other persecuted sections had on Wednesday alleged caste bias in such cases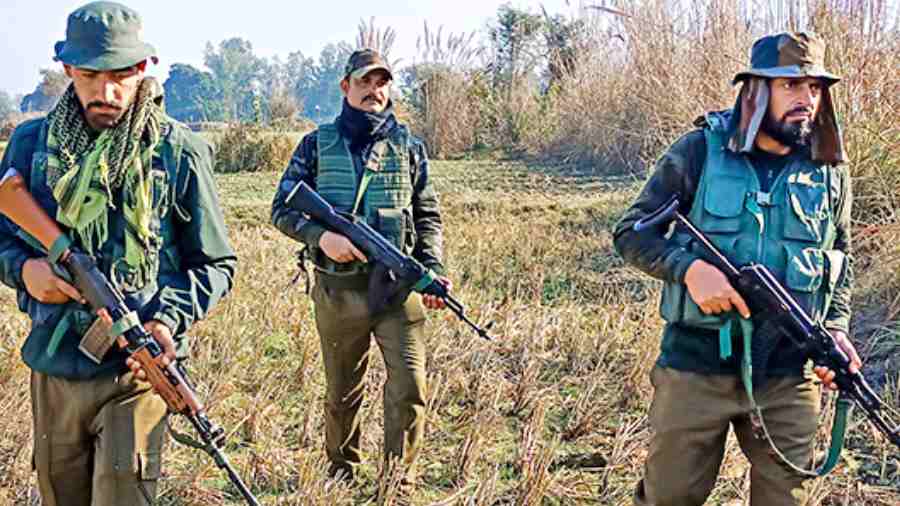 A search operation near the international border at Samba in Jammu.
PTI file picture
---
Srinagar
|
Published 06.01.23, 03:29 AM
|
---
Several Muslim families in Kashmir have alleged that they faced discrimination on the basis of religion in compensation payments and job offers after their relatives were killed by militants.
An association representing Dalits and other persecuted sections had on Wednesday alleged caste bias in such cases.
The families of many Kashmiri Muslims who died at the hands of militants defending the country or democratic institutions said the discrimination started after the special status of Jammu and Kashmir was scrapped. In several cases, even association with the BJP has not helped.
The militants have killed more Muslim non-combatants, mostly members of the BJP or panchayat functionaries, than people of other faiths since August 5, 2019, when Article 370 was diluted, as had been the case earlier too.
"The families of panchayat members who died before 2019 were given a pittance but faced no discrimination on the basis of religion. However, there has been a brazen display of discrimination after 2019," Shafiq Mir, chairman of the All J&K Panchayat Conference, told The Telegraph.
Mir referred to te ex gratia and job that the family of slain sarpanch Ajay Pandita, a Kashmiri Pandit, received, adding that families of Muslim victims were struggling. Ajay's brother put the ex gratia at Rs 20 lakh.
"These (Muslims) are men who stood for democratic institutions in the most difficult times. In several cases, they were the sole breadwinners," Mir said.
Mir added: "Some got Rs 1 lakh ex gratia, others nothing. There are no welfare schemes for them. Perhaps, they were discriminated against because of their religion."
Ajay's brother Vijay Pandita said the family faced no hurdles to receiving the ex gratia and a job for the slain sarpanch's daughter.
Mir said 26 panchayat members — mostly Muslim — were killed after 2012, several after 2019. The last local body elections in Jammu and Kashmir were held in 2019 and 2020 amid a boycott by major political parties like the National Conference and the People's Democratic Party.
The family of Puran Kishan Bhat, a Pandit killed in October, received an ex gratia of Rs 6 lakh. Puran's brother-inlaw Ashok Kumar Raina said they were expecting a job for a family member in a few days.
This newspaper spoke to a number of Muslim victims of militant violence, who said they were given nothing.
Arshad Ahmad Dar, whose father Ghulam Rasool Dar was killed by militants in August 2021, said the government did not pay any ex gratia, nor offered any job. "We got Rs 1 lakh from the Red Cross but nothing from the government — no money, no job," he said.
"They (the family of Ajay Pandita) got it because they are Pandits and we are not. My father was with the BJP for years but that did not help. We have got only assurances," Arshad added.
Ghulam Rasool was the Kulgam president of the BJP's Kisan Morcha.
"The government had (in 2020) announced a life insurance cover of Rs 25 lakh for all elected panchayat members, but we are not getting even that," Arshad said.
Srinagar resident Altaf Ahmad Bhat, who lost his brother Nissar Ahmad, a panch, to militant violence in August 2020 said they too had received only promises.
"Forget ex gratia or a job, no government official has visited our home in the last two years. My brother's widow is struggling to make ends meet. They are lucky they did not have children. They too would have suffered," Altaf said.
"I have gone from pillar to post seeking redress but got nothing. The same is the story with the family of Sameer Ahmad Bhat. They also got nothing," he said.
Sameer, a sarpanch, was killed by militants in Srinagar's Khonmoh locality in March last year. His wife said her insurance payment of Rs 25 lakh was being processed and would be the first such instance. Rural development department director Imam Din did not respond to calls from this newspaper, made to seek his comments on the allegations of discrimination.
BJP spokesperson R.S. Pathania said the government treated all its citizens equally. He said the families of people hit by militant violence must have received their due, and the party would ensure justice in cases where this may not have happened.