Kannada row forces Centre to widen curriculum for online language-training course
Former CM H.D. Kumaraswamy had accused the BJP of being 'against Kannada' and the state Congress had joined in along with pro-Kannada outfits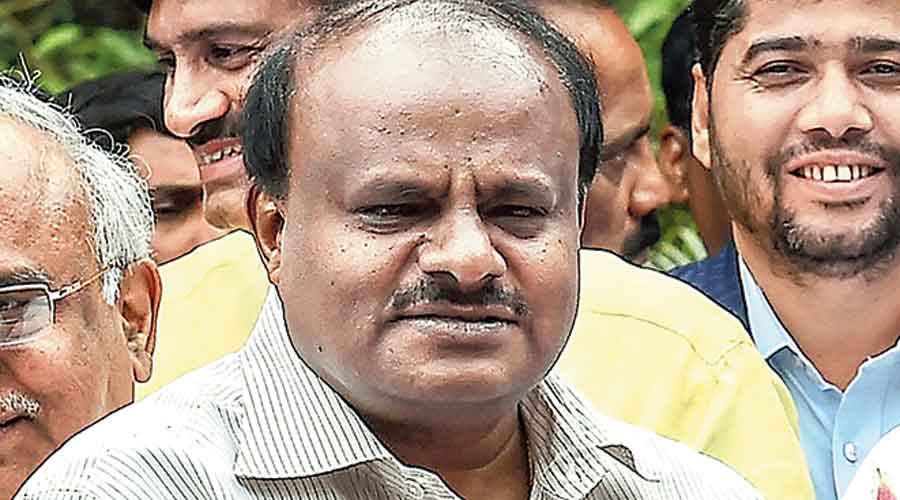 HD Kumaraswamy
Telegraph picture
---
Bangalore
|
Published 22.06.21, 01:20 AM
|
---
The Centre was forced to widen the curriculum for an online language-training course for all its officials and all MPs on Monday evening after controversy erupted in Karnataka over the exclusion of Kannada from the original programme schedule.
Janata Dal Secular leader and former chief minister H.D. Kumaraswamy had accused the BJP, which rules the country and Karnataka, of being "against Kannada" and the state Congress had joined in along with pro-Kannada outfits.
With the political temperature rising through the day, the Centre included in the programme, which was to begin on Tuesday, all the 22 Indian languages recognised in the Eight Schedule and tweaked the schedule.
The course, organised by the Parliamentary Research and Training Institute for Democracies of the Lok Sabha secretariat and announced last week, originally included six Indian and six foreign languages. These were Bengali, Gujarati, Marathi, Tamil, Telugu, Odia, French, Portuguese, Japanese, Russian, Spanish and German.
Narayan Gambhir, additional private secretary to parliamentary affairs minister Pralhad Joshi, told The Telegraph in the evening that 16 languages had been added to the menu and additional sessions scheduled from July.
On Tuesday, the programme will start with only the six foreign languages, he said.
A second session will begin on July 5 covering the originally announced six Indian languages along with Kannada, Hindi, Sanskrit and Malayalam.
A third session will start from July 12 and cover Assamese, Kashmiri, Sindhi, Urdu, Santhali, Nepali, Manipuri, Bodo, Dogri, Konkani, Maithili and Punjabi.
"This course will help parliamentarians and officials learn any language they want," Gambhir said.
Asked why Kannada and several other Indian languages had been left out of the original programme, Gambhir said: "Perhaps there was some confusion."
Kumaraswamy congratulated all Kannadigas "who had sent out a warning", tweeting: "This is the way we should remain united for Kannada."
Kumaraswamy had lit the fire by tweeting on Sunday night: "We must send out a clear message that they (the Centre) will be in trouble if they ignore Kannada. People should realise that the BJP is against Kannada since I have not seen a single BJP MP speak out against such neglect by the Centre."
He had added: "This is the result of sending 25 MPs (of the BJP) from our state who do not respect the Kannada language...."
The controversy came at a time the Centre was intermittently facing charges of imposing Hindi on the states because of its increasing use of the language in communicating with them and its regular prods to state government departments to use more Hindi.
Congress spokesperson V.S. Ugrappa too had accused the NDA government of "insulting" Kannadigas and "imposing Hindi and neglecting state languages".
Praveen Kumar, secretary of the pro-Kannada Karnataka Rakshana Vedike, had said a meeting of like-minded organisations would be held online and memorandums submitted to the deputy commissioners of all the districts.
Cornered, BJP parliamentarians like Appachu Ranjan had declined comment, asking reporters to talk to Union minister Joshi, who is MP from Dharwad in Karnataka.
Karnataka has over the decades witnessed several pro-Kannada agitations against perceived impositions of Hindi and, sometimes, English.
Kumaraswamy was among politicians who had questioned the state-funded Hindi Divas held in September last year. "When will (Prime Minister Narendra) Modi celebrate Kannada day?" he had asked.
Karnataka had seen widespread protests and roadblocks in September 2019 after Union home minister Amit Shah seemed to advocate a "one nation, one language" line, projecting Hindi as the only language that could unite the country.
Several pro-Kannada organisations had got the Bangalore Metro to replace all its Hindi signboards after weeks of protests when they defaced everything written in Hindi. Since then, the boards have carried messages and signage only in Kannada and English.
A senior academic who declined to be named said that elected representatives and officials would benefit by learning languages of other states and nations.