JPC final report today amid 'dissent'
The Opposition parties said they had objections to the Citizenship (Amendment) Bill which, they alleged, links religion to citizenship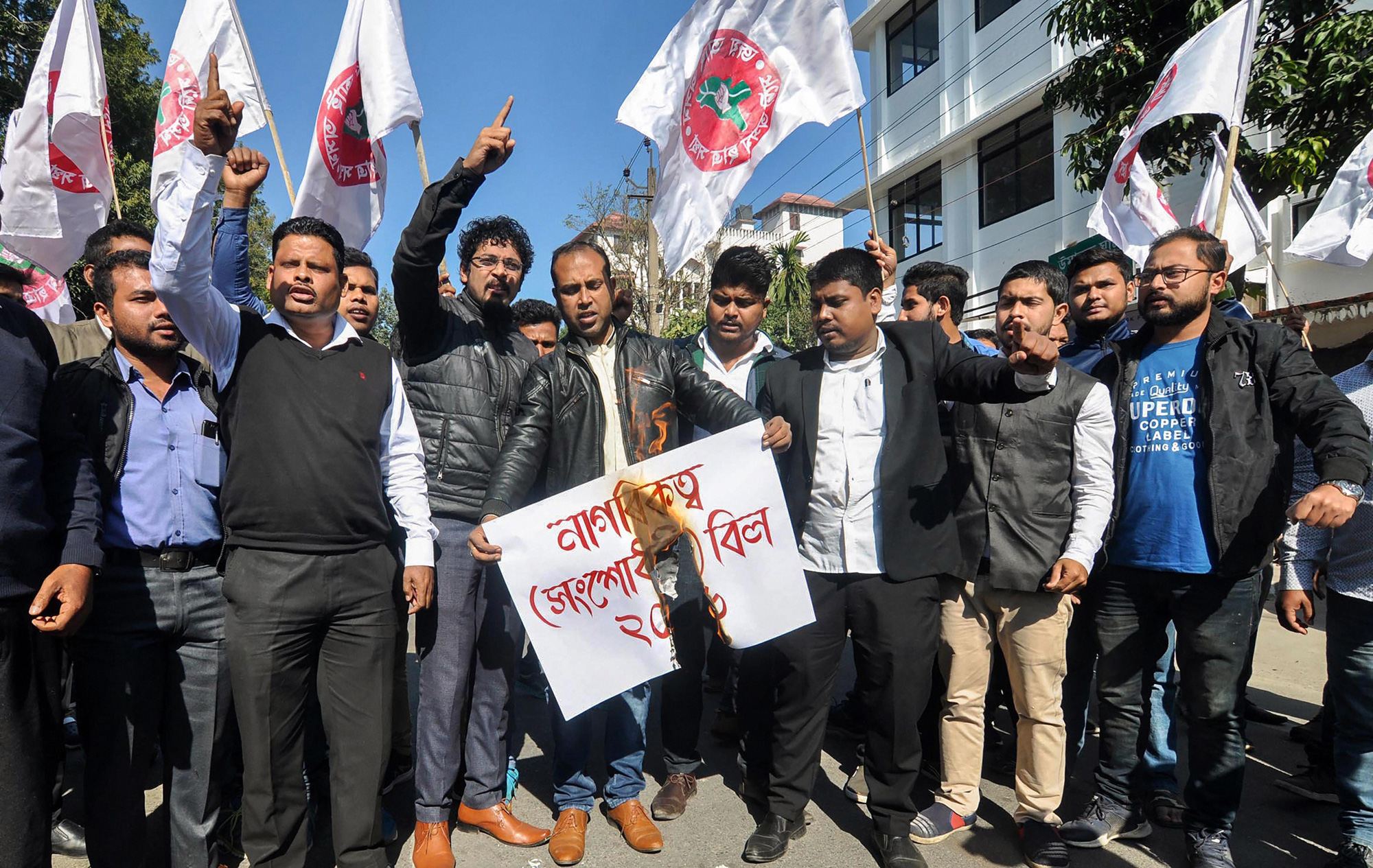 All Assam Students Union (AASU) activists hold placards as they raise slogans protesting against Citizenship (Amendment) Bill, 2016, in Guwahati on Monday, January 7, 2019.
PTI
---
New Delhi
|
Published 07.01.19, 10:18 AM
|
---
The final report of the joint parliamentary committee on the Citizenship (Amendment) Bill, 2016, which will be submitted in the Lok Sabha on Monday, lacks approval from at least four Opposition parties whose members on the panel have moved dissent notes, sources said on Sunday.
Members of the Congress, Trinamul Congress, CPM and the Samajwadi Party have moved these dissent notes, the sources said.
"As members of the joint committee on Citizenship (Amendment) Bill, 2016, we can state that there was no consensus in the committee on the final report. We are opposed to the bill as it brings out the ethnic divisions in the state of Assam," a note said.
Members of the committee from the Left and Trinamul said the committee had visited Gujarat, Rajasthan and Assam where they faced major Opposition to the bill.
"In Assam it is a more critical issue. During the Assam visit, the committee even faced demonstrations. On behalf of the committee, we promised to visit the state again to talk to more stakeholders about the issue and assured them that we would not submit the report unless we met again. Now it is embarrassing," a Left member said.
The Opposition parties said they had objections to the bill which, they alleged, links religion to citizenship.
"This is the basic objection. So, de-link religion from the citizenship issue. This is against the spirit of our civilisation, culture and the Constitution. Citizenship cannot be linked with state, religion, caste or creed and (cannot be) country-specific. It should be universal," said another dissenting member.
The members also opposed the way the committee had functioned. They said they had submitted amendments to Clause 2 of the bill, seeking to eliminate the mention of six minority religious communities and the names of neighbouring countries.
"This was aimed to secularise the bill," the dissent note from Trinamul said. The amendments were defeated in the committee in a vote by raising hands. The Shiv Sena on Sunday said it would oppose the citizenship bill. A statement released by Sanjay Raut, leader of the Sena parliamentary party, said the protests against the bill throughout Assam had made it clear that the people of the state were against the bill irrespective of caste, creed and religion.