Jharkhand crisis: Air route to ground poach bid by BJP
MLAs of ruling UPA coalition in state were shifted from Ranchi to Raipur in Congress-ruled Chhattisgarh on Tuesday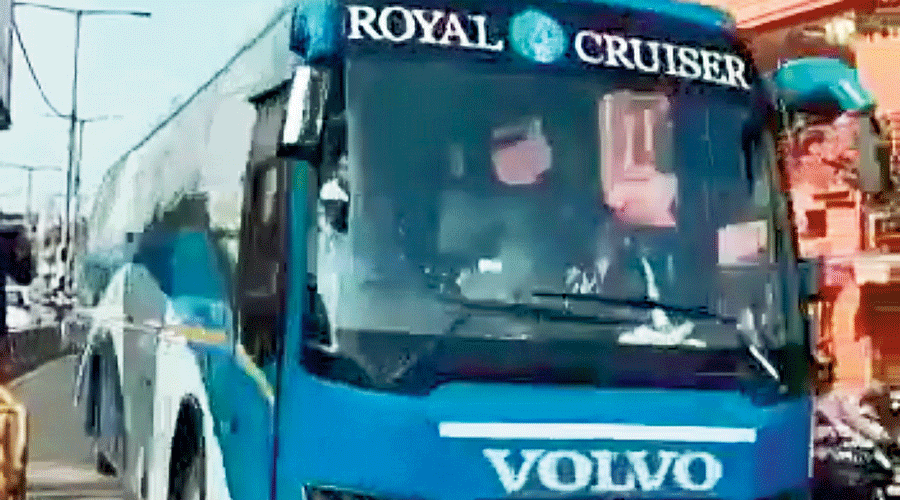 Jharkhand MLAs being ferried to Ranchi airport in a bus on Tuesday.
Manob Chowdhary
---
Jamshedpur
|
Published 31.08.22, 02:07 AM
|
---
The MLAs of the ruling UPA coalition in Jharkhand were shifted from Ranchi to Raipur in Congress-ruled Chhattisgarh on Tuesday to thwart an alleged poaching attempt by the BJP.
The Raj Bhavan in Jharkhand continued to remain silent on the possible disqualification of chief minister Hemant Soren in an office-of-profit case.
A special flight carrying around 40 MLAs took off from Birsa Munda Airport for Raipur in the evening.
Soren, who accompanied the MLAs and ministers in two buses from his Ranchi residence, returned from the airport.
Speaking briefly to the media at the airport, Soren said shifting the MLAs and ministers was part of a strategy to foil the BJP's plan.
"It is nothing new. We had done it earlier (on Saturday when UPA MLAs had gone to Latratu Dam in Khunti) and we are doing it today. We will continue adopting such strategies to defeat the Opposition's plans. It is not a new trend but has been seen in other states. There is no threat to our government," he said.
A senior JMM leader said three of the Congress MLAs who were caught with cash in Calcutta, JMM's Chamra Linda and Sabita Mahato and Congress's Mamta Devi, could not go to Chhattisgarh.
"The MLAs will be staying at a private resort in Raipur and return on September 1. This has been done to prevent poaching by the BJP. The silence of the governor is very mysterious," the JMM leader said.
A state cabinet meeting is scheduled in Ranchi on September 1.
The JMM leader said that during a meeting chaired by Soren and Congress Jharkhand in-charge Avinash Pandey, it was felt that the BJP might intensify its attempt to poach MLAs from the JMM and the Congress in a bid to topple the government in a manner "similar to Maharashtra" and there was a need to ring-fence the legislators in a "safe haven".
The Election Commission had sent a report to governor Ramesh Bais on August 25, which is believed to have recommended Soren's disqualification as an MLA for flouting electoral norms by extending a mining lease to himself.
However, there has been no official communication from the governor on this matter since then.
The Congress has sent a letter to Speaker Rabindra Nath Mahato seeking the disqualification of three of its MLAs — Irfan Ansari, Naman Bixal Kongari and Rajesh Kachhap — under the anti-defection law.
The trio were arrested by Bengal police in Howrah on July 30 with Rs 50 lakh. The Congress has claimed that they were paid to topple the JMM-led coalition government in Jharkhand.
The Speaker has sought replies from the three MLAs by September 1, Assembly officials said.
Assembly sources said Speaker Mahato might take a call on a case pertaining to anti-defection charges against BJP legislator and former chief minister Babulal Marandi on September 1.
The Speaker had initiated the anti-defection proceedings in December 2020 after Marandi merged his Jharkhand Vikas Morcha (Prajatantrik) with the BJP in February that year and was unanimously elected the leader of the BJP legislative party.