Jamiat Ulama-i-Hind urges SC to hear hate speech plea early
Assembly elections are due in Uttarakhand, Uttar Pradesh, Punjab, Goa and Manipur from February 10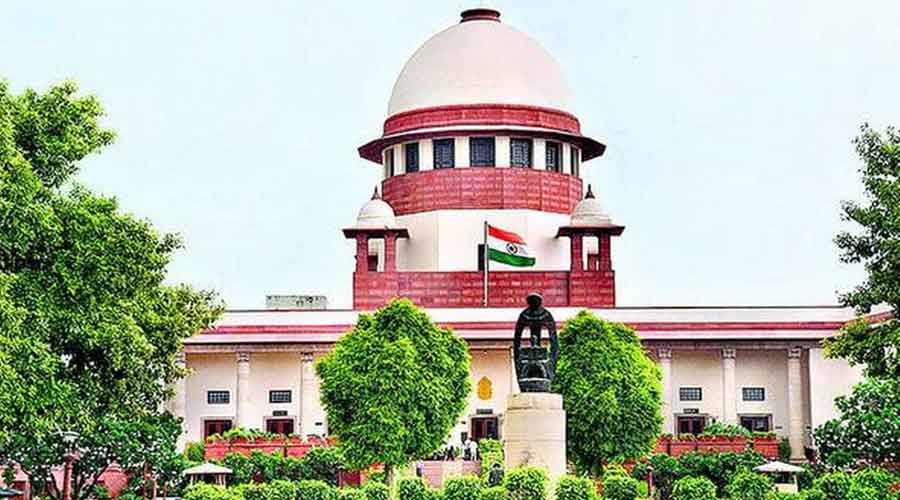 Supreme Court.
File photo
---
New Delhi
|
Published 25.01.22, 02:26 AM
|
---
The Jamiat Ulama-i-Hind has urged the Supreme Court to list for early hearing its petition seeking directions to curb hate speech and alleged communalisation of incidents in the context of the ensuing Assembly elections in five states.
Assembly elections are due in Uttarakhand, Uttar Pradesh, Punjab, Goa and Manipur from February 10. A total of 690 constituencies will go to polls in these states.
The organisation had on May 2020 filed a PIL seeking directions from the apex court to prevent communalisation of the alleged violation of Covid-19 protocols at Nizamuddin Markaz — where the Tablighi Jamaat congregation was held in March 2020 amid the pandemic — by certain sections of the print and electronic media.
Following the plea, the apex court had issued a notice to the Centre and certain media organisations.
After a few rounds of hearing, the matter was last listed on September 2 last year.
Since then, the matter has not been listed even once and the date on the case status keeps changing. The Jamiat Ulama-i-Hind said the case was now tentatively listed for hearing on February 9 this year.
Hence, in an application moved through advocate Ejaz Maqbool, the organisation pleaded that the issue raised by it in the 2020 PIL "…raises highly significant questions of law and issues of great public importance…. The Applicants/Petitioners submit that the dissemination of fake news and hate speech poses a grave danger to the lives and liberties of a large section of citizens.
"It is submitted that the present matter has assumed particular importance because elections to the Legislative Assemblies of five states are being conducted presently. The dissemination of hate speech during electoral campaigns poses a grave threat to the peace and harmony in the country. The Applicants/Petitioners humbly submit that this Hon'ble Court needs to give specific directions to control dissemination of fake news and hate speeches and the matter needs to be heard urgently. The Applicants/Petitioners state that the present Application is being filed bona fide and in the interests of justice."
The Jamiat had in its 2020 petition, among other things, pleaded for directions to the Centre to stop the dissemination of fake news and take strict action against sections of the media spreading bigotry and communal hatred in relation to the Nizamuddin Markaz issue and direct the information and broadcasting ministry to identify and take strict action against sections of the media who are communalising the Nizamuddin Markaz issue.