Jamia cancels exams after furore
The move follows pressure from students to register an FIR against Delhi police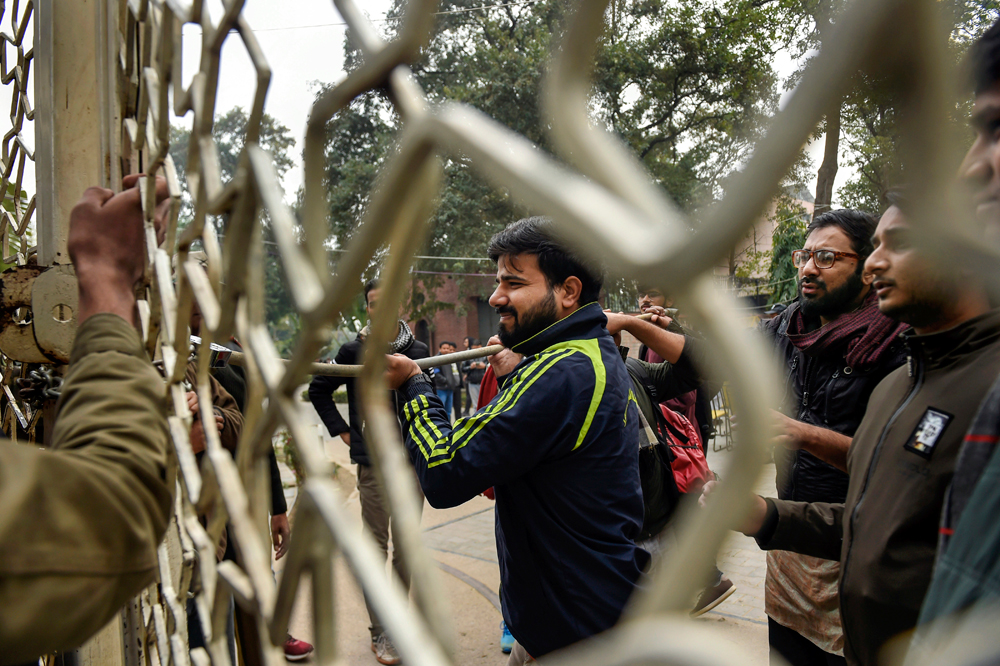 ---
---
The Jamia Millia Islamia on Monday cancelled its ongoing exams after students gheraoed the vice-chancellor demanding the university register an FIR against Delhi police for its campus rampage last month.
On December 15, after buses were torched during a protest against the Citizenship (Amendment) Act near the campus, the police had vandalised libraries and a place of worship and assaulted students, including women, and campus guards.
The university had lodged a police complaint and written to senior IPS officers including the police commissioner. But no FIR has been filed against the cops, who are accused also of using tear smoke and stun grenades within confined spaces on the campus after destroying the CCTV network.
Vice-chancellor Najma Akhtar had condemned the police action after varsity officials clarified that the cops had not sought permission before entry. Semester exams were cancelled and the university shut early for the winter.
The police have slapped rioting charges on three students, including two who were injured in the rampage.
Student delegations had met the VC several times to demand she approach the courts to order the registration of an FIR and also postpone the exams as the students were too traumatised to prepare for them.
On Monday, several students broke open the gates leading to her office and laid a siege at the call of the Jamia Coordination Committee, a collective of student groups in the university, which lacks an elected students' union.
Their demands include an FIR through a magistrate's order before January 16, a fresh tentative exam timetable, an assurance to parents on campus safety, a special investigation team to probe the police action, and legal support to the students facing charges.
"Delhi police are not registering an FIR," Akhtar told the gathering.
"They entered the campus without our permission and we have submitted our report to the government…. We (re)opened the university after being requested by the students and we have made this exam schedule so that students can prepare.
"There is no connection between an FIR and the examination. We are going to court and the court is not in our hands."
Later the university administration said in a statement that the ongoing exams stood cancelled until further notice.
"A decision has also been taken that the administration will also explore the possibility of moving court for the registration of FIR in the 15th December 2019 police brutality in university library case at the earliest… The university has already handed over all the evidence to the National Human Rights Commission (probe)," the statement said.
Arjun Ramachandran of the Dayar-i-Shauq Students Charter — a Jamia-based students group — said the gherao was resorted to as the administration was dragging its feet after initial enthusiasm shown in holding the police accountable for excesses.
"Several students, especially women, have not returned from holidays as their parents fear for their security on campus," Ramachandran said.
"Many are coping with trauma and have been unable to prepare for exams, and many have boycotted exams. We were assured that students could discuss with their respective deans and each department could frame a schedule for exams."