Sadhus chant 'bring back Modi', seek law on temple
Where are we headed as sadhus vow not to bow before any power?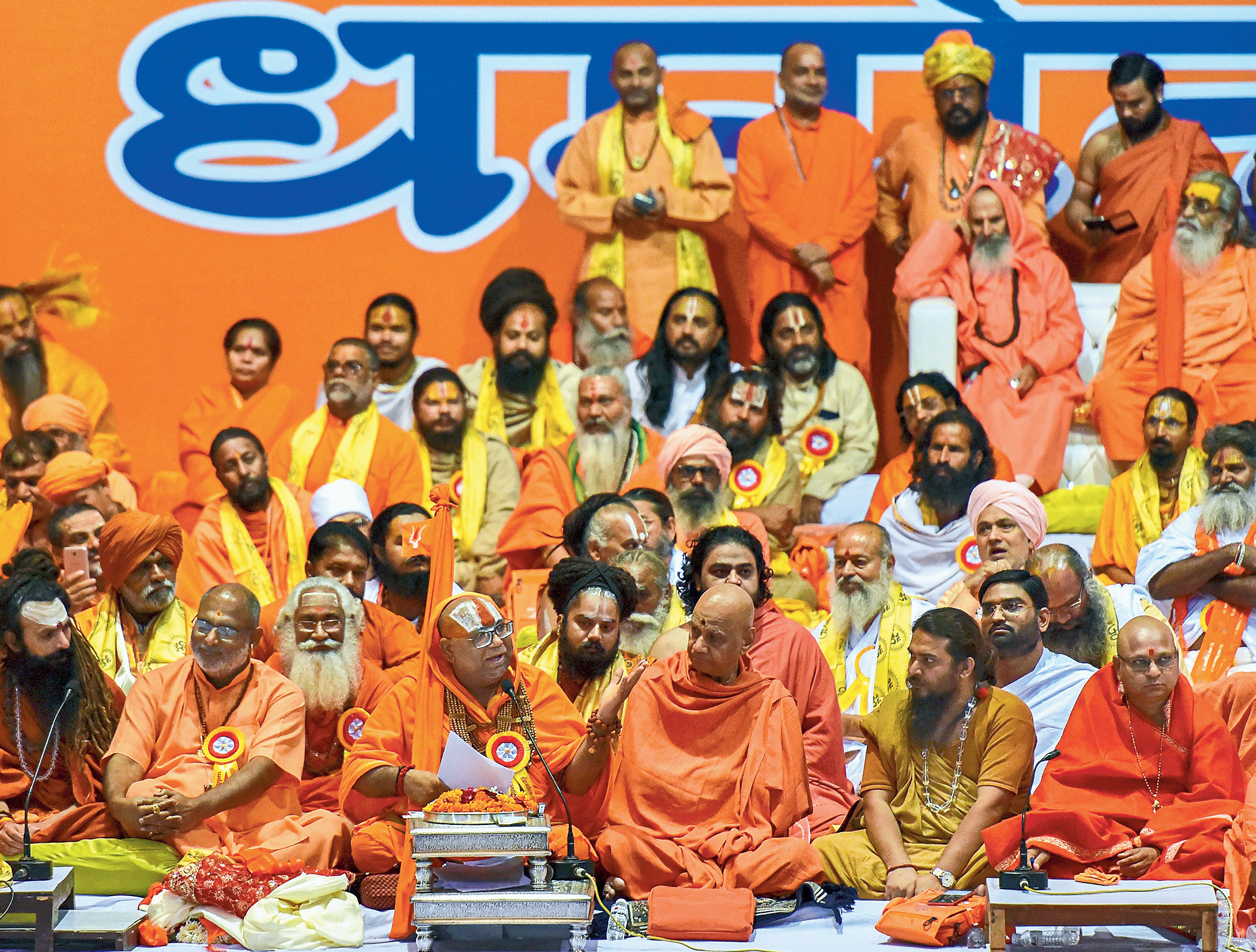 Akhil Bharatiya Sant Samiti leader Jagadguru Hansdev Acharya speaks at the Dharmadesh meeting at Talkatora Stadium in New Delhi on Sunday.
(PTI)
---
New Delhi
|
Published 04.11.18, 10:15 PM
|
---
A two-day meeting of sadhus ended in New Delhi on Sunday with a call for a law or ordinance to clear the decks for a Ram temple in Ayodhya and an appeal to voters to re-elect the Narendra Modi government next summer.
"We have expectations from this government alone. We trust it to solve all our problems," Hansdev Acharya, Haridwar-based monk, read out from the resolution adopted by the Akhil Bharatiya Sant Samiti at Talkatora Stadium.
"Save your people, save your jobs, save your country, save your culture and in 2019 bring this government back. Bring it back, bring it back…" he urged the assorted monks, priests and preachers, who responded with cries of "Jai Sri Ram".
Several members of the Samiti, which claims an all-India membership but denies affiliation to the Sangh parivar, later told reporters they were unhappy at the event's political (pro-BJP) tilt but were not allowed to protest.
Many of the monks who addressed the meeting over the two days accused the Supreme Court of "insulting" Hindu sentiments and warned that their patience was wearing thin.
Ever since the apex court last week said the Ayodhya title suit was not a "priority" and declined an early hearing, parivar outfits have started what appears an orchestrated campaign for a law to pave the way for the Ram temple.
While Prime Minister Modi and BJP chief Amit Shah have so far maintained silence, other party stalwarts — from chief ministers to Union ministers — have one by one echoed the demand.
The objective seems to be to keep the issue boiling ahead of the general election, force the Opposition to take a stand, and deflect attention from the controversies buffeting the government.
The Samiti has decided to build a pro-temple movement across the country by holding dharm sabhas (religious meetings) at Ayodhya, Nagpur and Bangalore on November 25 and in Delhi on December 9.
"We will not stop nor bow down. When people's power takes shape, no power in the world can withstand it. It has to surrender. Lakhs of sadhus and their followers will come to Delhi and compel the powers that be to surrender," Hansdev declared, apparently alluding to the apex court.
The Delhi dharm sabha is expected to coincide with the winter session of Parliament, suggesting a strategy to pressure the government to bring in legislation on Ayodhya and force the Congress to show its hand.
Delhi-based Hindu scholar Acharya Madhur was among the few Samiti members unhappy with the call to re-elect the Modi government.
"This meeting was not meant to campaign for the BJP. Saints shouldn't do politics. I and some others wanted to protest but weren't allowed to speak," he said.
As he was speaking to reporters, a group of Samiti members walked up to him and challenged him to declare what options Hindus have other than Modi.
Sunday's resolution said that while the sants (Hindu saints) regretted the Modi government's failure to clear the path for a Ram temple, they were happy with its many achievements in the spheres of security, religion, culture and national prestige.
It favoured compulsory voting and warned Hindus against using the Nota (none of the above) option at elections, saying exercising it would be an "anti-national" act. The BJP is wary of a campaign to vote Nota in Madhya Pradesh by the upper castes, angry with the government for strengthening the SC/ST Atrocity Act overruling a Supreme Court verdict against automatic arrests and the denial of anticipatory bail.
Acharya appealed to Hindus to light one earthen lamp on Diwali for a Ram temple, echoing calls by Union minister Vijay Goel and Uttar Pradesh chief minister Yogi Adityanath.
On Sunday, Union minister Uma Bharati, a leading light of the 1992 movement that brought down the Babri Masjid, joined the chorus for a Ram temple.
She told PTI she was ready to die for the Ram temple and warned that any talk of building a mosque close to the temple would make Hindus "intolerant".
A day before, BJP general secretary Ram Madhav had decried the "dilly-dallying about Ram Mandir on the part of the judiciary".