Spoilers on Women's Day at Shaheen Bagh
East Delhi dairy farmer, who had fired at the site on February 1, received bail on Friday and was released on Saturday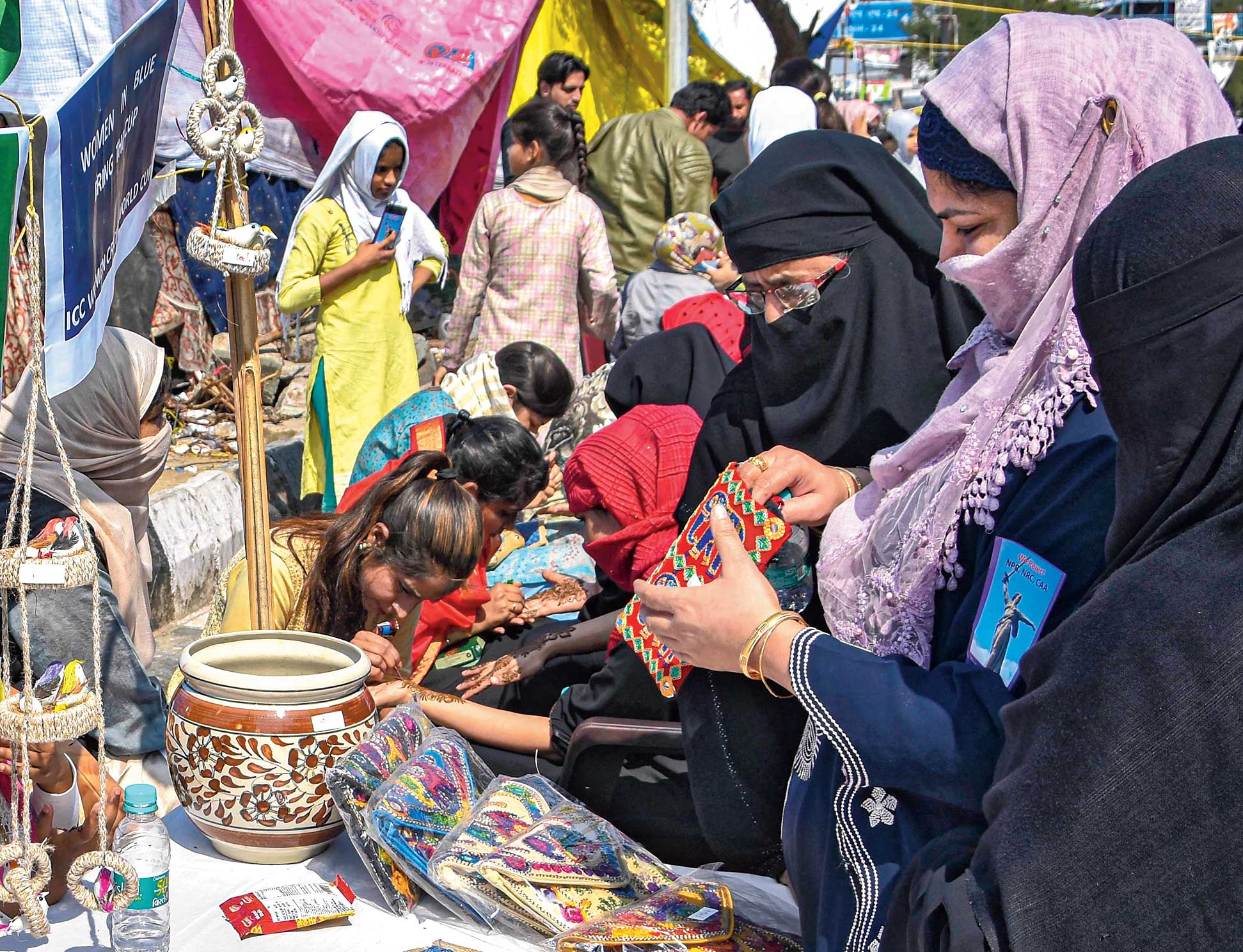 An exhibition-cum-sale on Women's Day at Shaheen Bagh.
(PTI)
---
New Delhi
|
Published 08.03.20, 08:53 PM
|
---
On Women's Day, a sale was held at Shaheen Bagh, the site of the longest-running and women-led protest against the new citizenship matrix, to raise funds for the Delhi riot victims and a moment of silence was observed for everyone killed in the carnage.
Two strains of information then trickled in: the gunman who had opened fire at the protest site had been given a hero's welcome after he was freed on bail, and a perceived fresh attempt was under way to defame the protesters.
East Delhi dairy farmer Kapil Baisla, who had fired at the site on February 1, was granted bail on Friday and was released on Saturday. Baisla received a hero's welcome when he arrived home at the urban village of Dallupura, suggests a viral TikTok video that showed men embracing him and dancing to folk songs.
On Sunday, the police claimed to have picked up two suspected Islamic State terrorists from Jamia Nagar, located near Shaheen Bagh and home to the Jamia Millia Islamia, for allegedly "instigating anti-CAA protests", news agency ANI reported.
The gunman's lawyer, Narveer Dabas, had demanded bail citing a six-hour delay in filing the FIR while arguing the investigation was over and the police did not need him, and that Baisla was in no position to influence witnesses, who were police officers anyway.
The court was further told that Baisla has a wife and child to take care of. The prosecution opposed bail on the grounds that the allegations were "very serious in nature and the case was only at its initial stage".
Additional sessions judge Gulshan Kumar granted bail against a bond of Rs 25,000 and a surety of the same amount.
The Supreme Court has said more than once that bail is the norm and jail the exception.
But the relief is usually not granted to those considered prone to violence and a risk to peace. A person who opened fire at a crowded — and peaceful — protest site normally checks both boxes.
"People go to court as a last resort, when the crime is severe. If we don't get justice from the courts, where do we go?" Shaheen Kausar, one of the organisers at Shaheen Bagh, told The Telegraph.
"I worry that people who want to burn this country down and turn the living into corpses are allowed to roam the streets, at a time when no effort is spared to harm peaceful protesters and students and label us terrorists."
Kausar said Shaheen Bagh had observed a moment of silence on Sunday for those killed in the riots. "We mourn for head constable Ratan Lal and Intelligence Bureau employee Ankit Sharma. Mothers understand what it is to lose a child. That's why on Women's Day we decided to contribute to the relief effort," she said.
Asked about the grant of bail to Baisla, Wajahat Habibullah, an intervener in the Supreme Court which is trying through interlocutors to restore traffic movement on the arterial road the women have blocked since December 15, said: "I only hope there is no further escalation. The apprehensions of the people are justified."
A former chief information commissioner, Habibullah said: "The people already had a complaint that the police were not with them for their security…. Unprovoked firing at peaceful protesters deserves to be punished."
It is against such a backdrop that word spread about the police's claim on the arrests.
ANI quoted deputy commissioner (special cell) Pramod Kushwah as saying: "A couple, Jahanjeb Sami and Hina Bashir Beigh, linked to (the) Khorasan module of ISIS were apprehended from Jamia Nagar, Okhla. The couple (were) instigating anti-CAA protests."
Demonisation of Shaheen Bagh had been the linchpin of the BJP's vitriolic but unsuccessful campaign for last month's Assembly polls.
The riots had begun after an incendiary speech by BJP leader Kapil Mishra in the presence of the police on February 23. The Centre told the apex court last week that conditions were "not conducive" to filing FIRs against BJP leaders for hate speeches.
Earlier, the police had declared as a minor another gunman who had shot and injured Jamia student Shadab Farooq on January 30 during an anti-CAA march.
This shooter, who described himself as "Rambhakt", is in judicial custody at an observation home for boys and has been allowed to take his Class XII board exams in his home state of Uttar Pradesh.
"Rambhakt" and Baisla opened fire after Union minister Anurag Thakur led a rally in chanting "shoot the traitors".
Farooq, a mass communication student whom "Rambhakt" allegedly shot in his left forearm, told this newspaper: "At some point of time we realised that we had to leave safety behind and protest en masse. Nothing else will work… The media is in the hands of the regime. The whole country knows that the CAA is a bad law, and these attacks are just attempts to divert the attention of people."
Farooq wanted to meet the shooter but was advised not to by the investigating officer.
"There is full permission for CAA enforcers to beat or kill, and there is none for anti-CAA activists to speak. No proof is required to call anyone a terrorist," Upasana Sharma, a protester at Shaheen Bagh, said.
"The (Uttar Pradesh) government puts up pictures of protesters who have not been convicted of any crime. Is this not merely an invitation to lynch us? Neither Hindu nor Muslim is safe if mob rule is promoted."