India waves US govt's 'general support' for reforms in its defence
External affairs ministry attempts to draw an equivalence between chaos during Republic Day tractor rally and the riots on Capitol Hill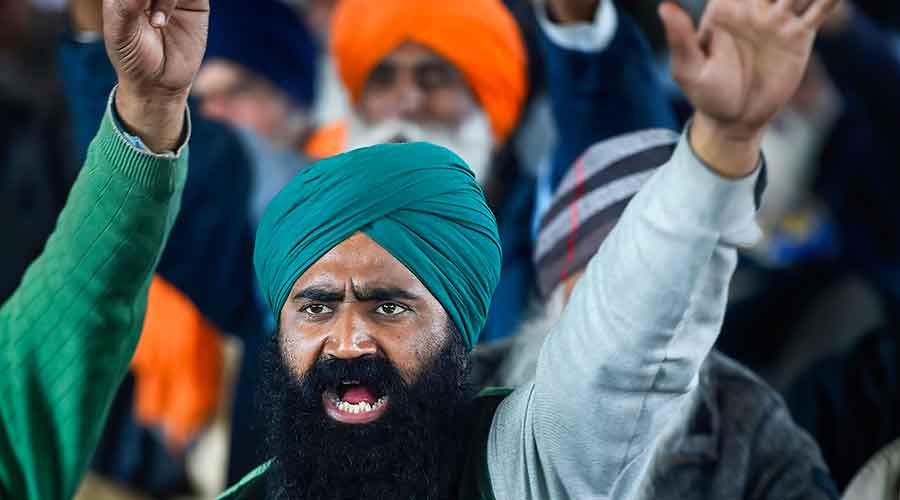 ---
---
The Narendra Modi government, which had erupted in anger on Wednesday at "foreign individuals" such as pop icon Rihanna and climate activist Greta Thunberg speaking up for India's protesting farmers, appeared happy a day later to wave the US government's "general support" for reforms in its own defence.
"As you can see, the US state department has acknowledged steps being taken by India towards agricultural reforms," external affairs ministry spokesperson Anurag Srivastava said on Thursday, in response to the US embassy's comments on the protests.
Responding to media queries on the farmers' protests given that US President Joe Biden has identified "strengthening democracy at home and abroad" as a priority area for his administration, the embassy spokesperson in New Delhi had said: "We recognise that peaceful protests are a hallmark of any thriving democracy, and note that the Indian Supreme Court has stated the same. We encourage that any differences between the parties be resolved through dialogue."
The embassy had further said: "We recognise that unhindered access to information, including the Internet, is fundamental to the freedom of expression and a hallmark of a thriving democracy."
The embassy also said: "In general, the United States welcomes steps that would improve the efficiency of India's markets and attract greater private sector investment."
The Modi government seized on this sentence in its response on Thursday when spokesperson Srivastava said India had "taken note" of the US embassy's comments.
The ministry, which was furious at "foreign individuals" commenting on India's internal matters, did not appear to have a problem with a foreign government commenting on an Indian policy decision.
The ministry also attempted to draw an equivalence between the chaos in Delhi on Republic Day during the tractor rally and the riots on Capitol Hill on January 6.
Srivastava said: "India and the United States are both vibrant democracies with shared values. The incidents of violence and vandalism at the historic Red Fort on January 26 have evoked similar sentiments and reactions in India as did the incidents on the Capitol Hill on January 6 and are being addressed as per our respective local laws.
"The temporary measures with regard to Internet access in certain parts of the NCR were therefore understandably undertaken to prevent further violence."
Several US lawmakers have been voicing concerns over the protests from its early days, primarily due to pressure from the diaspora. The latest is Ilhan Omar, Democratic member of the House of Representatives from Minnesota.
She said in a tweet: "Solidarity with all the farmers across India protesting for their livelihood. India must protect their basic democratic rights, allow for the free flow of information, reinstate Internet access, and release all the journalists detained for covering the protests."
Representative Jim Costa from California had on Tuesday tweeted: "The unfolding events in India are troubling. As a member of the Foreign Affairs Committee, I am closely monitoring the situation. The right to peaceful protest must always be respected. #FarmersProtest"