Five key commitments at climate summit
India to go carbon neutral by 2070, pledges Modi at climate summit
Half of country's energy requirements will come from renewable sources by 2030, says PM while outlining five commitments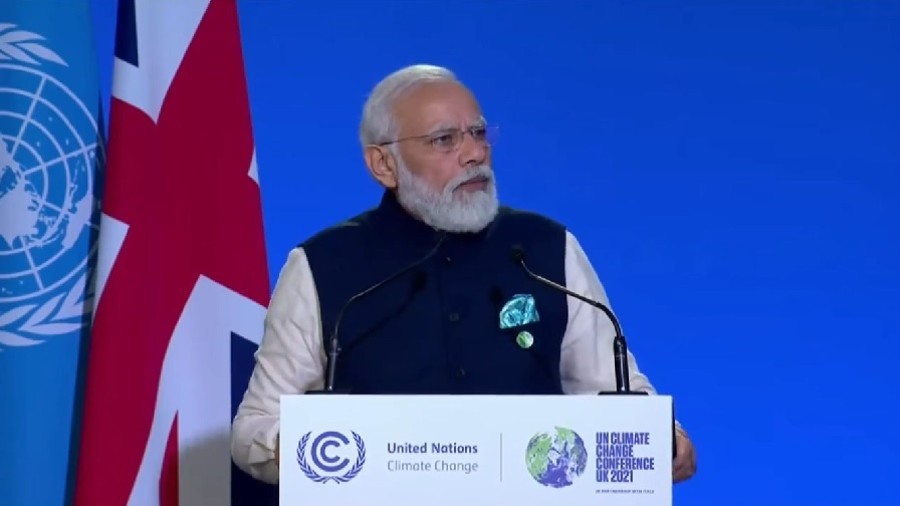 PM Narendra Modi delivering the National Statement at the @COP26 Summit in Glasgow.
Twitter/ @narendramodi
---
New Delhi
|
Published 01.11.21, 11:08 PM
|
---
India will achieve net zero carbon emissions by 2070, Prime Minister Narendra Modi said at the COP26 summit in the Scottish city of Glasgow on Monday, spelling out the target for the first time that gives the country 10 years more than China and 20 more than the US and European Union, ndvt.com reported.
Considered a milestone in climate action pledges, "net zero" refers to a balance where emissions of greenhouse gases that raise the globe's temperature continue but are offset by the absorption of an equivalent amount from the atmosphere.
The pledge was among five commitments by the Prime Minister at the UN Conference.
"First - India will reach its non-fossil energy capacity to 500 GW by 2030," he said.
"Second - India will meet 50 percent of its energy requirements from renewable energy by 2030," he said.
"Third - India will reduce the total projected carbon emissions by one billion tonnes from now to 2030," the PM said.
"Fourth - By 2030, India will reduce the carbon intensity of its economy to less than 45 per cent," he said.
"And fifth - by 2070, India will achieve the target of net zero," he added.
Experts see 'net zero' targets as a critical measure to successfully tackle climate change and its devastating consequences.
Earlier, speaking at a side event Action and Solidarity: The Critical Decade' at the 26th UN climate conference in Glasgow, Modi stressed on the need to include in the school syllabus the importance of living in harmony with nature as per traditional practices.
Adaptation has not got as much importance as mitigation in the international climate debate. It is injustice to those countries which are highly vulnerable to climate change, he told the gathering.
"Many traditional communities have the knowledge of living in harmony with nature. In our adaptation policies, the traditional practices should be given importance. To ensure this knowledge reaches the next generation, it should be added to the school syllabus, Prime Minister Modi said.
He stressed that climate change is a huge challenge for the agriculture sector in developing nations, including India.