India calls for restoration of democracy in Myanmar
Shringla also raised the ambush of an Assam Rifles convoy in Manipur last month, stressing the need to maintain peace in the border areas of the country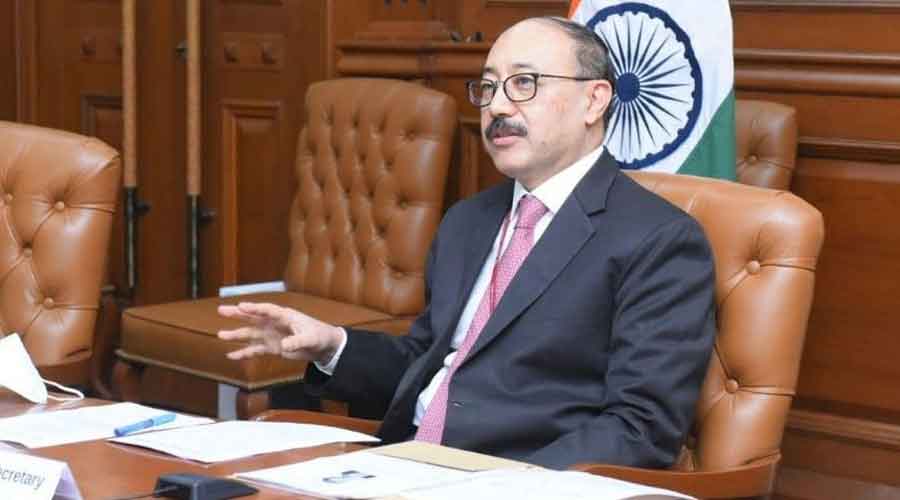 Harsh V. Shringla.
File photo
---
New Delhi
|
Published 24.12.21, 02:02 AM
|
---
India has called for the restoration of democracy in Myanmar at the earliest along with the release of detainees and prisoners during foreign secretary Harsh V. Shringla's two-day visit to the neighbouring country from Wednesday.
Shringla also raised the ambush of an Assam Rifles convoy in Manipur last month, stressing the need to maintain peace in the border areas of Myanmar, which shares a 1,600km stretch with India.
During his Myanmar stay, Shringla called on the chairman of the State Administrative Council — the military junta — and other senior representatives, met members of various political parties, including the National League for Democracy of the incarcerated Aung San Suu Kyi, and civil society.
According to the external affairs ministry, the foreign secretary emphasised India's interest in seeing Myanmar's return to democracy at the earliest during his meetings. He called for the release of detainees and prisoners — most prominent among whom is Suu Kyi — resolution of issues through dialogue and complete cessation of all violence.
He reiterated India's support for the ASEAN initiative and expressed hope that progress would be made in a pragmatic and constructive manner, based on a five-point consensus.
Apart from calling for the immediate cessation of violence, ASEAN's five-point consensus advocates dialogue among all parties concerned, mediation of the dialogue process by an ASEAN special envoy, provision of humanitarian aid through ASEAN channels, and a visit to Myanmar by the special ASEAN envoy to meet all parties concerned.
Having established contact with the military junta, which ousted Suu Kyi in February, India now hopes to use its contacts in Myanmar's political circles to renew efforts for the country to return to a democratic federal set-up. This meeting was the first official contact India has made with the military junta after the coup.
India's biggest concern about the political turmoil in Myanmar is the possibility of it spilling over into India's border states. It is in this context that Shringla raised the ambush of the Assam Rifles convoy in the Churachandpur district of Manipur a month ago.
"The foreign secretary stressed the need to put an end to any violence and maintain peace and stability in the border areas. Both sides reiterated their commitment to ensure that their respective territories would not be allowed to be used for any activities inimical to the other," the ministry said.
Shringla also communicated to Myanmar that India remained invested in the socio-economic developmental projects, including those along the border the two countries share and the ones under the Rakhine State Development Programme, besides the connectivity initiatives like the Kaladan Multimodal Transit Transport Project and the Trilateral Highway.