Increase in defence scholarship
Children of police personnel killed in terror and Maoist attacks to be included in scheme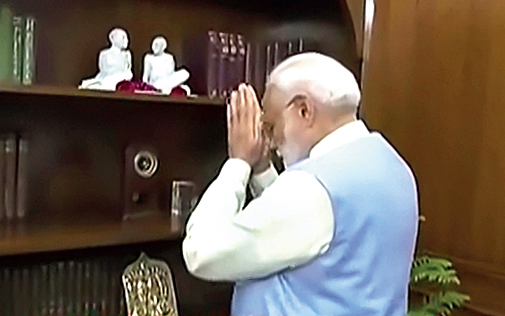 ---
---
Narendra Modi's first decision after taking charge as Prime Minister for a second term was to enhance the scholarship amounts under the National Defence Fund and also bring the children of police personnel killed in terror and Maoist attacks under the scheme on Friday.
As part of the PM's Scholarship Scheme, under whom post-graduate technical education courses such as medicine and engineering are covered, each boy will from now receive Rs 2,500 per month and a girl Rs 3,000.
Earlier, each male beneficiary used to get Rs 2,000 a month and each female recipient Rs 2,250 a month.
The Modi government has decided that the children of police officers who are killed in terror and Maoist attacks will also receive the benefits of the scholarship scheme, available till now only to children of martyred armed forces and paramilitary personnel.
"Our Government's first decision dedicated to those who protect India! Major changes approved in PM's Scholarship Scheme under the National Defence Fund including enhanced scholarships for wards of police personnel martyred in terror or Maoist attacks," Modi tweeted on Friday.
The National Defence Fund was set up in 1962 to receive voluntary donations for the promotion and welfare of the members of the armed forces, including paramilitary forces and the Railway Protection Force, and their dependents.
The fund is monitored by an executive committee helmed by the Prime Minister and having as members the defence, finance and home ministers.
The PM's Scholarship Scheme, which is part of the National Defence Fund, encourages technical and post-graduate education for the widows and wards of deceased and former service personnel.
Scholarships are available for technical courses such as medicine, dental, veterinary, engineering, MBA, MCA and other AICTE and UGC-approved programmes.
Under the scheme, scholarships are given every year to 5,500 children of armed forces personnel controlled by the defence ministry, 2,000 children of paramilitary forces personnel under the home ministry and 150 children of railway forces personnel.
From now, 500 children of martyred police personnel will also be given the scholarship.
The National Defence Fund accepts online voluntary contributions through the website `ndf.gov.in`.