Monsoon to reach Delhi, Punjab after July 7: IMD
North India has no respite from heat wave till another 48 hours
Wait for rains get longer in Delhi, Punjab; weather office describes phenomenon as 'break phase' monsoon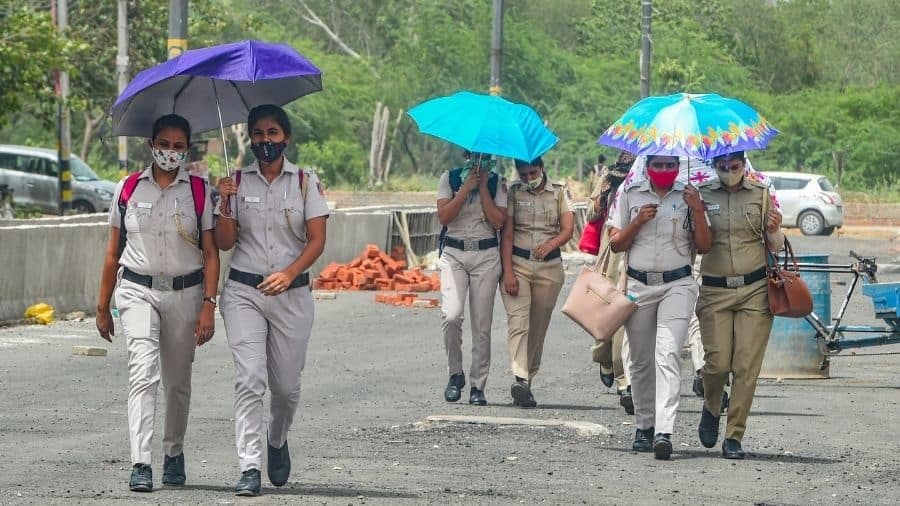 The IMD on Wednesday said conditions are unlikely to be favourable for further advance of the monsoon in northern plains.
File picture
---
Calcutta, Jamshdepur
|
Published 01.07.21, 03:58 PM
|
---
North India is unlikely to get any relief from the sweltering heat as the India Meteorological Department (IMD) indicated on Thursday that heat prevailing wave conditions are likely to continue for the next two days in Punjab, Haryana, Delhi, north Rajasthan and Uttar Pradesh.
To add to the misery of people, the southwest monsoon is not expected to reach Delhi, Punjab and other northern states before another one week or so. Not before July 7, indicated officials at IMD's New Delhi forecasting section.
The north-western part of the country has been reeling under heat wave conditions for the last few days due to a "break phase" of the monsoon, something that occurs when the monsoon has already covered most parts of the country.
"The conditions are unfavourable for the advancement of monsoon further into northern India. Monsoon currents are expected to surge ahead only after July 7," said a duty officer at IMD-New Delhi.
Heat wave conditions prevailed for the fourth consecutive day in Delhi and other neighbouring states of Haryana, Punjab and northern Rajasthan due to dominating westerly winds. The situation was unlikely to change in another 48 hours or so.
On Thursday, Delhi sizzled under heatwave conditions with the maximum temperature settling at 43.1 degrees Celsius, six notches above normal. The minimum temperature was 31.7 degrees Celsius, also four notches above the normal.
The relative humidity in the evening was 29 per cent. A thunderstorm with rain is predicted in the city on Friday.
"Due to likely dry westerly/south-westerly winds from Pakistan to northwest India at lower levels, heat wave conditions in isolated/some pockets over Punjab, Haryana, Chandigarh and Delhi, north Rajasthan, Uttar Pradesh and northwest Madhya Pradesh (are likely) during next two days," the IMD said.
Heat wave conditions prevail when the maximum temperature is more than 40 degrees Celsius, and at least five notches above normal. A severe heat wave is declared if the maximum reading is 6.5 degree Celsius above normal.
IMD said heat wave to severe heat wave conditions were observed in isolated places over Jammu on Wednesday. Also, heat wave conditions were recorded in most places over Punjab, Haryana, Chandigarh, Delhi, west Uttar Pradesh, northwest Rajasthan and northwest Madhya Pradesh.
Severe heat wave conditions were observed at isolated places over northeast Rajasthan as well, it said.
On Tuesday, Delhi experienced a severe heat wave condition with the day's reading crossing an oppressive 43 degree Celsius.
Met data of previous few years suggest that usually, the national capital witnesses heat waves till June 20 and cooler temperatures thereafter. 
The increase in the maximum temperature this year is due to delay in the arrival of the monsoon. Under normal circumstances southwest monsoon usually hits Delhi by June 27. 
This year, the southwest monsoon had arrived in Kerala on June 3, a delay of two days. But due to favourable conditions, the season of rains reached Jharkhand, Bengal, Odisha and Bihar well within schedule.
IMD-New Delhi has predicted that the monsoon this year is likely to be normal in the country as a whole. As of June 30, IMD's monsoon data shows 10 per cent excess cumulative rainfall over the country as a whole, thanks to surplus rains in east, northeast and central India during the first month of the season.
The southwest monsoon has covered the entire country but has so far eluded Haryana, Delhi, parts of Punjab, west Rajasthan and west Uttar Pradesh.