IIT seer Sanand dies on Ganga fast
Sanand had taught environmental engineering at IIT Kanpur for 17 years before adopting sanyas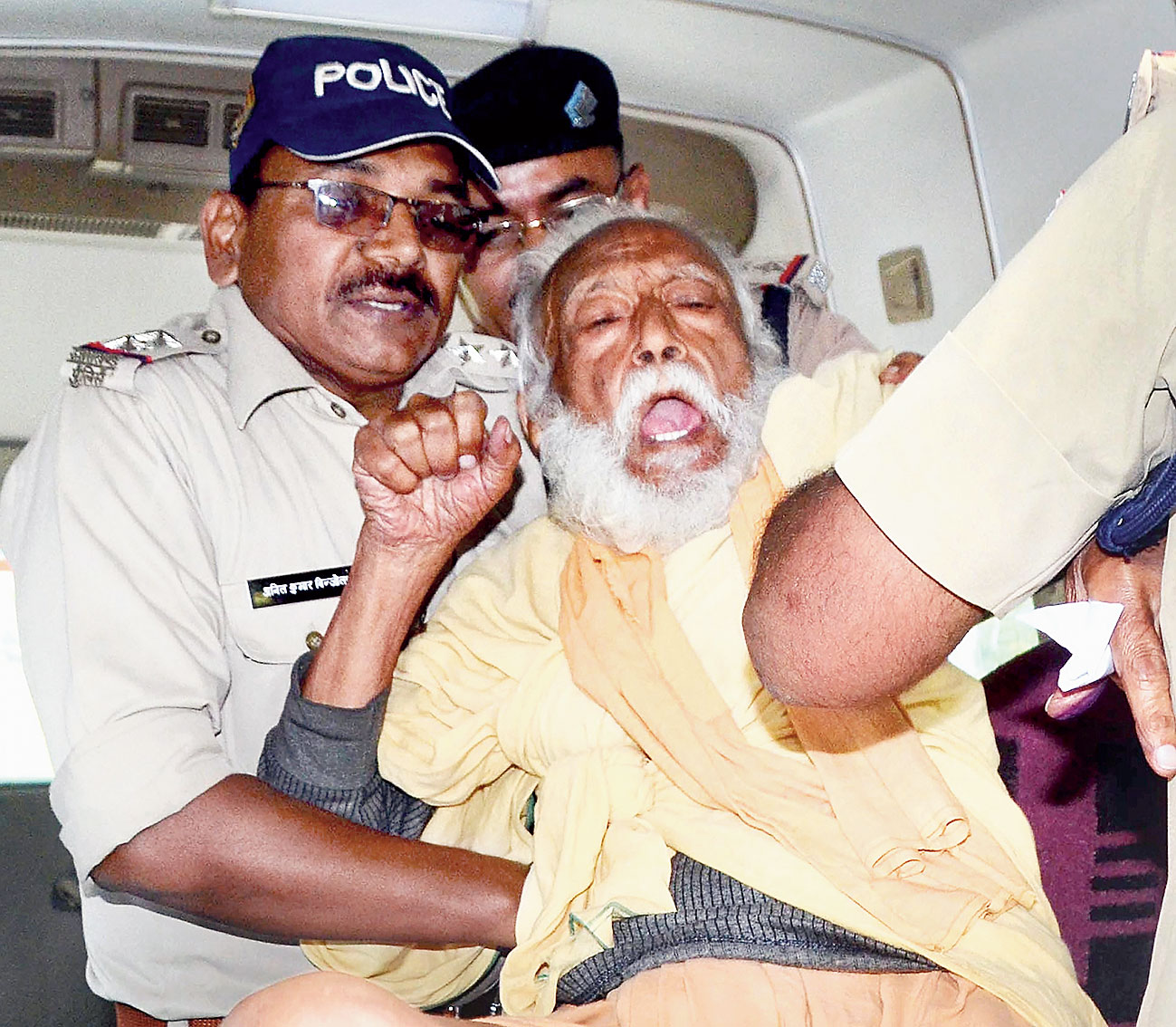 Swami Gyan Swaroop Sanand being forcibly taken to hospital in Haridwar on Wednesday. He died on Thursday.
PTI picture
---
Lucknow
|
Published 11.10.18, 10:29 PM
|
---
An IIT professor turned sadhu died on Thursday after a 111-day fast demanding a halt to illegal sand mining on the Ganga riverbed and banks in Haridwar and more efforts to clean the river.

Swami Gyan Swaroop Sanand, 86, died in the afternoon at AIIMS Rishikesh, 20km from his ashram in Haridwar, after being forcibly taken to the hospital on Wednesday evening.
Sanand, whose original name was G.D. Agrawal, had taught environmental engineering at IIT Kanpur for 17 years before adopting sanyas.
Union drinking water minister Uma Bharati had met Sanand and Ganga rejuvenation minister Nitin Gadkari sent representatives after the monk began his hunger strike on June 22 in front of Matri Sadan, his ashram. Local MP and former chief minister Ramesh Pokhriyal too met him.
But Sanand would not be persuaded off his fast by "mere promises" that he said he had been hearing for decades. He wanted the BJP governments at the Centre and in Uttarakhand to enact laws against illegal sand mining, which he said was destroying the Ganga riverbed.
Initially, Sanand was taking honey, lemon and water but stopped even the fluids on Tuesday.
Uttarakhand Assembly Speaker Premchand Agrawal, who visited the hospital after Sanand's death, said: "Swamiji was genuinely devoted to the Ganga. His demands should have been accepted. Perhaps the government has some limitations...."
Swami Shivanand Saraswati, a member of the ashram, described Sanand's death as "the murder of a sadhu by the government".
"Now I will start a fast unto death after Navratri ends on October 18," he said.
Swami Nigamanand, another resident of the ashram, had died at a Dehradun hospital on June 13, 2011, after a 114-day fast with the same demand.
Sanand had also been against the construction of hydel projects and dams on the Ganga on environmental grounds. One of his demands, apart from the prevention of sand mining, was the scrapping of an under-construction hydro-power project in Haridwar and a ban on any such future projects.
Sanand had previously sat on a hunger strike in Tehri district in 2009, forcing the government of the day to stop the construction of a dam on the Bhagirathi.
Earlier this month, when RSS chief Mohan Bhagwat was in Haridwar to campaign for a Ram temple in Ayodhya, Shivanand had accused him of "political gimmickry" to help the BJP while ignoring the more serious issues of the Ganga.
"If Babar had ordered demolition of the Ram temple in Ayodhya, the BJP governments are destroying the Ganga," Shivanand had said on October 2, while underlining the deteriorating health of Sanand.
The former Union environment and forests minister Jairam Ramesh described Agarwal as a martyr.
'I am deeply anguished by the martyrdom of Professor G S Agarwal,' Ramesh said in a statement. 'He was an indefatigable crusader not only for Nirmal (unpolluted) Ganga but also for Aviral (continuous) Ganga.'
Ramesh said he had, during his tenure as the minister, overseen the implementation of some "important suggestions" made by Agarwal to ensure uninterrupted supply of the Ganga and its tributaries in Uttarakhand.
Sunita Narain, director general of the non-government Centre for Science and Environment said in a tweet: "GD Agarwal was (a) phenomenal scientist. Started India's pollution work; passionate and committed to Ganga. Did not need to die."