IBAT wins Investors on PANCAKESWAP with celebrities Irfan Pathan & Urvashi Rautela inaugurating the launch.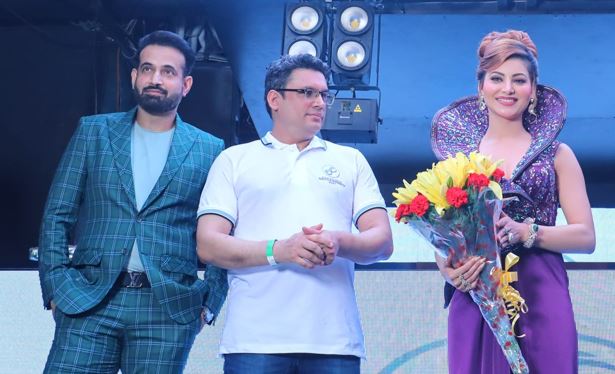 ---
Published 21.08.22, 11:27 PM
|
---
IBAT Battle Infinity, the most awaited launch of the best altcoin of 2022 was launched on PANCAKESWAP exchange yesterday on 17th August was a mega event attended by Urvashi Rautela, the Miss Universe and Irfan Pathan, the legendary cricketer. The ceremony took place in New Delhi and was attended by the who's who of the capital.
The dazzling actress was seen tapping to the IBAT tunes. Irfan Pathan too shaked a leg for the event. The event was covered by press and visual media very enthusiastically.
Irfan said the platform provides unique features which can be integrated with Metaverse and this gives the players and investors. He further said that he is completely bowled over the meticulous details followed by IBAT at the launch and it's overall gaming platform.
 Urvashi Rautela posed for the media while answering their questions. Urvashi said that not just the investors but the players and spectators also loves fantasy gaming and that IBAT has given the opportunity to everyone to be a part of it.
The co-founder Suresh Joshi said that he himself is captivated with the growth of IBAT, postulating the value to rise 100x. He further added that," My team is leading one of the major innovative platforms in the Crypto market. The responsibility on IBAT to fulfill our investors and players expectations lies on us and we would perform our best for the same. IDO for IBAT is one of the most well-performing crypto IDOs of the year considering its 700% gains in the middle of the 2022's plunging market".
A variety of P2E (play-to-earn) war games are found on the gaming platform IBAT Battle Infinity. The IBAT Battle Arena is a Metaverse universe where all games are integrated. Gamers in the Battle Infinity universe can take part in immersive Metaverse world experiences in addition to playing and fighting. They can engage, perform, watch, and explore the virtual Battle Arena universe here. For more information one can connect on telegram too.
The presale of IBAT has already established it's firm presence in the market with oversubscription in just 25 days. With 6 different tokens and coins IBAT is all ready to capture the market.
1.  Battle Swap: a native DEX that enables users to exchange IBAT for other cryptocurrencies.
2. Battle Games: a group of three-dimensional games with a play-to-win mechanic.
3. Battle Staking: A pool of bets that enables users to bet their IBAT and receive rewards.
4. Battle Market: The internal NFT market called
5. Battle Arena: A platform for player item exchanges and social interaction.
6. IBAT premier league: a platform for fantasy sports powered by blockchain.
With celebrities listing the token on other DEXs and CEXs the altcoin is proving to be the best option for Crypto investors in 2022.
This is a sponsored article.